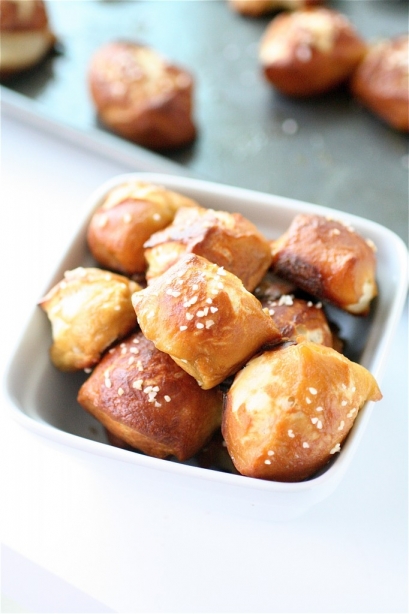 Awwwwwww, yeah.
Soft pretzel bites. I am an addict.
I've tried several, and yes, I mean: several recipes in relentless hunt for a decent soft pretzel bite.  And, until I came across this particular recipe, I was not succeeding.  Some were too doughy, some were too dense, and some were just not what I had hoped them to be. But, never fear.  This recipe is a keeper.
Believe it or not, these are not that incredibly difficult to make.  Yes, because they are a yeast dough, they take some time to rise.  But, really, when you've got things like laundry, studying, and cleaning to do, one hour of rising time is a strategic way for me to multitask…and end up with an awesome treat at the end.
These are definitely best when they are still warm from the oven. I find that they keep well for a day or so afterwards, as well. (The salt on top turns them into not-so-nice pretzel bites after more than two days).  As far as dipping sauces go, I like a good mustard or cheese sauce.  For a fantastic cheese sauce, please see the original recipe at Two Peas and Their Pod (link below).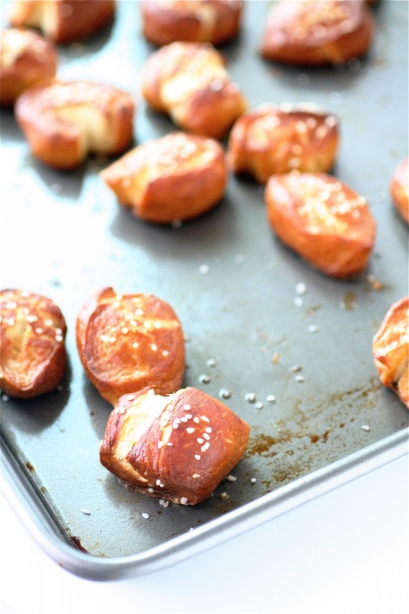 Soft Pretzel Bites
Servings: about 60 bites
Ingredients
1 and 1/2 cups warm water
2 tablespoons brown sugar
2 and 1/4 teaspoons (1 package) active dry yeast
6 tablespoons unsalted butter, melted
2 and 1/2 teaspoons salt
4 and 1/2 cups all-purpose flour
3 quarts water
3/4 cup baking soda
For the egg wash:
1 large egg
1 tablespoon cold water
Coarse sea salt, for garnish
Oil, for prepping your bowl to rise the dough in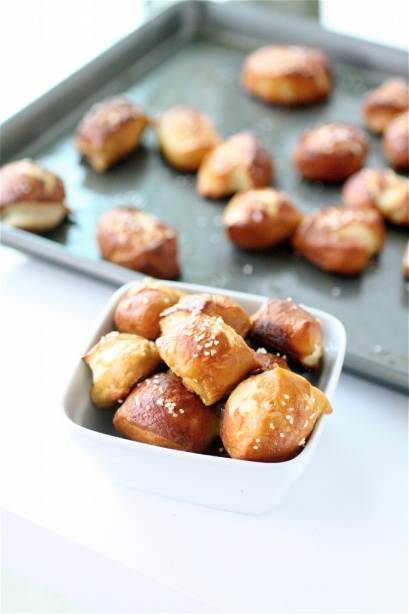 Instructions
1. In the bowl of your stand mixer fitted with the dough hook attachment, combine the water, brown sugar, yeast and melted butter.  Stir to combine, and then let sit for about 5 minutes, or until slightly foamy.
2. With the mixer speed on low, slowly add the salt and flour until just combined.
3. Increase the mixer speed to medium-low and knead until the dough is elastic and pulls away from the sides of the mixing bowl, about 3-4 minutes.
4. Roll the dough into a bowl gently with your hands, place in a pre-oiled bowl, and cover with a light tea cloth or towel.  Let rise in a warm place until doubled in size, about 1 hour.
5. Preheat the oven to 425 degrees.
6. Punch down the dough and, on a clean and lightly floured flat surface, divide it into 8 equal portions.
7. Roll each portion into a long rope, about 18-20 inches in length.
8. Cut each rope into 1-inch portions and place each one on a lightly greased baking sheet. Set aside.
9. Meanwhile, in a large sauce pot over medium-high heat, bring the water to a boil.
10.  Very carefully (the water will spray and foam up), add the baking soda.
11. In small batches, boil the pretzel bites for about 30 seconds or so.  (Use a slotted spoon to remove them from the boiling water and place them back on the baking sheet, about 1 to 2 inches apart.)
12. To make the egg wash: In a small bowl, whisk together the egg and cold water.
13. Lightly brush the boiled pretzel bites with the egg wash and lightly sprinkle with the coarse sea salt.
14. Bake until lightly golden brown, about 15-18 minutes.  Let cool slightly before serving.
Source: Directly from Two Peas and Their Pod.  Check out the link for a great cheese sauce to go with these!