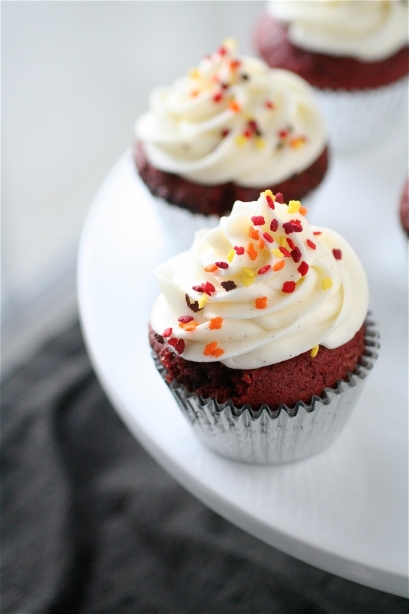 Happy October!
My favorite month of the entire year is here-consisting of things like my birthday (I celebrate the whole month….), Halloween (one of my favorite holidays), changing colors of the leaves, football games, and fall-inspired food, of course.  I have a lot of fun things planned for the blog this month, including some little public service announcements and awareness for a few causes on top of some great recipes.  This is a celebratory month for me.
Speaking of celebratory, these cupcakes were for my new friend, Mari Paz's, birthday.  Mari Paz and I are extremely similar.  We're both libras, both left-handed, both the second daughter in a line of daughter-daughter-daughter-son families, and we are both in the medical field (geographically, though, we are from different parts of the world: Mari Paz is from Mexico and I am from Indiana…..).  Mari Paz has been so much fun to work with-she always finds the positive side in things and is incredibly hard-working and supportive of her colleagues.  There need to be more people in this world like Mari Paz (the other residents I work with are pretty fantastic, too, I might add…..).  I'll introduce you to them when their birthdays roll around.
When I asked Mari Paz what choice of cupcake she would like, I was delighted to hear "red velvet cake with cream cheese frosting".  Ah, a girl after my own heart.  I haven't posted a red velvet cake recipe (only pink velvet) because I wanted to find *the* red velvet cake recipe.  I was a little overwhelmed with all of the different recipes out there, so I scoured through several before deciding on this one, from King Arthur Flour company.  I chose my go-to cream cheese frosting from Martha Stewart, but I substituted a real vanilla bean for the flavoring.  Nothing beats real vanilla beans, folks.  Except for real vanilla beans in a cream-cheese frosting-topped red velvet cupcake.
Smooth and slightly chocolate-y, these cupcakes were great.  I have found some recipes that have been called "too dry" or "too bland", but this one was great.  It was mellow and smooth.  But, let's be honest here.  The frosting is what steals the show on these little treats.
Happy October, everyone!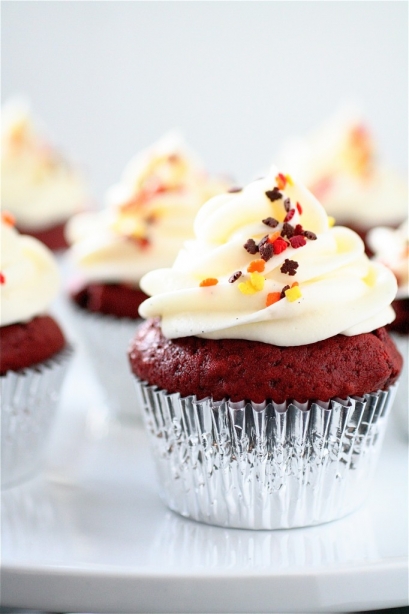 Red Velvet Cupcakes with Vanilla Bean Cream Cheese Frosting
Servings: 12 cupcakes
Ingredients
For the cupcakes:
8 tablespoons (1 stick) unsalted butter, at room temperature
1 and 1/3 cups sugar
2 large eggs
Red food coloring gel, to desired tint
3 tablespoons Dutch-process cocoa
1 teaspoon salt
1 teaspoon baking soda
1 teaspoon white vinegar
2 and 1/4 cups all-purpose flour
1 cup buttermilk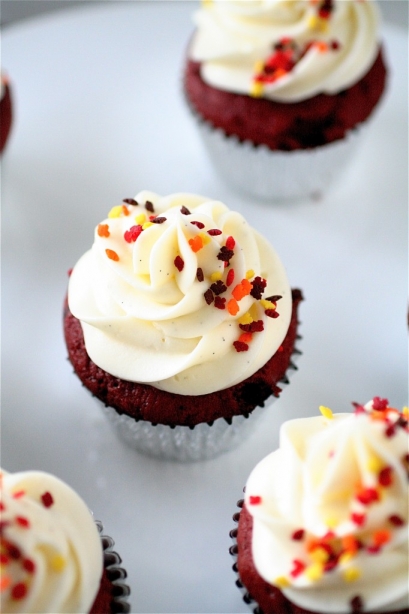 For the frosting:
8 ounces (1 package) cream cheese, at room temperature
8 tablespoons (1 stick) unsalted butter, at room temperature
4 cups confectioners' sugar, sifted
1 whole vanilla bean, split lengthwise and seeds removed

Instructions
1. For the cupcakes: Preheat the oven to 350 degrees.
2. Line a cupcake pan with the liners of your choice.
3. In the bowl of your standing mixer fitted with the paddle attachment, cream the butter and sugar together until light and fluffy, about 2 minutes or so.
4. Add the eggs, one at a time, until the mixture is smooth.
5. Add the food coloring gel, cocoa, salt, baking soda, and vinegar, mixing until well-combined.
6. Add the flour and buttermilk, alternating with one another, starting and ending with the flour.
7. Evenly divide the cupcake batter between your lined cupcake pans and bake until a tester inserted into the center comes out clean, about 25-30 minutes or so.
8. Remove the cupcakes from the oven and let cool completely before frosting.
9. For the cream cheese frosting: In the bowl of your standing mixer fitted with the paddle attachment (or using a hand mixer-whatever you have), cream the cream cheese and butter together until smooth.
10. Reduce the mixer speed to low and slowly add the confectioners' sugar until smooth.
11. Add the seeds from the vanilla bean and mix until thoroughly combined.
12. Once the cupcakes have completely cooled, pipe the frosting as desired (I used my Wilton 1M tip) on top of the cupcakes.

Sources:  Cupcakes slightly adapted from King Arthur Flour Company and frosting adapted from Martha Stewart.