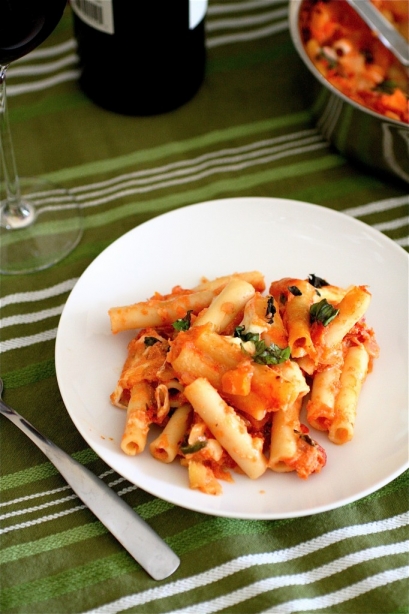 I've also been meaning to post this recipe for a while.  This recipe is a reader's request (this one is for you, Christina!)  I'm actually really excited to hear from all of you-especially ideas for "vegetarianizing" or "veganizing" recipes (and, yes, I think I just made those words up).  I had been wanting to make a really easy baked casserole type of dish, knowing that I would be having a pretty intense work of week ahead of me.  One of the best feelings is coming home after a long day and realizing that an awesome dinner is only minutes away.  I think I ate this baked ziti for about 5 days straight.  The recipe makes a lot of servings, so feel free to cut it in half.
I loved this recipe for one (of many) reasons.  It has three different types of cheese in it. It's a snap to throw together, it smells fantastic while it's baking, and it's amazing with some good wine and bread.  Feel free to up the health factor here by using whole wheat ziti, add in some more vegetables (I would cook them separately and mix them into the ricotta mixture-I'm thinking onions, mushrooms, and maybe some spinach!), and use low-fat or vegan cheese substitutes.
As far as freezing goes, assemble the dish as directed and then simply freeze right before the baking step (freeze up to two months).  Get one of those handy aluminum baking tins to freeze it in so later you can just pop it in the oven.  Nothing beats pasta and cheese, right?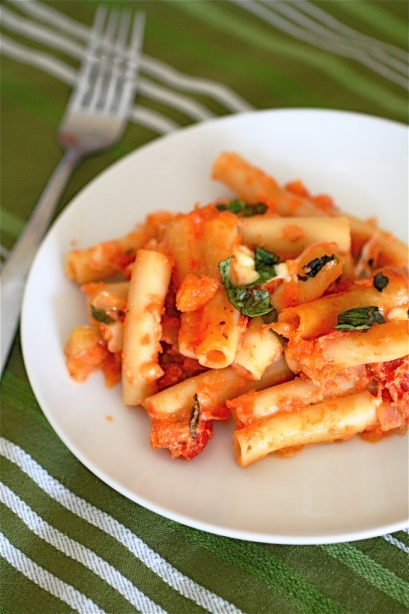 Baked Ziti
Servings: at least 4 large main course servings
Ingredients
Extra-virgin olive oil, to coat the baking dish
3/4 cup ricotta cheese
1 egg yolk
1 cup Parmesan cheese, grated
Pinch of nutmeg, freshly grated
1/4 cup parsley leaves, coarsely chopped
Salt and pepper, to taste
1 pound of ziti
4 cups tomato sauce, heated
1/2 pound fresh mozzarella cheese, cubed
Fresh basil, torn, for garnish, optional
Instructions
1. Preheat the oven to 425 degrees.
2. Lightly coat a 10 x 12-inch baking dish (or a lasagna pan) with the extra-virgin olive oil.
3. Bring a large pot of  lightly salted water to a boil.
4. In a large bowl, combine the ricotta, egg yolk, 1/2 cup of the Parmesan cheese, nutmeg, and parsley, mixing well.
5. Season the mixture with salt and pepper, to taste.
6. Meanwhile, cook the pasta as directed on the package until al dente.  Drain well.
7. Very carefully, add the cooked pasta to the ricotta mixture and stir until thoroughly combined.
8. Add the heated tomato sauce and mozzarella, mixing well.
9. Pour the pasta mixture into the prepared baking dish and smooth the top with a rubber spatula.
10. Sprinkle the top of the pasta with the remaining Parmesan cheese.
11.  Bake, uncovered, until lightly browned, about 20 minutes or so.
12.  Let cool slightly, sprinkle with fresh basil (if desired), and enjoy.
Source: Barely adapted from Williams Sonoma's Pasta.