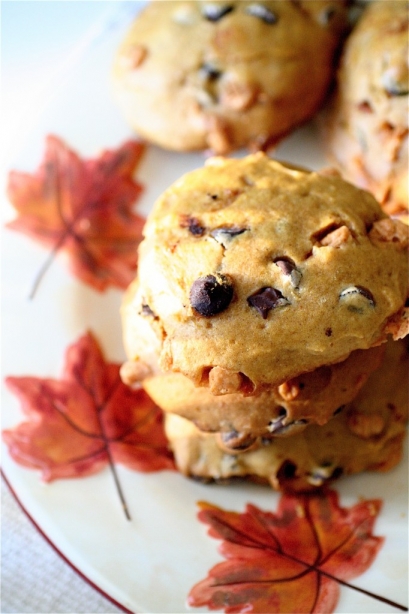 Here's another pumpkin recipe for you.  And this one is a keeper.
These are some of the softest, chewiest cookies I have ever made.  Pretty much like the top of a muffin (Seinfeld, anyone?).  Cake-like, if you will.  And pretty delicious, too, I might add.  I tend to shy away from any kind of dessert that calls for canola or corn oil in the recipe-I feel like sometimes the oil adds a little bit of an "off" flavor-but that's definitely not the case with these cookies.  The addition of cinnamon adds a touch of that fantastic pumpkin pie flavor, too.  I added both butterscotch and chocolate chips to the batter; well, because I can, and I was in desperate need of some chocolate therapy one evening after coming home from work, so I figured it was a great idea.  I just happened to have open bags of both types of chips in my pantry (I may have sneaked small handfuls of the first halves of the bags on other occasions in desperate measures for chocolate comfort).  Use whatever kind of chip you have on hand.  I have a feeling white chocolate would be amazing, as well as other types of add-ins: raisins, nuts, or even some crystallized ginger.  That's one of the best things about this particular cookie: even if you don't put any kind of chip in it, the cookie is still great on its own (but, I will admit, the chocolate and butterscotch chips take it up a notch, in my humble opinion).
Pumpkin Chip Cookies
Servings: approximately 15 cookies (These are pretty big cookies, by the way. They spread and rise significantly during the baking time.)
Ingredients
2 cups all-purpose flour
1 and 1/2 teaspoons baking powder
1 teaspoon baking soda
1/2 teaspoon salt
1 teaspoon ground cinnamon
2 large eggs
1 cup granulated sugar
1/2 cup canola oil
1 cup canned pumpkin
1 teaspoon vanilla extract
1 cup butterscotch chips
1 cup semisweet chocolate chips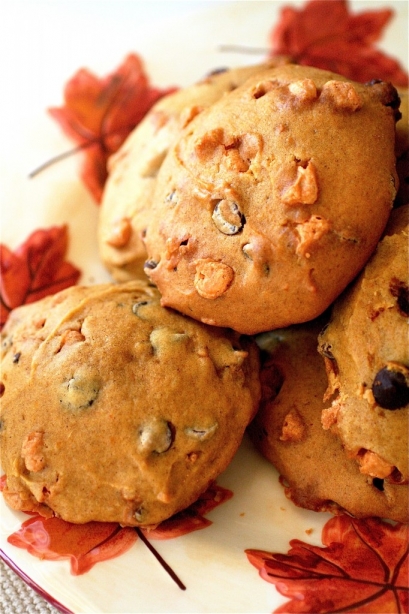 Instructions
1. Preheat the oven to 325 degrees.
2. Line two baking sheets with parchment paper and generously butter/grease the parchment.  ***I used cooking spray-which worked very well.
3. In a large bowl, combine the flour, baking powder, baking soda, salt and cinnamon together, mixing well.
4. In the bowl of your standing mixer fitted with the paddle attachment, beat the eggs and sugar on medium speed until light yellow and smooth, about 1-2 minutes.
5. Reduce the mixer speed to low and slowly add the oil, pumpkin, and vanilla, scraping down the sides of the bowl as necessary.
6. Add the flour mixture to the wet ingredients and mix until just combined.
7. With a rubber spatula, gently fold in the butterscotch and chocolate chips until incorporated.
8. Using a 1/4-cup measuring cup or an ice cream scoop, evenly distribute the dough on the parchment-lined baking sheets, spacing them about 2 and 1/2-inches apart.  Remember, these cookies spread and rise significantly during the baking time.
9. Bake the cookies (I baked mine one baking sheet at a time) until they are lightly golden around the edges, about 16 minutes.  Let cool for 5 minutes after baking.
Source: Adapted from Big Fat Cookies by Elinor Klivans.