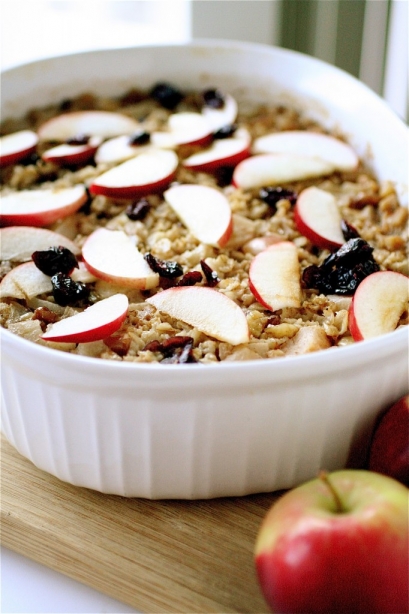 There's just something filling and wholesome about oatmeal.  Especially baked oatmeal when I realize that it's near freezing outside already, and there is a distinct layer of frost on my car.  It's beginning to get a lot colder here on the East Coast, especially at night.  These types of breakfasts are definitely worth waking up to.
Since it's still apple season around here, I picked up a bag of apples from the market and decided to try them in this easy-to-whip-up baked oatmeal.  The baking time was the longest part of the whole process, but it gave me enough time to make some coffee, catch up on reading, and enjoy the cold, fall morning-which was especially awesome when the smells of cinnamon and apples were wafting throughout my entire apartment.  This oatmeal actually reheats very well-I simply added a bit of milk to it when I heated it up again in the microwave during the following days.  The other nice thing about this recipe is that you can add in more healthy things like flax seed, other fruits (blueberries would be amazing), or other spices.  I added in some dried cranberries I had picked up which added a little bit of sweetness to the oatmeal and topped it with fresh apple slices for a bit of added texture and crunch.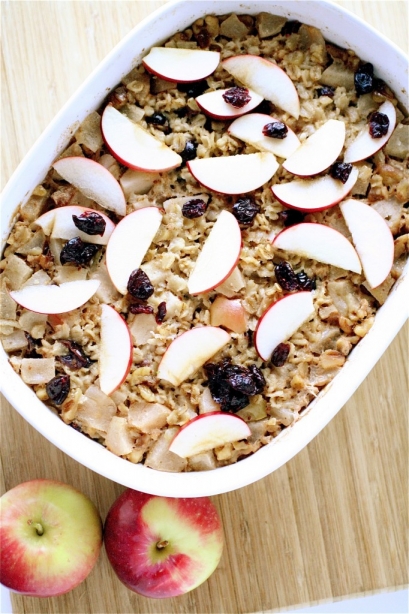 Baked Apple Spice Oatmeal
Servings: approximately 6
Ingredients
4 cups milk
1/2 cup light brown sugar
2 teaspoons unsalted butter
1/2 teaspoon salt
1/2 teaspoon ground cinnamon
2 cups old-fashioned oats
2 cups peeled and chopped apples (variety of your choice), plus slices for garnish
1/2 cup walnuts
1 cup dried cranberries, plus more for garnish
1/4 teaspoon ground cloves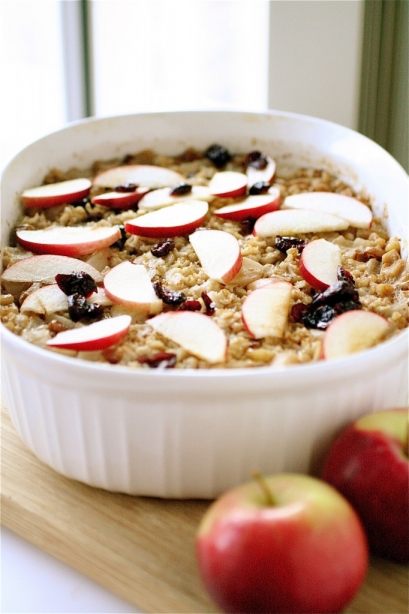 Instructions
1. Preheat the oven to 350 degrees.
2.In a large saucepan over medium heat, combine the milk, brown sugar, butter, salt, and cinnamon.
3. Stir occasionally until the butter is melted and the mixture is well combined.
4. Add the remaining ingredients and stir until mixed.
5. Lightly spray a 2-quart casserole dish with cooking spray.
6. Pour the oatmeal into the casserole dish, cover, and bake, about 45 minutes or so.
7. Top with fresh apple slices and dried cranberries.
Source: Adapted from Taste of Home.