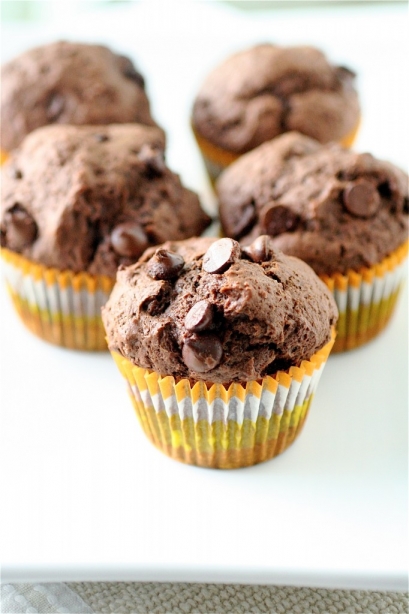 Recently I headed down to Yale for a conference.  And knowing that I would be in a car full of possibly quite hungry people, I asked for recommendations on what kind of baked good they would want for the road trip down. (Just as a side note, Yale's campus is pretty beautiful-those buildings are fantastic!)  I was very happy when they all emphatically stated, "Chocolate.  Chocolate something."  And, so, I delivered…with these in-your-face chocolate chocolate chip muffins.
This recipe is completely adaptable to whatever kind of "chip" you want to add (or not add in).  The base chocolate muffin recipe is great for anything, really.  I can only imagine what they might taste like with some peanut butter chips mixed in…warm from the oven…with a nice glass of cold milk….but I must say, they were awesome with just the semisweet chips.  I increased the amount of chips from the original recipe, well, because it's an obvious choice when you are wishing for some chocolate. I will definitely be making these again…soon.
Chocolate Chocolate Chip Muffins
Servings: 12
Ingredients
6 tablespoons unsalted butter
4 ounces bittersweet chocolate, choped
2 cups all-purpose flour
2/3 cup sugar
1/3 cup unsweetened cocoa powder
1 tablespoon baking powder
1/2 teaspoon baking soda
1/2 teaspoon salt
1 and 1/4 cups buttermilk
1 large egg
1 teaspoon vanilla extract
1 cup semisweet chocolate chips
Instructions
1. Preheat the oven to 375 degrees.
2. Line a cupcake pan with the paper liners of your choice.
3. In a heatproof bowl set over a pot of simmering water, combine the bittersweet chocolate and the butter, stirring until smooth.  Remove the mixture from the heat.
4. In a large bowl, combine the flour, sugar, cocoa, baking powder, baking soda, and salt.
5. In a glass measuring cup, combine the buttermilk, egg, and vanilla extract, whisking until the mixture is smooth.
6. Pour the melted chocolate/butter mixture and the wet ingredients over the dry ingredients and stir gently until just incorporated.
7. Add the semisweet chocolate chips to the batter, and gently fold them into the mixture.
8. Divide the batter evenly among the baking cups and baking until a tester inserted into the center comes out clean, about 20 minutes or so.
Source: Barely adapted from Baking: From My Home to Yours by Dorie Greenspan.