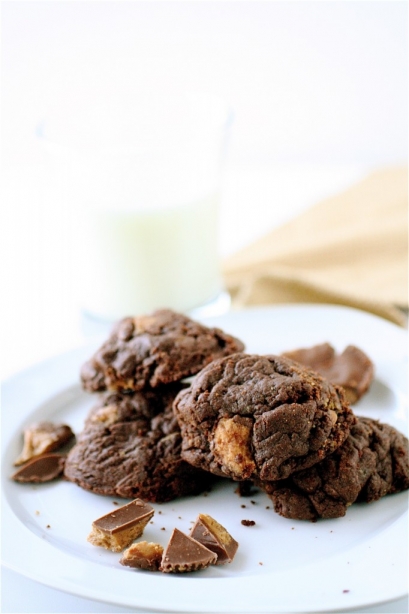 Chocolate (again), anyone?  Please understand that around here, I try to keep a nice moderation of healthy/comfort/vegetarian/easy meals with sweet/chocolate/offensive/gluttonous treats.  I try to keep a nice balance of what I share with you: a little appetizer here, some entree there, and, of course, a few desserts (more than a few, actually).  I'm throwing it all out the window this week.  Because, you know what?  My birthday is in less than one week, and I have experienced one hell of an awesome year that I will be celebrating in 2011 (I'll tell you a bit more about that next week…)
I made these cookies about a month ago.  I went a little crazy in the candy aisle when I made a trip to a large store in the area (shuddering…too many large carts and very small aisles).  I had a whole bag of miniature Reeses Cups that were inevitably calling my name from the freezer (where I was hoping to conceal them from my roving and non-disciplined eyes).  After making several trips to the freezer and eating one too many cups after dinner one night, I decided to use them up and share them with my colleagues at work (because, obviously, who doesn't love some super peanut buttery and chocolate-y cookies first thing in the morning?)  These cookies are soft, cake-like, and loaded with chunks of peanut butter cup goodness.
Eat at your own risk.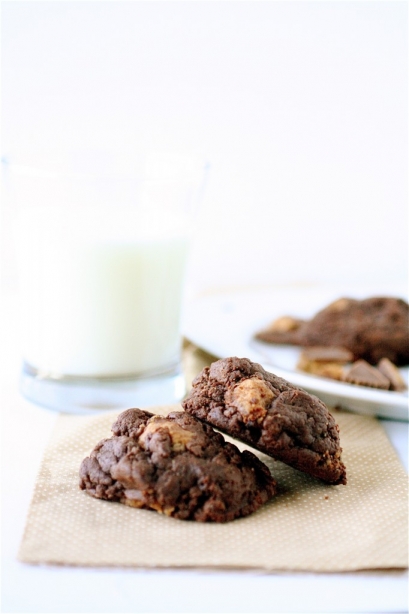 Chocolate Peanut Butter Cup Cookies
Servings: approximately 18 cookies
Ingredients
1 and 1/2 cups all-purpose flour
1/2 cup Dutch-processed cocoa powder
1/2 teaspoon baking soda
1/4 teaspoon salt
1/2 cup granulated sugar
1/2 cup brown sugar
1/2 cup (1 stick) unsalted butter, at room temperature
1/4 cup creamy peanut butter
1 teaspoon vanilla extract
1 large egg
2 tablespoons water
1 and 1/2 cups peanut butter cups, coarsely chopped
Instructions
1. Preheat the oven to 375 degrees.
2. Line two baking sheets with parchment paper.
3. In a large bowl, whisk together the flour, cocoa powder, baking soda, and salt.
4. In the bowl of your standing mixer fitted with the paddle attachment, combine the sugar, brown sugar, butter, and peanut butter on medium speed until well combined.
5.  Reduce the mixer speed to medium-low and add the vanilla, egg, and water, mixing until just combined.
6. With the mixer on low speed, add the dry ingredients to the wet ingredients and mix until just incorporated, scraping down the sides of the bowl as necessary.
7. Using a rubber spatula, gently fold the peanut butter cup chunks into the cookie dough, mixing well.
8. Drop the dough onto the parchment-lined baking sheets in rounded tablespoons, slightly flattening each one with the back of the spoon.
9. Bake for about 7-9 minutes (the cookies will still look very soft-but they will firm up a bit when they cool.).
Source: King Arthur Flour Company.