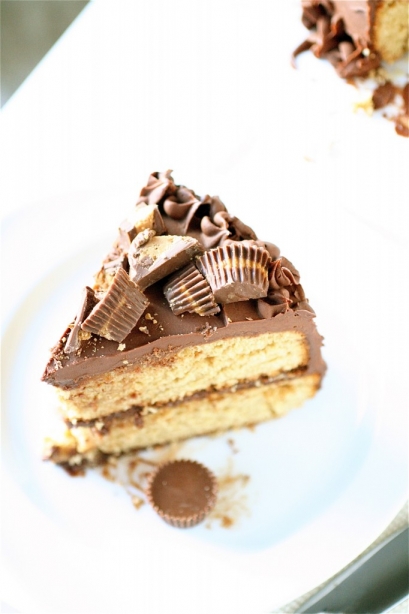 Today is my birthday.  Another year has gone by.  And this year?  It's going to be even better than the one before it.
I have to take a moment to reflect here, so please excuse my digression.  I think about what has happened in the past year…and I have to say I am mighty proud of where I stand now.  I've completed my residency training, taken and successfully passed my boards, moved 1,000 miles from my friends and family, started a fellowship in the field of my dreams, and now I am in the process of looking for a job…after being in training/school since the age of 4…28 years later….here I am.  The best (and my proudest) part about this whole process is that I have done this on my own…without anyone holding me back or trying to keep me down.  I've had the support and love from so many friends and family, and this year I am celebrating how much love is in my life.  There's a lot of love around me.  This blog is just one of the ways that I am celebrating this year: in the coming weeks, I will be completely redesigning the website with a fantastic web designer, and I am hoping to continue growing my experiences and opportunities in the food blogging world (along with that, I will try to decrease the number of kitchen failures that I still have).
Right now, I am traveling to the opposite side of the country to attend a national conference in my field.  I've giving a presentation, visiting with old friends, and exploring a new city that I have never been to (but always wanted to). Talk about a way to spend a birthday!  I am so happy to be celebrating in this particular way this year.
I actually did not make this cake for my birthday.  I made this a couple of months ago for a party, but I never posted it.  I haven't had a lot of time lately to play around in the kitchen, and to be completely honest with you, I couldn't decide what kind of birthday cake I wanted to make for myself this year.  I have plenty of ideas jotted down, but none of them came to fruition.  But, let me tell you, there are some pretty awesome and inspirational sources out there for birthday cakes.  And, with the way I want to spend this year, I have a feeling that I will be doing plenty of celebrating, even if it isn't my birthday.  So get ready.
This cake is a chocolate/peanut butter lover's dream.  A peanut butter cake with a creamy peanut butter frosting…all topped with a rich chocolate frosting and peanut butter cups.  I've been on a chocolate peanut butter roll  lately, but, apparently, you all are, too.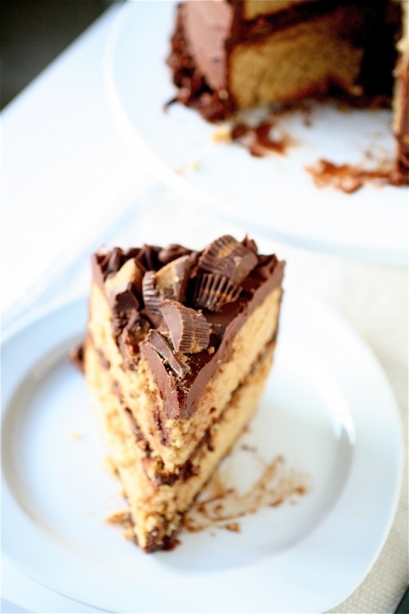 Peanut Butter Cup Cake
Servings: One 2-layered cake (you may have enough batter to make a 3rd layer, but I stuck with 2)
Ingredients
For the cake:
2 and 1/2 cups flour
1 teaspoon baking powder
1 teaspoon baking soda
1/2 teaspoon salt
10 tablespoons (1 and 1/4 sticks) unsalted butter, at room temperature
1/2 cup creamy peanut butter
1 pound bag of light brown sugar
4 eggs
1 teaspoon vanilla
1 cup buttermilk
For the filling:
2 and 1/4 cups whipping cream
1/2 cup light brown sugar
12 ounces bittersweet chocolate chips
1/2 cup creamy peanut butter
For the chocolate frosting:
20 tablespoons unsalted butter, softened
1 cup confectioners' sugar
3/4 cup Dutch-processed cocoa
Pinch salt
3/4 cup light corn syrup
1 teaspoon vanilla extract
8 ounces milk chocolate, melted and cooled slightly
3 cups chocolate peanut butter cups, coarsely chopped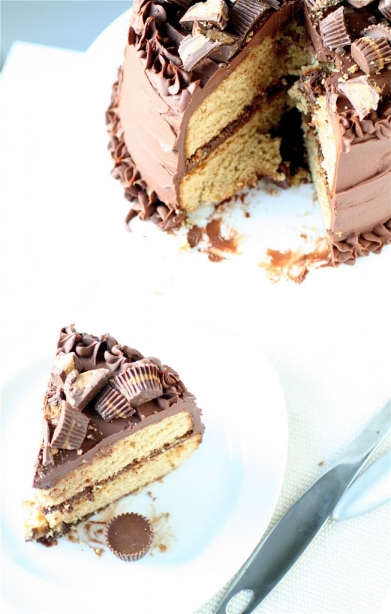 Instructions
1. For the cake: Preheat the oven to 350 degrees.
2. Butter and flour two 9-inch cake pans.
3. In a large bowl, whisk together the flour, baking powder, baking soda, and salt.
4. In the bowl of your standing mixer fitted with the paddle attachment, cream the butter and peanut butter together on medium-high speed until smooth, about 2 minutes.
5. Reduce the mixer speed to medium and add the brown sugar.
6. Add the eggs, one at a time, mixing well after each addition.
7. Add the vanilla, mixing well.
8. Reduce the mixer speed to low, and alternately add the flour mixture and the buttermilk, mixing until just incorporated.
9. Divide the batter between your prepared cake pans and bake until a cake tester inserted into the center comes out clean, about 25 minutes.
10. Let the cakes cool completely before frosting.
11. For the filling: In a medium saucepan over medium heat, bring the cream and brown sugar to a simmer, stirring until sugar is dissolved.
12. Remove the saucepan from the heat.
13. Add the bittersweet chocolate chips to the saucepan and let stand for one minute.
14. Whisk in the creamy peanut butter until smooth.  Chill the filling until ready to assemble the cake.
15. For the frosting: Using your food processor, combine the butter, sugar, cocoa, and salt.  Mix the ingredients together until smooth.
16. Using the feed tube with the processor running, slowly add the corn syrup and vanilla, mixing until smooth.
17. Add the melted chocolate to the mixture, scraping down the sides of the bowl as necessary, until the mixture is creamy and thoroughly combined.
18. To assemble the cake: I covered the outside and middle of the cake with the filling mixture, chilled the entire cake, and then I frosted it with the chocolate frosting, topping it with the chopped peanut butter cups.

Sources:  Cake and filling slightly adapted from Bon Appétit, frosting directly from Cook's Illustrated.