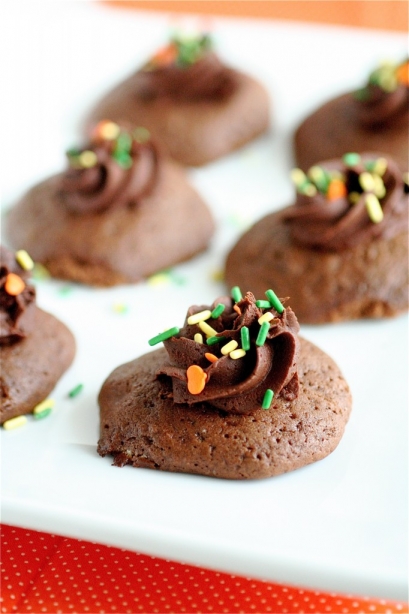 Happy Halloween!
This year, Halloween is even more special to me, because today I am posting for charity.  Today I am contributing to Frosting for the Cause, in an effort to raise awareness for women's cancers.
Let me tell you a little story, if you can spare the time.
When I was five years old, my then-29-year-old mother developed a dark spot on her right lower leg.  My dad was actually the one who noticed it at first, and after a little while (and the fact that this little spot had started to bleed a little bit), my mom went to her family physician who promptly biopsied the spot…which then came back with a diagnosis of malignant melanoma (and a very deep, aggressive one at that!)  I can only imagine the panic and fear that my parents, both too young for this diagnosis, went through-especially with two young daughters at home to take care of.  As for me?  I don't remember too much about that time period-I remember my kindergarten teacher giving me extra hugs a lot and being really confused when I heard my mom describe her skin graft and scar to a friend as looking like a "shark bite" on her leg.  I remember thinking that maybe there was a real shark in the neighborhood swimming pool that we had frequented almost every day with our mom in the summer.  I remember going to a lot of doctor's visits with her, remember having a lot of tummy aches as a child so that I could stay home from school to be with her, and seeing her once or twice in the hospital room.  I remember seeing my dad cry once, which is one of maybe three times total in my life.
When I was in second grade, my mom felt some bumps in her groin area and went to the family doctor again.  They weren't sore, but they were big, and the doctor felt that she should have a lymph node biopsy done because this was coincidentally the same leg that her melanoma had been on.  Surgery was scheduled, and my mom went to have one lymph node removed.  During the surgery, the procedure was switched to a completion lymphadenectomy (meaning that all of her lymph nodes were removed) because every single one of her lymph nodes was positive for cancer (her lymph nodes were full of melanin pigment and were described by the surgeon as being black).
Because my mom had a very aggressive tumor with a very bad prognosis, she was enrolled in a clinical trial for melanoma patients at a cancer center halfway across the country.  My mom was able to go through several experimental treatments and procedures over the next year and a half, while my sister and I lived with neighbors, grandparents, and friends when my father traveled for his job.  I even stayed with my first grade teacher for a while when she was sick. As a child, it was a very confusing and troubling time for our family.
But there's a happy ending, here, my friends.  Almost 30 years out now, my mother is free and clear of metastatic malignant melanoma-something that not many people (even now, in 2011) can say.  Thanks to the brilliant researchers, doctors, nurses, and clinical research coordinators that had dedicated their lives to studying how cancer works, my mom was able to have two more children and have the proud designation as a cancer survivor.  There's not a day that goes by that I am thankful for her second chance in life.
Fast forward to present day.  I'm a physician, studying…you guessed it…melanoma.  Eventually I would like to be at an academic center where I can focus on doing some clinical research.  Right now I am working at an institution where several clinical trials are underway for patients with metastatic melanoma.  It's mind-blowing to be on the periphery of such fantastic research.  I'm constantly inspired.  And I am proud that my mother benefited from trials like these.
So now I am spending time in dermatology clinics, seeing patients and checking their skin for spots just like my mom had.  I am looking at these biopsies under the microscope, and, unfortunately, I am seeing melanoma every single day.  While this saddens me, it motivates me even more.
Today I am participating in a fantastic cause to raise awareness for the fight against cancer, Frosting for the Cause.  As part of this program, I am donating $25 to a cancer charity of my choice and I am donating these cookies to nurses who work with cancer patients every single day.
Ironically, today is also a baking day with Annie, and she actually chose these cookies as our project for October.  It just so happens that Annie herself is a cancer survivor, so I find it fitting to post her baking choice today.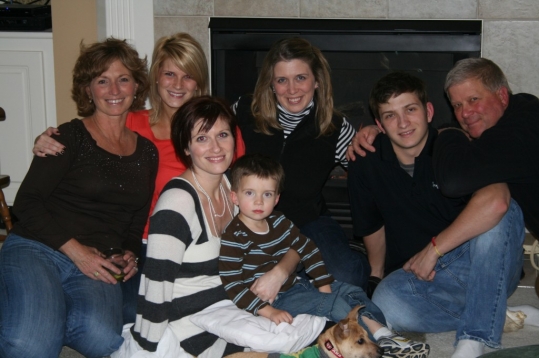 That's my mom on the far left…with the rest of the family.
If you would like to get involved with Frosting for the Cause, please visit the website and spread a little love!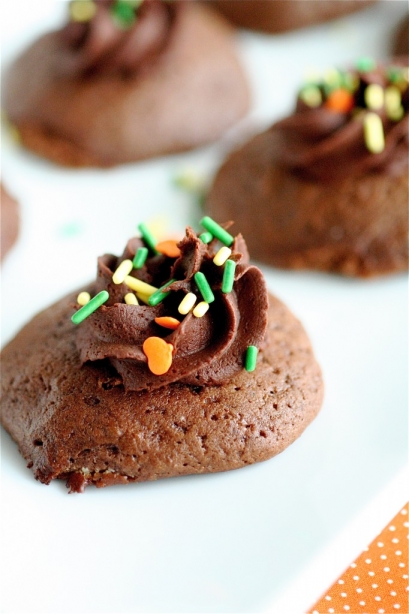 Chocolate Cupcake Tops
Servings:  approximately 20 cookies
Ingredients
For the cookies:
1 and 3/4 cups all-purpose flour
2 tablespoons cocoa powder
1/2 teaspoon baking soda
1/2 teaspoon salt
1/2 cup (1 stick) unsalted butter, softened
1 cup granulated sugar
2 squares unsweetened chocolate, melted and cooled
1 egg
3/4 cup buttermilk
1/2 teaspoon instant espresso powder
1 teaspoon vanilla
For the frosting:
1 cup bittersweet chocolate, chopped coarsely
1/3 cup sour cream
1 cup powdered sugar
Sprinkles, for garnish

Instructions
1. For the cookies: In a large bowl, whisk together the flour, cocoa powder, baking soda and salt, mixing well.  Set aside.
2. In the bowl of your standing mixer fitted with the paddle attachment, beat the butter on medium speed until smooth, about 2 minutes.
3. Add the sugar to the butter and beat until light and fluffy, about 2 more minutes.
4. Add the melted and cooled chocolate to the mixture and beat until smooth.
5. Add the egg and mix until well-combined.
6. In a glass liquid measuring cup, combine the buttermilk, espresso powder, and vanilla.
7. Reduce the mixer speed to low and alternately add the dry and wet ingredients to the butter mixture until completely incorporated.
8. Wrap the dough tightly with plastic wrap and chill until firm, about 1 hour.
9. Preheat the oven to 400 degrees and line two baking sheets with parchment paper.
10. Drop the dough by teaspoonfuls onto the parchment paper, rolling each one (I made mine a little larger-about ping pong ball-size) into a ball and flattening each one slightly.
11. Bake each baking sheet for about 8-10 minutes. Let cookies completely.
12. For the chocolate frosting: Melt the chocolate in the microwave in a heatproof bowl, stirring and checking the chocolate every 15 seconds or so.
13.  Add the sour cream to the chocolate and mix well.
14. Add the powdered sugar to the chocolate and, using a hand mixer, beat the mixture until glossy and smooth, adding more powdered sugar or sour cream as needed for the proper consistency. **It might be a little thick at first, but with more mixing, it will come together.
15. To assemble the cookies: Using a Wilton 1M tip attached to a plastic decorator's bag, pipe the frosting onto the cooled cookies in a clockwise swirl pattern.  Garnish with sprinkles, if desired.
Source: Salad in a Jar.