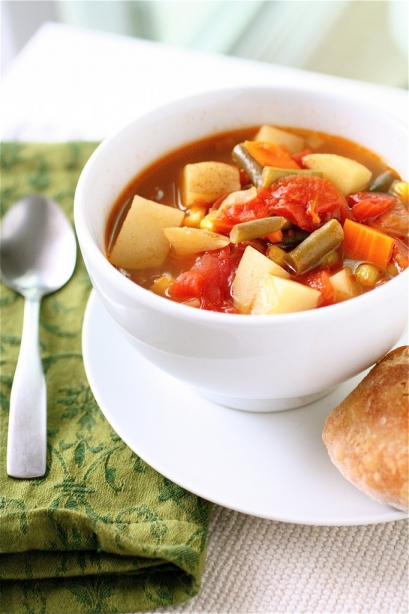 A few weeks ago I had this really weird craving for vegetable soup.  I don't know why.  It came over me very strongly, but I was having trouble finding a recipe that would suit my needs.  No frills, no bells, no whistles.  I wanted straight-up, good-for-you, made-with-love vegetable soup.  I wanted something that would make me a large, easy-to-freeze batch for the coming winter evenings when I get home from work and don't feel like cooking anything.  So, I found this one, and I added my own little veggie additions here and there.  I think that's the beauty of vegetable soup: you can throw in basically anything (vegetable, that is) you want, and it ends up still being good for you.  I'm sure I have a long-lost family recipe somewhere, but this one is my new keeper.  And did I mention this might be one of the easiest soups I have ever made before?
Time to warm up those bellies, people.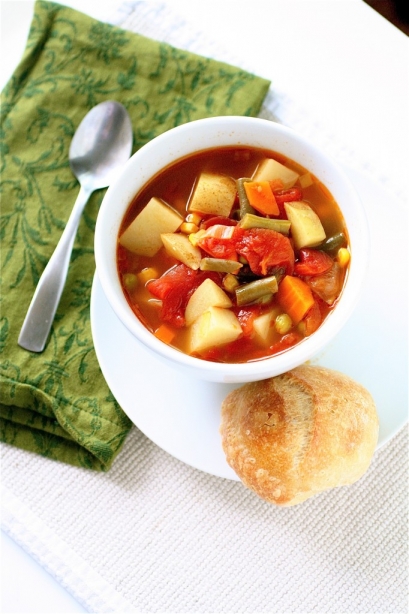 Simple Vegetable Soup
Servings: 8 large servings
Ingredients
4 tablespoons olive oil
1 leek (white part only, chopped)
1 small shallot, chopped
2 tablespoons garlic, minced
Salt and pepper, to taste
2 medium carrots, chopped
2 cups potatoes, peeled and diced (use whatever kind you like)
2 cups green beans (I used frozen)
2 quarts vegetable broth
2 28-ounce cans of peeled tomatoes, coarsely chopped and drained
2 cups corn (I used frozen)
2 cups peas (I used frozen)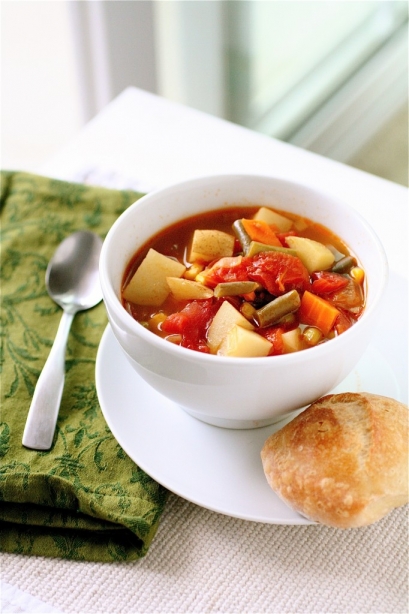 Instructions
1. In a Dutch oven or large saucepot over medium-high heat, heat the olive oil until shimmering.
2. Add the leek and shallot and cook until softened and translucent, about 7-8 minutes.  Season with salt and pepper, as desired.
3. Add the carrots, potatoes, and green beans, stirring frequently, and cook for another 4-5 minutes or so.
5. Add the vegetable broth to the vegetables and increase the heat to high.
6. Bring the soup to a boil and then decrease the heat to a simmer.
7. Add the tomatoes, corn, and peas, and cover, letting the soup simmer for at least 25-30 minutes before serving.
Source:  Adapted from Alton Brown via The Food Network.