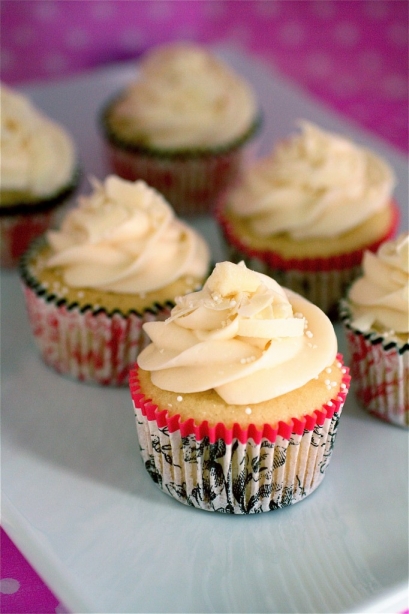 Yesterday was my friend, Jill's, birthday.  Last week we were discussing her desired cupcake flavor for me to make, and I offered up this white chocolate cupcake recipe.  She immediately agreed, and I immediately envisioned these pure white little guys with my new cupcake liners and some white nonpareils on top.  Maybe it was the recent six inches of snow that the Upper Valley received that inspired all the whiteness, I don't know.  But all I know is that I am darn glad she chose this flavor.
When I first met Jill, we were attending orientation at our new jobs.  She walked into the auditorium, beautiful, with a fantastic necklace on (I instantly thought, "I have to be friends with this girl because we have similar tastes in jewelry"), and she immediately sat down next to me out of all the seats there.  When we both discovered that we were in similar fields, were devoted fans of True Blood on HBO, and were both looking for places to buy home supplies (Target, anyone?), it was an instant friendship that I know will last a long time.  Since then, our dogs have become best friends, and Jill has become a surrogate mom to Scout (and even watched the cats for me once) when I go out of town.  She's great, people.
These cupcakes are moist, yet dense.  And even though I traditionally associate white chocolate with having a little too much sweetness for my taste, the cupcakes were not overwhelmingly sweet.  I decided to pair them with a white chocolate cream cheese frosting (yes, another cream cheese frosting variation…can you really have too many?) because I figured the cream cheese base would counterbalance the potential oversweetness of the white chocolate.  It may have toned down the sweetness just a bit, but it almost seemed like the perfect pairing.  I used the leftover white chocolate bar (I used Lindt) to make a few white chocolate curls as a garnish (but, let's be honest, I ate a lot of them….), and the end result did look a little like a snow-topped mountain (at least I hoped they did…they did to me…).  I have a sneaking suspicion that these cupcakes would do well with an add-in flavor…maybe some swirls of raspberry preserves, some Bailey's Irish cream, or even some pumpkin puree.
Happy Birthday, Jill.  Thank you for being such a great new friend to me.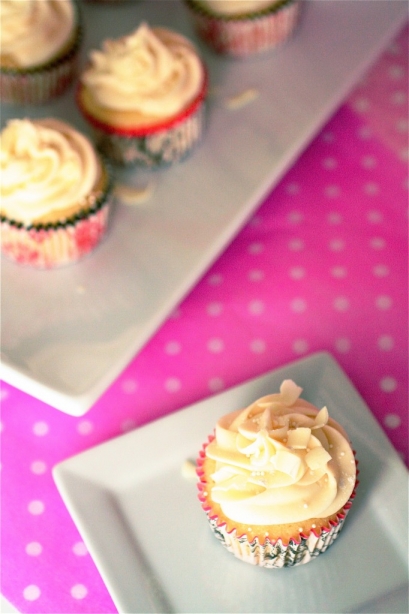 White Chocolate Cupcakes
Servings: 18 cupcakes
Ingredients
For the cupcakes:
1 and 1/2 cups flour
1 teaspoon baking powder
1/2 teaspoon salt
1/3 cup butter (5 and 1/3 tablespoons-your stick of butter will probably give you the measurement in case you are like me and can't do math), softened
3/4 cup sugar
2 large eggs
4 ounces good-quality white chocolate, chopped and melted
1 teaspoon vanilla
1 cup plus 1 tablespoon milk (I used whole because I had it on hand…use whatever you have)
For the frosting:
8 ounces cream cheese, at room temperature
1/2 cup (1 stick) unsalted butter, at room temperature
2 ounces white chocolate, melted
2 teaspoons vanilla
6 teaspoons milk
4-6 cups confectioners' sugar
Instructions
1. For the cupcakes: Preheat the oven to 325 degrees.
2. Line a cupcake pan (or two) with the cupcake liners of your choice.
3. In a large bowl, whisk together the flour, baking powder, and salt; set aside.
4. In the bowl of your standing mixer fitted with the paddle attachment, cream the butter and sugar together on medium-high speed until light and fluffy, about 2-3 minutes.
5. Add the eggs, one at a time, mixing well after each addition.
6. Add the melted white chocolate and vanilla, mixing well.
7. Alternately add the dry ingredients with the milk in 2-3 portions, mixing well after each addition.
8. Divide the batter evenly into the prepared cupcake pan.
9. Bake the cupcakes until a tester inserted into the center comes out clean, about 20-22 minutes or so.  Let cool completely before frosting.
10. For the frosting: In the bowl of your standing mixer fitted with the paddle attachment, cream the cream cheese and butter on medium speed until smooth, about 1 minute.
11. Add the melted white chocolate, vanilla, and milk.
12. Reduce the mixer speed to low and add the confectioners' sugar, until you reach your desired consistency. *I added the full 6 cups of sugar for proper piping consistency.
13. Pipe as desired onto completely cooled cupcakes.
Source:  Cupcakes and frosting directly from Baking Bites.