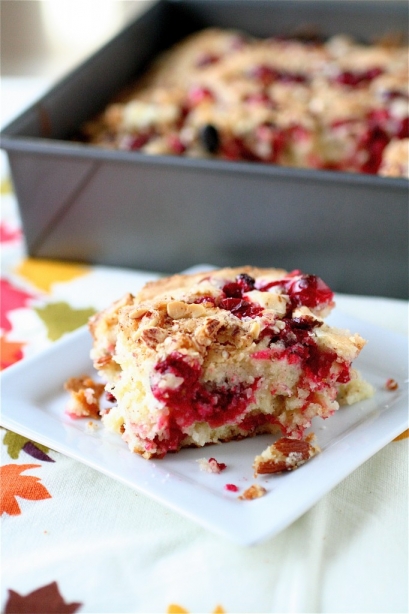 Where the heck is time flying to?  I realized earlier today when people at work were referring to Thanksgiving, they actually meant NEXT WEEK.  I can't believe it.  Within the next two weeks, I get to hop on a plane on three different occasions, one for a fun city weekend with a dear friend, one for the Thanksgiving holidays, and one for a job interview.  It's crazy.  While I welcome the holiday season, this year it has not only crept up on me, but it has completely jumped out of nowhere.
So now begin my Thanksgiving festivities…already. Like many of you out there, Thanksgiving has always been one of my favorite holidays…for obvious reasons.  I started celebrating a little early this year, making sure that I could have some great Thanksgiving-inspired recipes for all of you.
Let's start with this Cranberry Almond Coffee Cake.  No, it's not a traditional side or main dish for the big meal itself, but it would serve as a fantastic (and easy to prepare) dish for breakfast or brunch the day of or the day after (use those leftover fresh cranberries!)  This is sweet enough to even be served as a dessert-warm with some vanilla ice cream, even, in my opinion.
Cranberry Almond Coffee Cake
Servings: One 8 x 8-inch cake pan
Ingredients
3/4 cup (1 and 1/2 sticks) unsalted butter, at room temperature
1 and 1/2 cups sugar, plus more for sprinkling on top of the coffee cake
2 large eggs
1 teaspoon almond extract
1 and 1/2 cups all-purpose flour
Pinch sea salt
2 and 1/2 cups fresh cranberries, plus more for the top of the coffee cake
1/2 cup coarsely chopped almonds (I like mine in bigger pieces-I just pulsed whole almonds in the food processor a few times)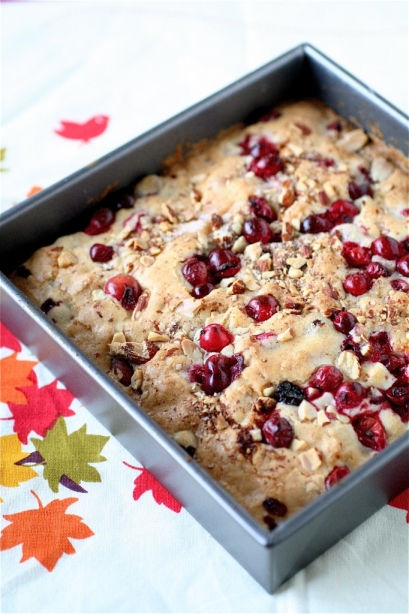 Instructions
1. In a microwave safe bowl, melt the butter in 30 second increments until completely melted.  Chill in refrigerator to cool slightly as you prepare the rest of the ingredients.
2. Set aside 2 tablespoons of the chopped almonds (these will be used on the top of the coffee cake).
3. Preheat the oven to 350 degrees.
4.  Generously spray an 8 x 8-inch baking pan with cooking spray.
5. In a large bowl, whisk together the flour and salt; set aside.
6. In the bowl of your standing mixer fitted with the paddle attachment, beat the sugar and eggs until pale yellow and smooth, about 3 minutes.
7. Add the cooled butter and almond extract and mix until well combined.
8. With the mixer speed on low, slowly add the flour to the wet ingredients and mix until just incorporated.
9. Using a rubber spatula, gently fold in the fresh cranberries and the almonds; mix well.
10. Pour the batter into the pan and smooth with an offset spatula.
11. Sprinkle the top of the batter with extra cranberries, the 2 tablespoons of almonds, and a light dusting of sugar, if desired.
12. Bake until a tester inserted into the center comes out clean, about 50 minutes or so.  (Feel free to cover the cake with aluminum foil if it begins to brown too much-I didn't have this problem, but the original recipe recommends this.)
Source:  Barely adapted from Bake at 350.