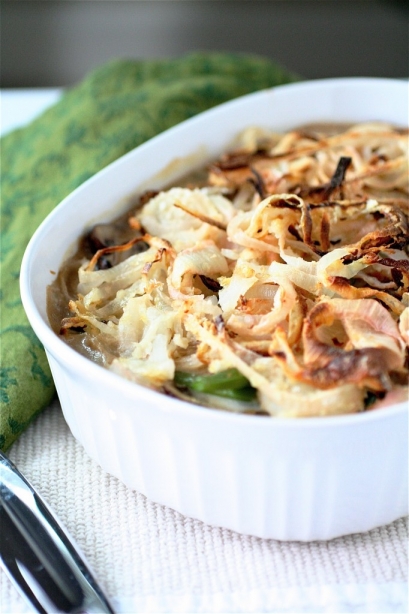 I have a confession to make.  A dirty, awful, secret that I have been keeping for years.
I'm a sucker for green bean casserole….you know, the kind with the canned condensed soup and the dried onions that come in a cardboard cylinder.  It's probably my favorite side dish at Thanksgiving each year.
I don't know why this is a dirty secret.  I'm not ashamed.
But, you see, I have really been trying to cut back on lots of food with preservatives. I already put salt on lots of food sheepishly, and when I read the labels on many of these pre-packaged ingredients, I feel a little nervous about the amounts of fillers, additives, and extra surprises I am adding to my food.  I allow myself usually one processed item per day (my Smartfood white cheddar popcorn…it's like crack to me), but the rest of what I eat is limited to straight up, pure, or almost-as-pure-as-possible food (unless we are talking about chocolate, especially snack size chocolate bars, which are also like crack to me).  A couple of years ago, when I cut back on things like that and started exercising a bit, I lost over 30 pounds.  I find that when I cut things out like carbonated beverages, excess sugar, or preservatives, I sleep better, I have more energy, and I don't feel sick after eating as much (because I am usually eating while I work).
So, this year I wanted to find a green bean casserole that could be an easy substitute for the other version.  This is pretty awesome, people.  Granted, it's not as simple to assemble as the "other" version (and, trust me, I will probably be eating the other version this year since I will be a guest at this year's Thanksgiving festivities instead of being the host, and I will eat it with great enjoyment), but it's extremely tasty.  There's nothing like using the freshest ingredients possible when cooking.
Fresh Green Bean Casserole
Servings: approximately 6 side-dish servings
Ingredients
For the topping:
2 medium yellow onions, thinly sliced
1/4 cup all-purpose flour
2 tablespoons panko
1 teaspoon sea salt
For the casserole:
2 tablespoons sea salt (for boiling the green beans), plus an extra 1 teaspoon sea salt
1 pound fresh green beans, cleaned, trimmed, and halved
2 tablespoons unsalted butter
12 ounces assorted mushrooms (I used a mixture of white button and cremini), cleaned and cut into 1/2-inch pieces
2 cloves of garlic, minced
Pinch nutmeg
2 tablespoons flour
1 cup vegetable broth
1 cup half-and-half
Salt and pepper, to taste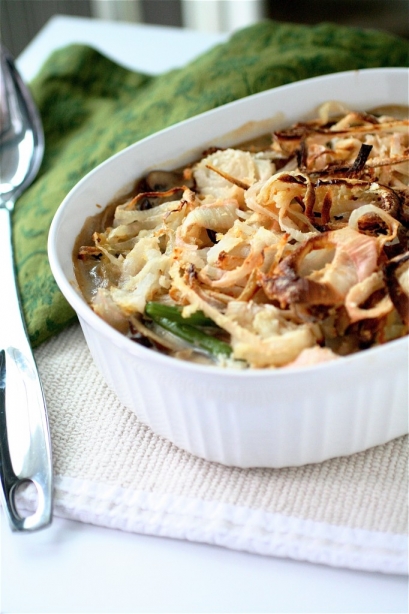 Instructions
1. For the topping: Preheat the oven to 475 degrees.
2. In a large bowl, combine the onions, flour, panko, and salt, tossing lightly to thoroughly coat the onions with the flour mixture.
3. On a rimmed baking sheet lightly sprayed with cooking spray, spread the onions out in an even layer, and bake, tossing the onions occasionally during baking to allow for even cooking, for about 30 minutes.  Once the onions are cooked, decrease the oven temperature to 400 degrees (you will bake the casserole at this temperature.)
4. For the casserole: Meanwhile, bring a large sauce pot of water and the 2 tablespoons of salt to a boil.
5. Add the green beans to the boiling water and cook for 5 minutes.
6. Drain the beans and immediately plunge them into a bowl of ice water to prevent overcooking; drain and set aside.
7. In a sauté pan over medium-high heat, melt the butter.
8. Add the mushrooms and salt and pepper (to taste), and cook until the mushrooms are softened, about 4-5 minutes.
9. Add the minced garlic and the nutmeg, and cook, stirring frequently, for another 1-2 minutes.
10. Sprinkle the flour over the cooking mushrooms and stir to coat thoroughly, and cook for another minute.  Add the broth and continue to simmer for another minute.
11. Decrease the heat to medium-low and add the half-and-half, stirring frequently, and cook until slightly thickened, about 6-8 more minutes.
12. Remove the pan from the heat and stir in 1/4th of the cooked onions and all of the green beans.
13. Transfer the mixture to a 1.5-quart casserole and top with the remaining onions.
14. Bake for 15 minutes.  Serve warm.
Source:  Slightly adapted from Alton Brown via the Food Network.