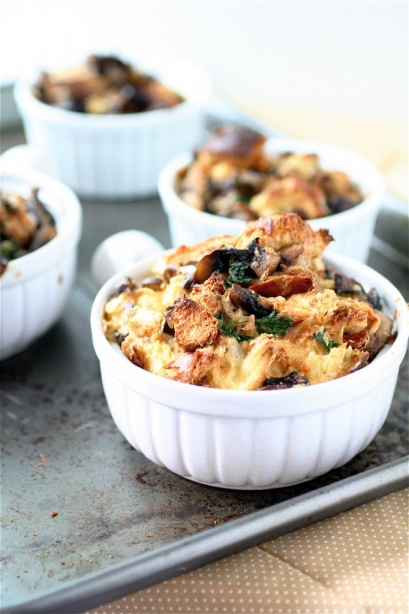 So, here's my main course choice for Thanksgiving 2011.  I'm a sucker for individual-sized portions, seeing that last year, I chose Vegetarian Pot Pies as my Thanksgiving main course, I'm keeping that theme alive.
How can a vegetarian go wrong with mushrooms?  Savory, meaty, and filling, these guys have stolen my heart this year.  I went crazy at the market, experimenting with all different sorts of mushroom species (and I threw in the usual cremini and buttons to add some familiar flavors as well), and I have to say that I wasn't disappointed.  This bread pudding (yes, while it's a bread pudding, and I usually have consistency issues with them) held up very nicely and had a fantastic, savory flavor.  I made several portions of this, and I ate the leftovers as brunch the next morning with a poached egg on top (so you could use the leftovers for brunch the next morning!)  You don't have to make these in individual ramekins-a usual casserole dish can be substituted instead.  I was a little frugal with the Parmesan cheese here, but I think any kind of mild cheese would do well with this-maybe I will try a Swiss next time.  Either way, this is a filling and satisfying vegetarian substitute (or a great side dish!) for this Thanksgiving.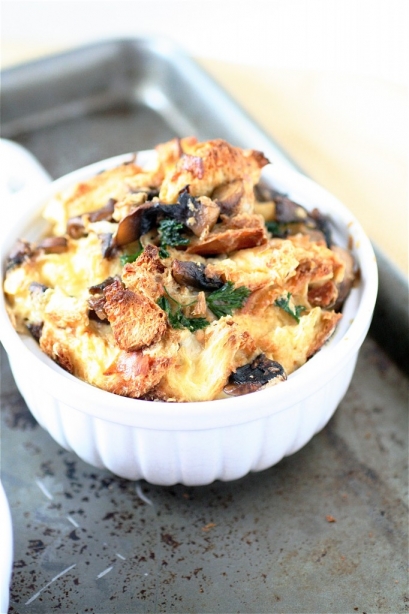 Wild Mushroom Bread Puddings
Servings: 6 large ramekins or one 2-quart casserole dish
Ingredients
4 cups fresh bread, cubed **I used challah from the bakery-it was great!
1 and 1/2 pounds mixed fresh mushrooms (variety of your choice), cut into 1/4-inch pieces
1/2 cup shallot, finely chopped
Salt and pepper, to taste
2 tablespoons unsalted butter
1/2 cup parsley, chopped
2 cloves garlic, minced
2 cups half-and-half
4 large eggs
1/2 cup Parmesan cheese, grated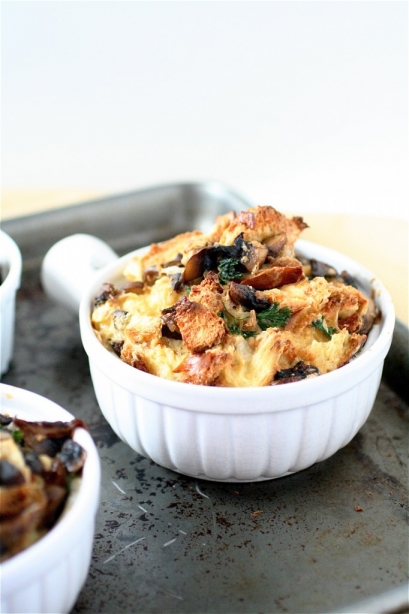 Instructions
1. Preheat the oven to 350 degrees.
2. On a rimmed baking sheet lightly sprayed with cooking spray, spread the bread cubes out evenly, and bake until toasted, about 10 minutes; set aside.
3. In a sauté pan over medium heat, melt the butter.
4. Add the shallot, and cook, stirring frequently, until the shallot is softened, about 3-4 minutes.
5. Add the mushrooms, salt, and pepper, and cook, stirring frequently, until the mushrooms have lost most of their liquid, about 15 minutes or so.
6. Add the parsley and garlic and cook for another 2 minutes.
7. Remove the pan from the heat.
8. In a large bowl, whisk together the half-and-half, eggs, and Parmesan.  Add salt and pepper, if desired.
9. Add the cooked mushrooms and bread cubes to the bowl, tossing to coat them thoroughly with the egg mixture.  Let stand at room temperature for about 10 minutes so that the bread can soak up the egg mixture.
10. Spray the ramekins/casserole generously with cooking spray and spoon the mixture into them.
11. Place the ramekins on a baking sheet and bake for 30-35 minutes.  Serve immediately.
Source: Gourmet, December 2007.