If you follow my Facebook page, you might remember that a few weeks ago, I was elated to come home to a long-lost package that I had been waiting months for.  As a graduation gift to myself (and using some random gift cards I found while getting ready to move across the country), I bought myself a brand new, cherry-red KitchenAid mixer.  As part of the promotion, I got a certificate for a free ice cream making attachment for the mixer-and I was completely pumped.  I had been dying to make ice cream on my own, but I had been waiting for the perfect opportunity to get my own attachment.  And here it was.
Well, I sent all the receipts, serial numbers, and rebate paperwork off once I moved to New England in June.  I had to move unexpectedly mid-August (remember the rodent infestation??? Did I ever tell you about that apartment?), so I promptly called KitchenAid to ask them to change the shipping address.  I did, and they said that the package would ship at the end of that week.  I waited…and waited…and waited…and waited…all the way to October, and still no ice cream maker attachment had found its way to my new apartment.  I finally called KitchenAid, and they claimed that they had delivered it to my apartment building and placed it outside the door (they had the tracking number and everything)…and that it had been delivered in August, but without my actual unit number.  I was totally bummed out to learn that one of my new neighbors had probably swiped my mixer attachment-especially because it wasn't shipped in a non-descript cardboard box, but the actual mixer attachment box itself (so it was plain and clear to see what was in the box).  Thanks, awesome new neighbors.  You are probably also the ones who don't clean up after your dog, either.  🙁
Needless to say, after talking to my apartment complex and confirming that it wasn't accidentally delivered to the leasing office, I called KitchenAid to tell them of the situation.  They immediately sent me a new mixer attachment…and one day, I came home to the red, white, and black box sitting right outside my unit door.  I may have squealed with joy and texted at least 5 of my friends that I had finally received my new toy.
This was the first ice cream on the list of recipes to try.  After having the best ice cream of my life in Seattle at Canlis, I knew that I had to try it on my own.  And, so I did.  And I packed it into nice little pints so that I have a constant supply in my freezer (or I give them to friends).  This ice cream would be amazing with pumpkin pie or pecan pie at Thanksgiving…a little bit of that salty, creamy, sweet ice cream with some warm holiday pie?  Sign me up.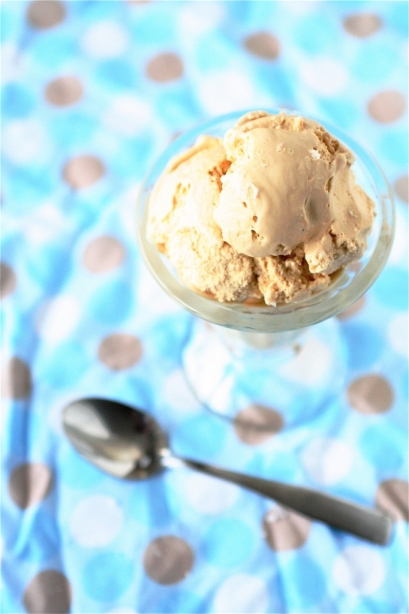 Salted Caramel Ice Cream
Servings: 2 pints
Ingredients
1 and 1/4 cups granulated sugar, divided
2 and 1/4 cups heavy cream, divided
1/2 teaspoon flaky sea salt
1/2 teaspoon vanilla extract
1 cup whole milk
3 large eggs
Instructions
1. In a deep and heavy saucepan over medium heat, melt 1 cup of the granulated sugar, stirring constantly to evenly heat, until it reaches a dark amber color.  **This only took me about 4-5 minutes.
2. VERY carefully, add 1 and 1/4 cups heavy cream to the melted sugar (it will boil up and splatter), and stir until the mixture is thoroughly combined.
3. Transfer the mixture to a bowl and add the sea salt and vanilla, mixing well.  Let the mixture cool to room temperature.
4. In another sauce pot over medium heat, bring the remaining 1 cup of cream, the whole milk, and the remaining 1/4 cup of granulated sugar to a boil, stirring frequently.
5. In a separate bowl, whisk the eggs together.
6. In a very slow and steady stream, add half of the hot milk mixture to the eggs, whisking constantly. **Adding the mixture slowly and stirring will prevent the eggs from cooking from the heat.
7. Once half of the hot milk mixture has been added to the eggs and mixed well, return the egg/milk mixture back to the sauce pot and cook over medium heat until the mixture reaches 170 degrees on an instant-read thermometer (don't let it boil), and it coats the back of a wooden spoon.
8. Pour the hot egg/milk mixture into a fine-mesh sieve over a bowl (this will catch any little bits of egg that have cooked).
9. Add the cooled caramel to the strained custard and mix well.
10. Refrigerate the custard, stirring every hour or so, until completely chilled, about 4-5 hours.
11. Prepare the ice cream, according to your ice cream maker's instructions, and pack tightly in air-proof containers and freeze.
Source: Directly from Gourmet, August 2009 via Epicurious.