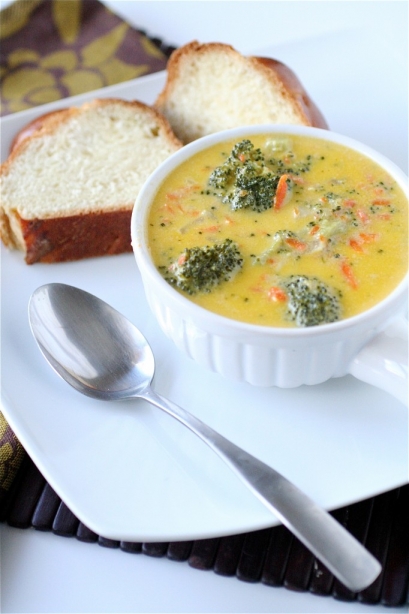 Are you familiar with Panera's Broccoli Cheddar soup? Well, I used to be.  I got it every time I went to Panera (usually in bread boule).  The stuff is amazing, isn't it?  But, unfortunately, it's not vegetarian.  It's made with a chicken stock base, and therefore I longingly stare at it on the menu and then order something else (the vegetarian options are also great, in my opinion).  So, when I saw that one of my food blogging friends had made the copycat version in her own kitchen, I decided to try a vegetarian twist on it.  I was not disappointed.
I ended up substituting a vegetable stock base, and I increased the vegetable component to make it a little more healthy.  Coming from one of the biggest cheese regions of the country, I pulled out all the stops and used a high-quality sharp cheddar for the cheese (I used Cabot Creamery's sharp cheddar….my favorite.)  This recipe does make a lot of servings, so if you aren't planning to either eat it all or freeze it, I would recommend cutting the recipe in half.  My next challenge?  Trying to make the bread boule…….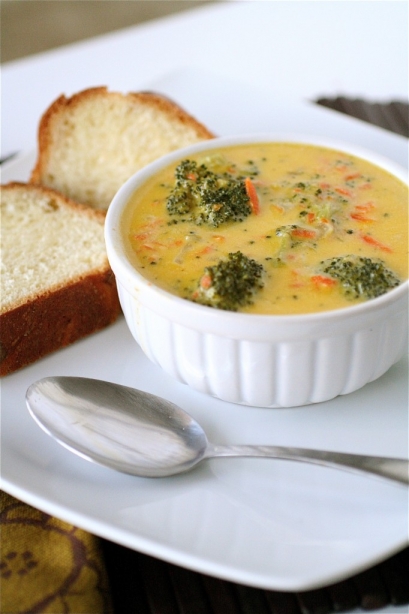 Broccoli Cheddar Soup
Servings: approximately 8 servings
Ingredients
3 tablespoons unsalted butter
1/2 small onion, chopped
1/4 cup flour
1 cup whole milk
1 cup heavy cream
3 cup vegetable broth (plus more if needed)
Pinch nutmeg
2 bay leaves
Salt and pepper, to taste
2 carrots, grated
4 cups broccoli florets
8 ounces sharp cheddar, cubed
Instructions
1. In a sauté pan over medium-high heat, melt the butter.
2. Add the onion and cook until translucent, about 4-5 minutes, stirring frequently.
3. Remove the onions from the heat and set aside.
4. In a large Dutch oven or sauce pot over medium heat, whisk together the flour, milk, and cream.**It's very important to be PATIENT here and whisk continuously.  The mixture will be lumpy, but it will smooth out eventually with the heat.
5. Whisking constantly, add the vegetable broth until smooth.
6. Add the nutmeg, bay leaves, and salt and pepper (to taste) and let the mixture simmer,uncovered, for about 20 minutes.
7. Add the cooked onions, broccoli, and carrot, mixing well.  Let simmer for another 20 minutes.
8.  Add the cheese and stir until completely melted, adding more broth if necessary.
Source: Adapted from Blog is the New Black.