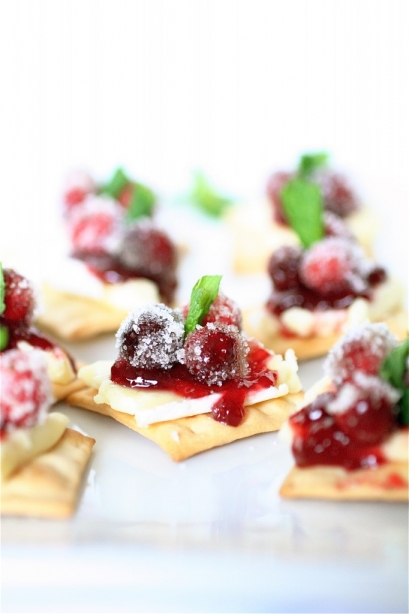 I have become a huge fan of Pinterest lately.  I used to spend a lot of time on various food photography websites for recipe inspiration, but Pinterest has sort of stolen my heart a bit as of late.  If you haven't tried it, you should give it a little look-tons of inspiration and talent out there in this great big world (not just limited to food pictures, but just about everything under the sun).  I came across the original recipe for these little appetizers through Pinterest, and I was determined to make these for several reasons.
I love Brie.  Brie anything.  Especially Brie around the holidays.   But when I saw these festive little sugared cranberries, I was intrigued.  I had overbought some cranberries around Thanksgiving, so this was a great way to use up the leftovers in my fridge.  The best part?  I had a lot of extra sugared cranberries after making these, so when I headed over to a friend's house the other night with a few other little appetizers, I brought the sugared cranberries along with me.  They were great alongside some (ginormous) grapes and various cheeses. (And, they looked really festive on my serving plate).
I decided to use up some raspberry jam I had in my fridge as a little garnish to these appetizers.  I thought the raspberry added a little extra hit of sweetness to the cranberries (even though they were rolled in sugar, they still had a little bit of that tartness).
Ah, cheese.  Cheese and fruit.  On crackers.  A fabulous little holiday appetizer, in my opinion. 😉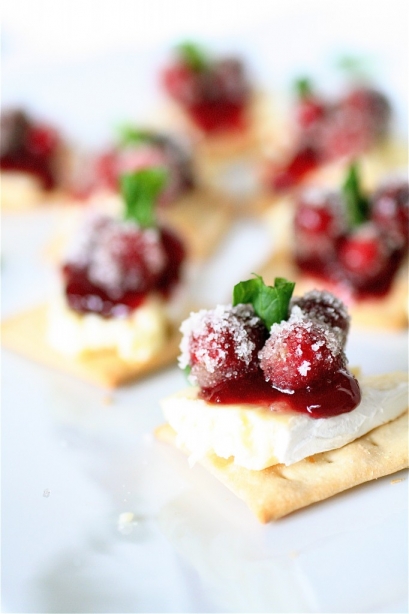 Cran-Raspberry Brie Bites
Servings: approximately 20 appetizers (you will have leftover cranberries, so feel free to make more or less depending on your needs)
Ingredients
2 cups fresh cranberries
1 cup maple syrup
1 cup sugar
8 ounces Brie cheese
Crackers (whatever kind you want)
Raspberry jam (however much you want)
Mint, for garnish (optional)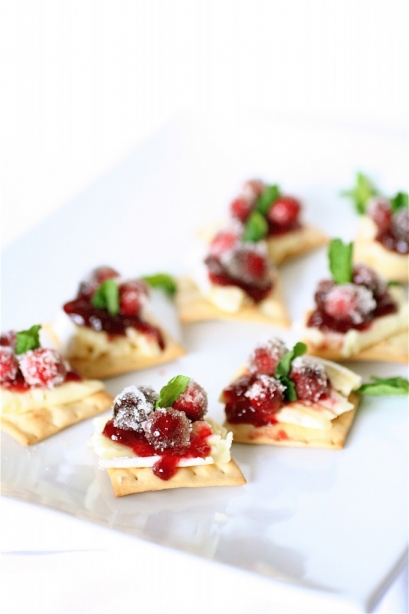 Instructions
1. In a small saucepan, heat the maple syrup gently over medium heat until warm.
2. Pour the warm maple syrup over the cranberries until completely covered.  Refrigerate the cranberries until chilled, at least 4 hours or overnight.
3. Once chilled, drain the cranberries in a colander.
4. Place the sugar in a medium bowl.
5. Using a fork, gently roll the cranberries in the sugar until completely coated.
6. Place the cranberries on a flat surface (I used a baking sheet) and let dry, at least 1 hour.  Store in the fridge until ready to use.
7. Assemble each Brie bite by placing a slice of the cheese onto each cracker, spread some raspberry jam on top and garnish with sugared cranberries and mint.
Source:  Adapted from Yummy Mummy Kitchen.  Have you seen this website yet?  It's fantastic!