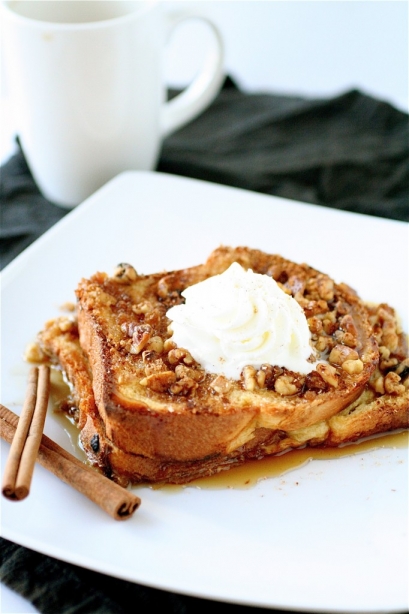 I think we've been over this before.  I'm not a big sweet breakfast person.  Growing up in the Midwest, it was all about eggs, biscuits, gravy, and some sort of pork product.  I find the savory breakfast foods as pretty much my ultimate kind of comfort food.  But, as you probably have noticed, I am gradually switching over to the sweeter side.  Especially with the holidays around the corner, and especially because I have at my fingertips some of the best creamery products in the world (one of the best parts about New England, in my opinion….), I thought this baked eggnog French toast would be a great experiment.
I was actually a little hesitant to try this recipe…no egg dip, no griddle, not too much in the way of ingredients.  I didn't want a  soppy mess on my hands, but I did love the ultimate convenience of throwing it in the fridge the night before and then just popping it into the oven the next morning.  And the fact that my apartment smelled like the North Pole while this was baking.
I think you could play around with the ingredients a lot with this recipe.  Instead of walnuts, try another nut.  Mess around with the spices.  I'm not a huge nutmeg fan, but what's eggnog without a little nutmeg sprinkled on top?  I halved the original recipe, so I had enough for two portions.  If you have an army to feed and a giant baking pan, this would be a great addition to any holiday get-together.
I made up some home made vanilla whipped cream to put on top with a splash of maple syrup. Another kitchen experiment victory, just in time for the holidays.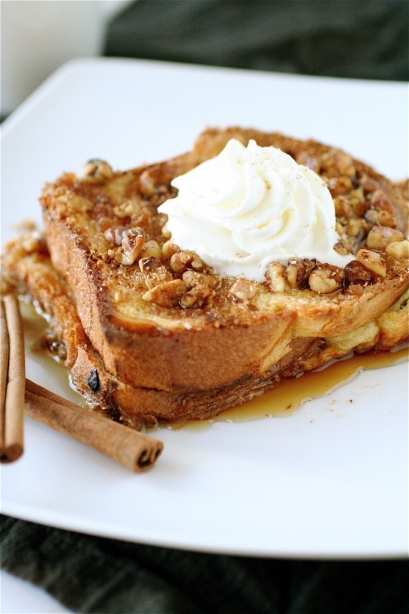 Baked Eggnog French Toast
Servings: 2
Ingredients
4 3/4-inch slices of brioche
2 cups eggnog
1/3 cup walnuts
2 tablespoons brown sugar
1 teaspoon ground cinnamon
Fresh nutmeg, grated (to your liking)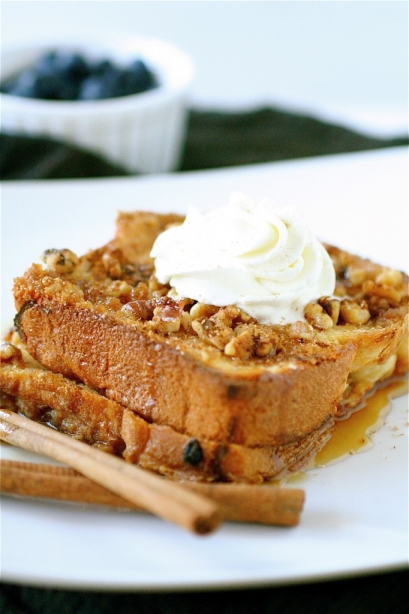 Instructions
1. Lightly spray a baking pan with cooking spray.
2. Line the slices of brioche evenly in the baking pan (some overlap is fine).
3. Pour the eggnog evenly over the bread, making sure that all pieces get covered.
4. Cover the baking pan and chill for at least 4 hours (or overnight, preferably).
5. The next morning, preheat the oven to 375 degrees.
6. In a small bowl, combine the brown sugar, cinnamon, and nutmeg.
7. Evenly sprinkle the walnuts over the bread.
8. Top the walnuts with the brown sugar mixture.
9. Bake, until the walnuts are lightly browned, about 25 minutes or so. ***I had to watch mine very carefully because they started browning very quickly.  If you are making a larger batch, you could increase the cooking time by about 5-10 minutes, but make sure to watch it carefully.
Source:  Adapted from Whole Foods.