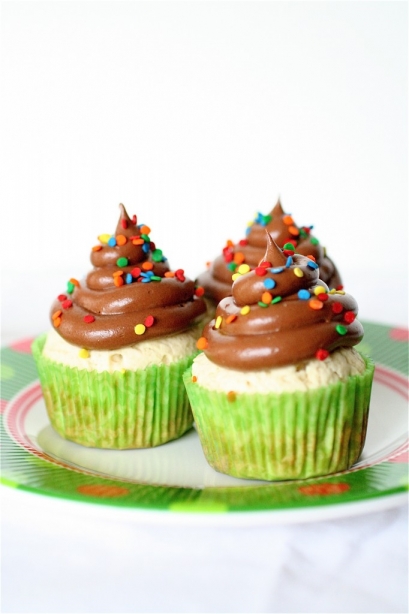 Real vanilla beans make anything taste better.  But I know that they are kind of expensive, so I only try to use them in moderation.  When a co-worker requested a simple vanilla cupcake with chocolate frosting, I knew I had to take it up a notch and make them a little extra fancy.  And, when I saw the recipe for a golden, dense and buttery pound cake, I knew that this would be the recipe to try.
Now, when I say that these are dense cupcakes, I mean it.  They have the smooth and heavy consistency of regular pound cake, in portable, individual cupcake form.  These cupcakes don't rise  like a lot of other cupcakes do-they ooze a lot of that butter right out of the cupcake liners (use some high-quality paper liners that are slightly resistant) or forgo the liners and just bake them right in the pan.  Any kind of frosting would be good for these cupcakes.  I imagine that with the holidays coming up that a peppermint or vanilla bean frosting would be fantastic.  In this case, I used a simple chocolate buttercream recipe.  And these definitely didn't disappoint.  And, sometimes, simple is better.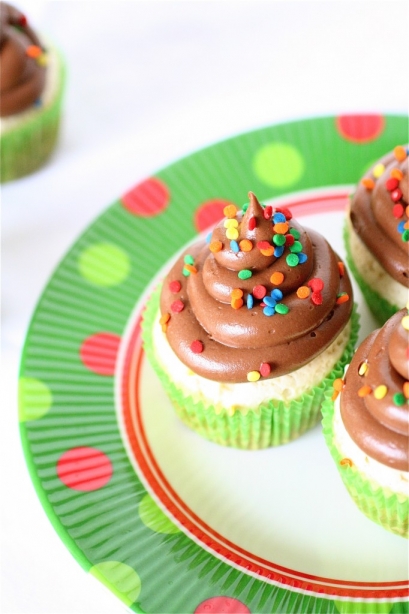 Vanilla Bean Pound Cake Cupcakes
Servings: 24 cupcakes (I doubled the original recipe)
Ingredients
For the cupcakes:
1 and 1/2 cups sugar
2 vanilla beans, split lengthwise and seeds removed
3 sticks unsalted butter, at room temperature
6 large eggs
2 tablespoons vanilla extract
4 cups cake flour
1 teaspoon baking powder
1/2 teaspoon salt
2/3 cup sour cream
For the frosting:
3 and 3/4 cups semisweet chocolate chips
4 and 1/2 sticks (36 tablespoons) unsalted butter, at room temperature
2/3 cup powdered sugar (plus more if needed)
Pinch sea salt
Sprinkles, for garnish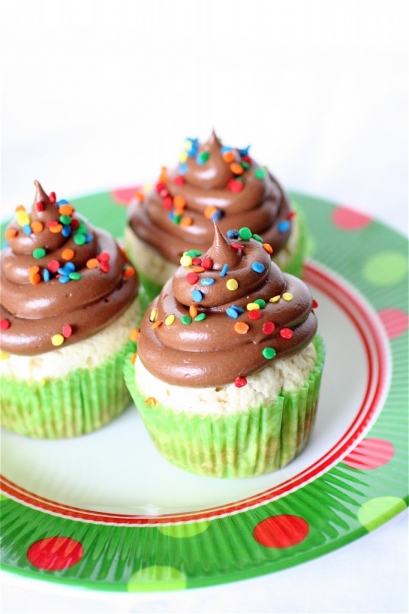 Instructions
1. For the cupcakes: Preheat the oven to 350 degrees.  Prepare a cupcake pan with the liners of your choice.
2. In the bowl of your standing mixer fitted with the paddle attachment, mix the sugar and vanilla bean seeds at low speed until combined.
3. Add the butter to the vanilla sugar mixture and beat at medium-high speed until light and fluffy, about 4-5 minutes.
4. In a small separate bowl, whisk together the eggs and the vanilla extract.
5. Decrease the mixer speed to medium-low and slowly add the eggs to the butter mixture.
6. In a separate large bowl, whisk together the cake flour, baking powder, and salt.
7. With the mixer on low speed, alternately add the dry ingredients and the sour cream mixture, mixing until just combined, scraping down the sides of the bowl as needed.
8. Divide the batter among the baking cups and bake until a tester inserted into the center comes out clean, about 20 minutes. Let cool completely.
9. For the frosting: In a heatproof bowl over simmering water, melt the chocolate chips, stirring until smooth.  Set aside and let cool until room temperature.
10. Using your stand mixer or a hand mixer, beat the butter, sugar, and salt together on medium-high until light and fluffy, about 3-4 minutes.
11. Reduce the mixer speed to low and add the melted chocolate to the frosting, mixing until smooth.
12. Pipe as desired onto the cupcakes.
Sources: Cupcakes from Cupcake Project, originally from Caviar and Codfish. Frosting from Martha Stewart.