I promise I will get back to some healthy stuff after the holidays.  Pinky swear.  But, for the time being, there's a whole lot of sweetness coming your way from me.  I hope everyone out there is enjoying the holiday season….and enjoying all that holiday food.
This was another cupcake for one of my co-workers.  And this one ranks right up there with an "almost completely offensive" cupcake.  A cupcake with a multiple personality disorder.  It  can't decide if it wants to be a cheesecake, a cupcake, or a little of both rolled up into one fantastic dessert.
Amazingly enough, these cupcakes look much harder to put together than they really are.  The cheesecake is actually baked right into the cupcake, saving a lot of time in the assembly department (the usual coring out the cupcake and then filling it with some sort of semisolid goodness in the middle can be a little time consuming…not to mention a little dirty).  And, again, anything topped with a velvety cream cheese buttercream gets a gold star in my book.  I topped a few of the cupcakes with some graham crackers, just to add a little dimension and height, but they really aren't that necessary.  Next time I might crush some graham crackers up and sprinkle them on top of the cupcake.  I was told by several people who have sampled several of the cupcake flavors this year that this one takes the cake (pardon my pun).
I mean, seriously.  Chocolate + cheesecake + buttercream frosting?  This might be the perfect dessert trio.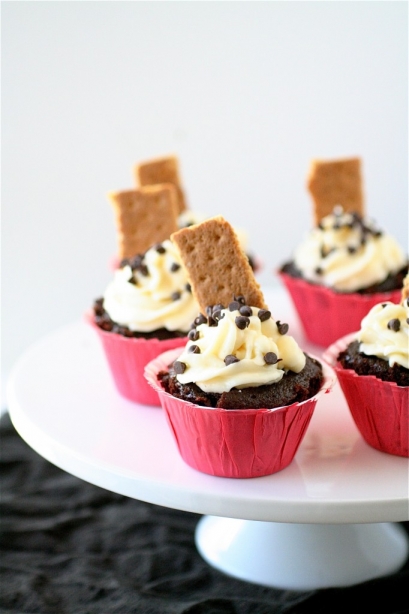 Chocolate Cheesecake Cupcakes
Servings: approximately 18 cupcakes
For the cupcakes: (again, this batter makes a lot-feel free to make extra plain cupcakes)
3 ounces semisweet chocolate chips
1 and 1/2 cups hot brewed coffee
3 cups sugar
2 and 1/2 cups flour
1 and 1/2 cup cocoa powder
2 teaspoons baking soda
3/4 teaspoons baking powder
1 and 1/4 teaspoons salt
3 eggs
3/4 cup vegetable oil
1 and 1/2 cups buttermilk
3/4 teaspoon vanilla
For the cheesecake filling:
1 8-ounce package of cream cheese, at room temperature
1 large egg
1/3 cup granulated sugar
1/8 teaspoon salt
1/2 teaspoon vanilla extract
6 ounces miniature chocolate chips (I used semisweet).
For the frosting:
2 8-ounce packages cream cheese, at room temperature
1/2 cup (1 stick) unsalted butter, at room temperature
2 cups powdered sugar
1 teaspoon vanilla extract
Chocolate  chips and graham cracker squares, for garnish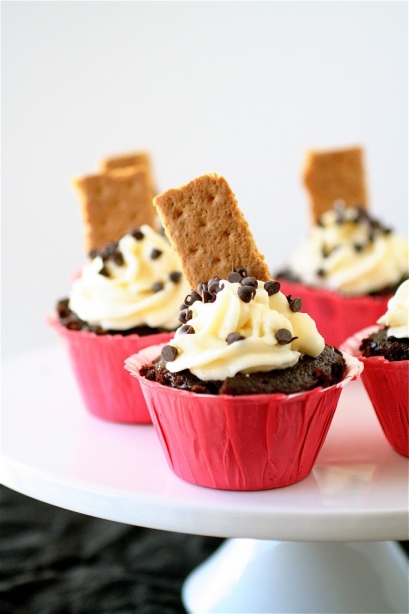 Instructions
1. For the cupcakes: Preheat the oven to 350 degrees.
2. Line cupcakes pans with the liners of your choice.
3. Place the chocolate chips in a medium bowl and carefully pour the hot coffee over the chocolate; let sit for about 1 minute.  Whisk until smooth; set aside.
4. In a large bowl, whisk together the sugar, flour, cocoa powder, basking soda, baking powder, and salt.
5. In the bowl of your standing mixer fitted with the paddle attachment, beat the eggs on medium-high speed until smooth, about 2 minutes.
6. Reduce the speed to medium-low and slowly add the vegetable oil, buttermilk, vanilla, and melted chocolate.
7. Reduce the mixer speed to low and add the dry ingredients, mixing until combined, scraping down the sides of the bowl as necessary.
8. For the cheesecake filling: In a large bowl (using your stand mixer or an electric mixer), combine the cream cheese, egg, sugar, salt, and vanilla, mixing until smooth.
9. Using a rubber spatula, add the miniature chocolate chips by hand and mix until well incorporated.
10. To assemble the cupcakes: Place about 1 tablespoon of chocolate cupcake batter into each baking cup.  On top of this layer, add about 1 teaspoon or so of the cheesecake filling.  Cover the cheesecake filling with the remaining chocolate cupcake batter, filling each cupcake liner about 3/4's of the way full.
11. Bake the cupcakes until a tester inserted into the center comes out clean, about 18-20 minutes.
12. For the frosting:  In a large bowl (using your stand mixer or your electric hand mixer), combine the cream cheese, butter, powdered sugar and vanilla extract, mixing until smooth.  Once the cupcakes have completely cooled, pipe as desired onto each cupcake and garnish.

Sources: Cupcake base from Annies Eats (adapted from Smitten Kitchen, originally from Gourmet.).  Cheesecake filling from Bakergirl.  Frosting adapted from Martha Stewart.