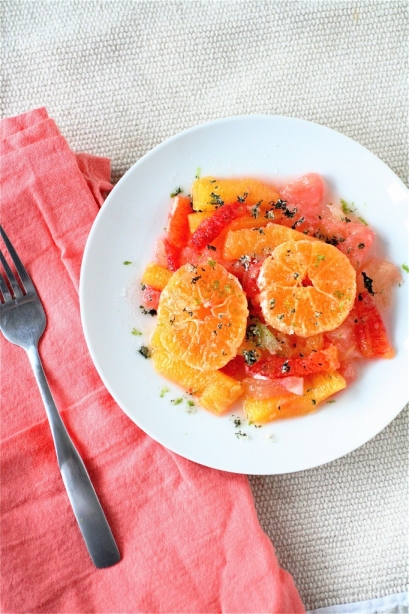 Happy New Year to You!  I hope 2012 brings you health, happiness, and fun in the kitchen.  I have a few goals for the website in the coming year (now hopefully my schedule can relax a little and I can get back to regular blogging), and I will be excited to share them with you along the way.
But, first, I want to thank those of you who have supported the Curvy Carrot, whether by your kind words, comments, or emails.  I spend a lot of time and energy working on this extracurricular hobby of mine, and it means a lot to me to be able to share my love for food with you.  I try every recipe that I post online-and, believe me, there are many-a-failed recipes I have tried.  Your constructive and positive feedback means a lot.
I thought I would start out the year with a fresh, healthy, and vibrant salad.  I've been under the weather for the past week (fevers, chills, and all), and this was the only thing that sounded good to me.  I used whatever fresh citrus was available at my local market-this recipe is extremely versatile in what kinds of fruits you use-I even threw in half a leftover lemon from my tea (hey, I needed as much vitamin C as possible!)  I made enough for two large main course salads, but what I have posted here would also be enough for four small side salads. If you are not a fan of mint, I would omit it and add a dash of cranberry juice (or other juice) that you have on hand.  Depending on the ripeness of the citrus fruits you choose, this is not necessarily a sweet type of salad (of course, you can adjust that by the amount of sugar or sugar substitute you use on top), but it's definitely refreshing.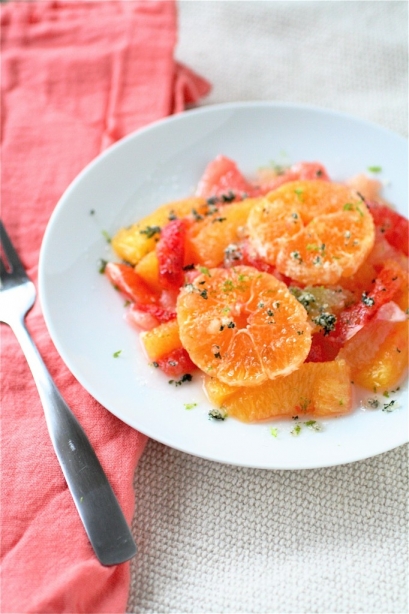 Citrus and Mint Salad
Servings: 2 large main course salads or 4 small side salads
Ingredients
3 ruby red grapefruits, peeled, pith removed and supremed
3 navel oranges, peeled, pith removed, and supremed
2 clementines, peeled, and sliced into 1/4″ slices
2 blood oranges, peeled, pith removed, and supremed
1/2 lemon, peeled, pith removed, and supremed
1 lime, peeled, pith removed, and supremed
1/4 cup granulated sugar
2 tablespoons fresh mint leaves
Instructions
1. In a large bowl, combine all the fruit (I used a paring knife to slice off the tops and bottoms off of each fruit, then carefully peeled the rind of with the knife.  Once I got to that point, I carefully slit each segment of fruit free of its membrane.  Time consuming?  Yes.  Worth it?  Yes.)
2.  Chill until ready to serve.
3. Meanwhile, in your food processor, combine the sugar and mint leaves and pulse until the mint is finely chopped.
4. Sprinkle desired amount of sugar over the fruit and serve immediately.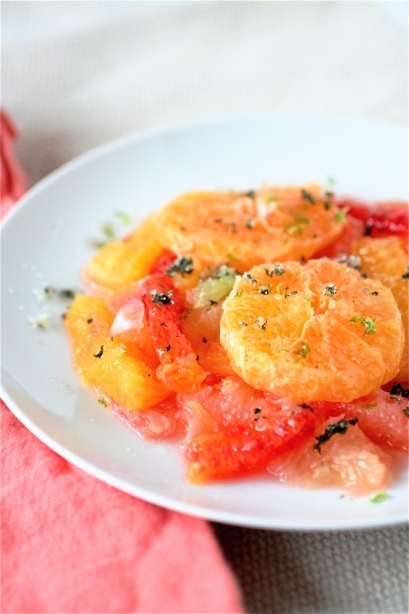 Source:  Adapted from Bon Appétit.