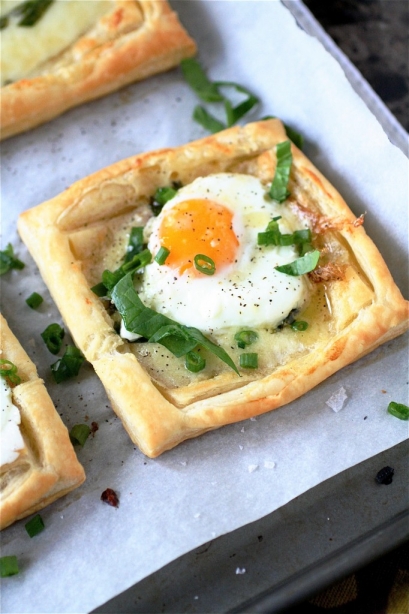 New Year's Eve had me running a temperature and fending off the worst head cold I have had in a very long time.  Which I attribute to a mix of traveling on icky airplanes, overcrowded airports, holiday stress, and a lack of sleep.  I rarely get sick, but this time, I was, unfortunately, knocked back down from thinking, "It's awesome I never get sick" to "Oh, wow.  I definitely need my pajamas, some miso soup, and some tea.  Immediately." (Oh, and the fact that at 31 years old, I desperately wanted my mom to come and tuck me in at night and make me feel better.)  My evening plans quickly went from wondering what kind of sparkly top I would wear to dinner with friends to what temperature on my electric blanket would not overheat my fever.  Yuck.
The good news is that, after a 14 hour bender of solid (well, almost solid, considering Scout had to go out a couple times in the interim…and she was an understanding dog.  I think she knew I wasn't feeling all that great..) deep (albeit night-time cold medicine enhanced) sleep, on New Year's Day I was feeling up to eating something savory, easy, and relatively straightforward to make.  I had stocked up with groceries when I had returned back home from my travels earlier in the week, and, amazingly, had a box of puff pastry dough in my freezer (seriously, it's serendipity.  I never have all the ingredients on hand, it seems.)  After a quick thaw in my fridge, the puff pastry was ready, and I was in need to feed my cold.  Wait, what is it?  Feed a cold, starve a fever?  Or is it the other way around?  I can't remember.  All I know is that these little tartlettes brought some savory goodness to my taste buds (and, hallejuhah! I can taste something again!).  I promptly ate two, and then headed back to bed for a long marathon of book reading, trashy girly TV shows, my happy family consisting of two fat cats and one adventurous dog, and Words with Friends. All right, maybe I couldn't have my mom there with me.  But, after a full belly consisting of this meal, I did feel a lot better already.
Hope your 2012 is going well so far.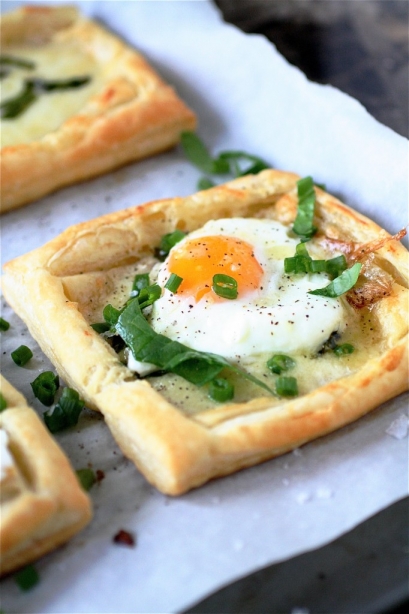 Egg and Cheese Tartlettes
Servings: 4 tarts
Ingredients
1 sheet thawed puff pastry dough (I used store-bought, pre-made Pepperidge Farm brand.  Nope.  I don't have time to make my own.  Yet.)
1/2 cup white cheddar cheese, grated
1/2 cup Gruyere cheese, grated**Or use a mixture of whatever cheeses you have on hand.
1/3 cup crème fraîche (or sour cream…or Greek yogurt)
1/4 cup fresh spinach, chopped
1 tablespoon shallot, finely chopped
4 eggs
Butter or vegetable oil, for frying the eggs
Salt and pepper, to taste
Scallions, chopped, for garnish, if desired
Instructions
1. Preheat the oven to 400 degrees.
2. Line a baking sheet with parchment paper; set aside.
3. On a flat and clean surface, gently flatten out the puff pastry.
4. Using a pizza cutter, cut the puff pastry into four equal squares.
5. Using a sharp paring knife, very carefully cut a line (don't cut all the way through the dough…you want to create a little break in the surface so that a ridge forms while the tarts bake…) about half an inch inside the edge of each square.
6. Using a fork, prick the inside of this new square several times.
7. Place each puff pastry square on the baking sheet.
8. In a medium bowl, combine the crème fraîche and cheeses, mixing until well combined.
9. Gently place and spread about 1-2 tablespoons of the cheese mixture onto the center of each puff pastry square.
10. Sprinkle the cheese with the chopped spinach and shallots (as much or as little as you desire.)
11. Bake until the pastry is lightly puffed and golden, about 15 minutes.
12. Meanwhile, melt the butter or oil in a frying pan over medium heat.
13. Cook your eggs, sunny side up, as desired (I find that cooking the eggs in a deep-bottomed fry pan and then covering them for about a minute or so while frying helps cook them evenly-I have a severe dislike for runny whites. I personally have the most success this way.)
14. Top each tart with a fried egg, garnish with scallions and salt and pepper, to taste.  Serve immediately.
Source:  Adapted from Williams-Sonoma.