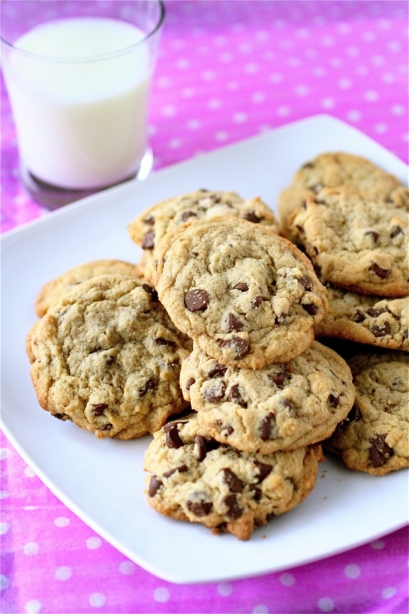 Happiness is a warm chocolate chip cookie.  No, wait.  Happiness is coming home from work one week night and realizing that in less than 20 minutes, warm chocolate chip cookies could be possible.  While I will admit that my motivation for certain weeknight type activities (i.e. laundry, de-cluttering my dining room table, or possibly even studying….) is, at times, minimal (to say the least), my motivation for cooking/baking on weeknights never seems to run out.  And, the best part?  I hadn't even worked these cookies into my weekly menu plan.  These cookies were straight-up spontaneous comfort food from the heart.  Even better, a friend just happened to stop by that evening to drop off something, and I was able to give her half a batch of chocolate chip cookies (for fear that I would eat them all)….literally straight from the oven.  Talk about perfect timing.
I've been dabbling with several different chocolate chip cookie recipes.  I mean, come on.  We all know you can never have too many chocolate chip cookie recipes.  This one comes directly from the collection of Martha Stewart.  It's a soft and chewy chocolate chip cookie (hence the name), but it packs a lot of vanilla flavor, which I happen to like.  They weren't as soft as some of the other types of chocolate chip cookies I have tried, but they definitely are a top contender for my favorite.   They didn't get runny or too crispy, they had an ample amount of chocolate chips, and they definitely satisfied my spontaneous sweet tooth.
Looking for some more chocolate chip cookie recipes?
Super Peanut Butter Drop Cookies
Thin and Crispy Chocolate Chip Cookies
Peanut Butter Chocolate Chip Cookies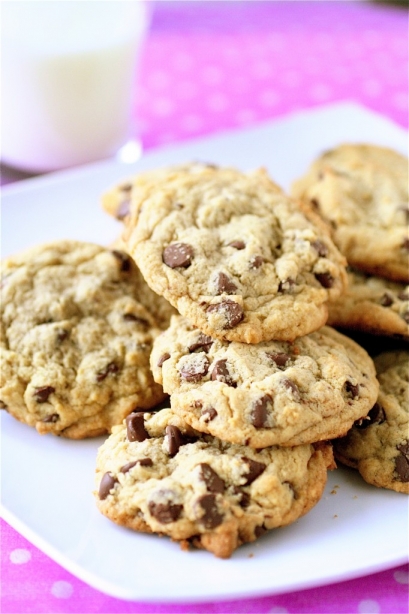 Soft and Chewy Chocolate Chip Cookies
Servings:  approximately 36 cookies
Ingredients
2 and 1/4 cups all-purpose flour
1/2 teaspoon baking soda
1 cup (2 sticks) unsalted butter, at room temperature
1/2 cup sugar
1 cup packed light brown sugar
1 teaspoon salt
2 teaspoons vanilla extract
2 large eggs
1 bag (12 ounces) semisweet chocolate chips
Instructions
1. Preheat the oven to 350 degrees.
2. Line baking sheets with parchment paper; set aside.
3. In a large bowl, whisk together the flour and baking soda; set aside.
4. In the bowl of your standing mixer fitted with the paddle attachment, cream the butter and sugars together on medium speed until light and fluffy, about 2 minutes.
5. Decrease the mixer speed to low and add the salt, vanilla, and eggs, mixing well until thoroughly combined, scraping down the sides of the bowl as necessary.
6. With the mixer speed still on low, add the flour mixture, mixing until combined.
7. Using a rubber spatula, gently fold in the chocolate chips until evenly distributed.
8. Using a cookie dough scoop or tablespoon, drop the cookie dough in mounds (about a tablespoon's worth or so) onto the baking sheets, spacing them about 2 inches apart.
9.  Bake the cookies, rotating and switching the pans halfway through the baking time (if baking two sheets at a time), until the edges are light brown, about 10 to 12 minutes.
10. Transfer the cookies to a wire rack and let cool.
Source: Martha Stewart's Cookies.