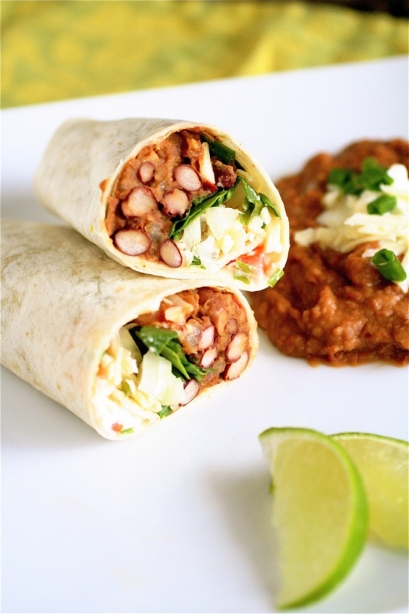 I have a funny story for you.  A kitchen failure which, ironically, turned into a kitchen victory.  Love it when that happens.  My kitchen fails have been coming in droves, it seems, so this when this happened, I was shouting expletives so loud that I'm pretty sure my neighbors were concerned for a few minutes there.
I had seen both Josie and Annie post these burritos on their blogs, and I had been dying to try them.  Something to make on a weekend (or, actually, these are so quick they are great for weeknights, too) that I could have extra leftovers to reheat in the evenings.  I stocked up on my ingredients at the grocery store (actually, in all honesty, quite proud of my efficiency in the store..I have since learned my lesson…) and headed home for a date with my kitchen.  I may or may not still have been in my pajamas (that's the benefit of living in a place where a full-length down parka is the norm-it can hide my pj's..)  After some major apartment cleaning (and the impromptu and smart(?) idea to rearrange all the furniture in my living room), I took a break to make these burritos.  So, there I was, in my pj's in my half-rearranged apartment, starting to sauté some shallot on my stove, when I went to open the can of black beans….
….and they were kidney beans.  I must have grabbed the wrong can in my so-thought efficiency at the store.  And there wasn't a spare in my pantry.
I couldn't leave in the middle of already cooking the onions and spices (and not that I wanted to anyways), so, after the expletives, I decided to forge ahead and just make the burritos with kidney beans.  I mean, they are beans.  Can they make that much of a difference anyways?  I started to divert my thoughts to trying to convert the recipe over to some Cincinnati chili burrito recipe (still thinking about that one, by the way), but then got too intimidated on the fly and followed through with the original.
Victory!  These were some a-may-zing burritos.  Seriously.  It worked.  I will make them again.  The kidney beans added a bit of earthy flavor, but I honestly didn't think there was a huge difference from the black beans.  So, feel free to add the black beans in, but if you're feeling slightly scatterbrained or have them on hand, I would recommend experimenting with the kidney beans.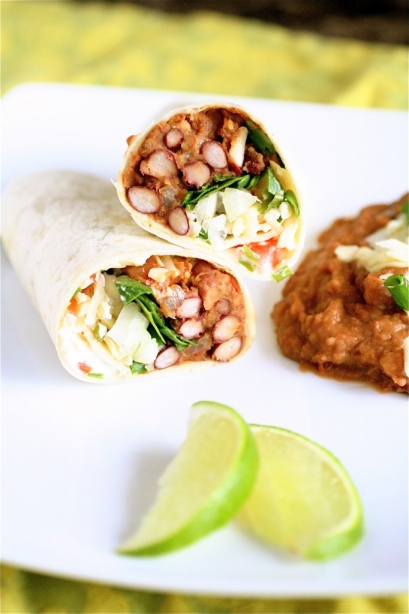 Bean Burritos
Servings:  4 burritos
Ingredients
2 teaspoons vegetable oil
1 medium shallot (or small onion) chopped finely
3 cloves garlic, minced
1 teaspoon chili powder
1 teaspoon cumin
Sea salt, to taste
1/3 cup water
One 15-ounce can kidney beans, drained and rinsed (or black beans….)
One 15-ounce can pinto beans, drained and rinsed
Four 8-inch flour tortillas
Toppings:  Shredded cheese, lettuce (I used spinach-it worked), onions, tomatoes, etc.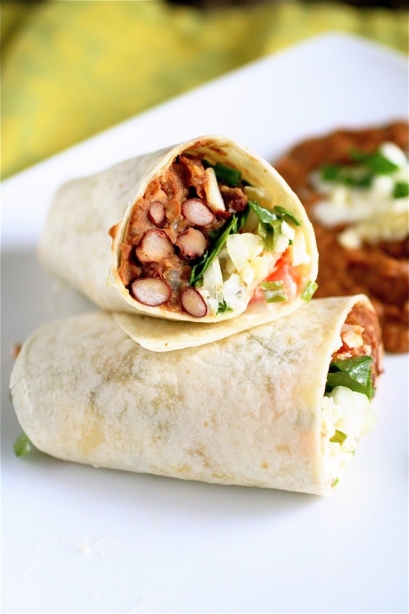 Instructions
1.  In a large sauté pan over medium heat, heat the oil until shimmering.
2. Add the shallot and cook, stirring often, until softened, about 4-5 minutes.
3. Add the garlic, chili powder, cumin, and salt, and cook for about 1 more minute.
4.  Add the water and the beans to the mixture, and bring to a boil.
5. Once boiling, decrease the heat to medium-low and simmer, uncovered, for about 10 minutes.
6. To assemble the burritos: spread a few tablespoons of the hot bean mixture in the center of the tortilla and top with additional garnishes as desired.  Roll the burrito, and serve immediately.
Sources:  Adapted from Annie's Eats,  seen on Pink Parsley Catering, originally from Cooking Light.