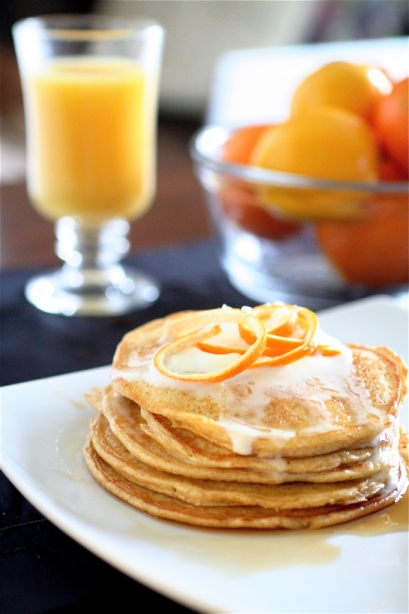 I'm going through a citrus fruit phase.  Maybe it's my lingering cold.  Maybe it's because they are in season and in beautiful bright piles at the Co-op.  Whatever the reason is, they taste really good right now to me.  In salad.  In desserts.  In breakfast.
I was intrigued by this recipe from King Arthur Flour.  Cottage cheese in a pancake?  Must be similar to ricotta, which, in my experience, equals a light and fluffy, texturally fantastic pancake.  I tweaked the recipe a little, just to add to my particular tastes.  I added in some almond extract (almond extract is like pure happiness to my senses), and that seemed to really compliment the orange flavor.  If you're not a fan, omit or decrease it a bit.    I added in some other spices from the spice cabinet (I just kind of started experimenting…and this seemed to work.)
Fluffy as a cloud pancakes?  Ready in less than 15 minutes?  Good morning, friends.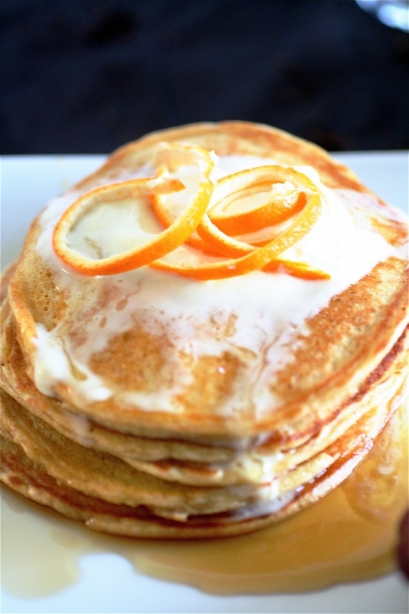 Orange Cloud Pancakes
Servings: approximately 2 large servings (about 8 five-inch pancakes)
Ingredients
3/4 cup cottage cheese
3 eggs, separated
4 tablespoons (1/2 stick) unsalted butter, melted
1 tablespoon orange juice
1/2 teaspoon vanilla extract
1/2 teaspoon almond extract
Pinch cinnamon
Pinch nutmeg, grated
1/2 cup whole wheat flour
1 tablespoon sugar
1/2 teaspoon salt
1 tablespoon orange zest or 1/8 teaspoon orange oil (or as desired, to taste)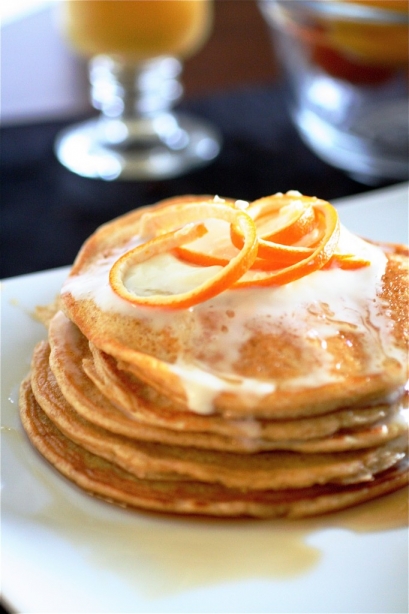 Instructions
1. Combine the cottage cheese, egg yolks, melted butter, orange juice, vanilla and almond extracts, and process until smooth, about 30 seconds.
2. Stop the processor and add the cinnamon, nutmeg, flour, sugar, salt and orange zest.  Process again until smooth and transfer the mixture to a large bowl.
3. Meanwhile, in the bowl of your standing mixer fitted with the whisk attachment, whisk the egg whites until stiff but not dry.
4. Very carefully (and using a rubber spatula), add one large scoop of the egg whites to the pancake batter, and lightly fold them into the batter until smooth.
5. Gently fold the remaining egg whites into the batter until incorporated.
6. With a lightly buttered or sprayed nonstick pan or griddle on medium heat, scoop about 1/3 cup of the batter onto the pan and cook on each side until lightly golden, about 1-2 minutes each side.  Serve immediately.
Source:  Adapted from King Arthur Flour.