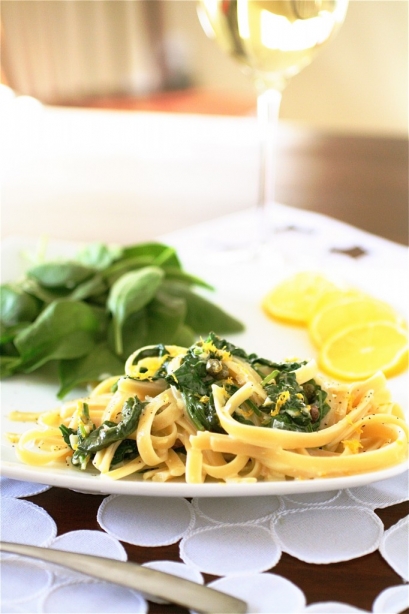 I didn't really know what to call this one.  This was one of those recipes that I saw on Pinterest, got super inspired (and hungry), and went immediately to the fridge to see what I could throw together.  Luckily, I had créme frâiche still on hand (which I never ever do-I haven't tried this, but Greek yogurt or sour cream are usually used for its substitutes….), some fresh spinach, lemons, and capers.  It sort of reminded me of this dish I used to get back in college at a restaurant there…which I still reluctantly crave sometimes because it is also associated with some bad memories of this guy I used to know.  But I digress.
I quickly threw this together for an early weekend dinner one night.  And, you know what?  I was pleasantly surprised.  I am beginning to believe that you can't go wrong with pasta.  Pretty much anything goes well with it.  And, it was a good way for me to use up that ginormous container of fresh spinach that I had bought in one of my more health-conscious trips to the market.  I added in the capers for a little extra bit of saltiness, and the garlic…well, because, it's garlic.  This would also be good with some other light veggies thrown in…artichoke or asparagus would also be really good (I'm making a note for spring.)
Lemon Cream Pasta
Servings: 2 large servings or 4 small sides (feel free to double what I have here)
Ingredients
8 ounces fettucine or linguini pasta
2 Meyer lemons, zested and juiced  (you will add zest and juice to taste)
1/2 tablespoon olive oil
2 cups fresh spinach leaves
1 teaspoon garlic, minced
2 tablespoons capers
1/4 cup Parmesan cheese, grated
1/2 cup créme frâiche
Salt and pepper, to taste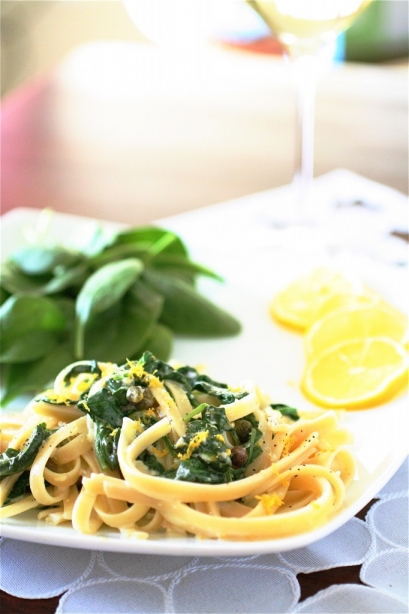 Instructions
1. In a large saucepot, cook the pasta as directed and drain.  While you are preparing the pasta, get the other ingredients ready.
2. Meanwhile, in a sauté pan over medium heat, heat the oil until shimmering.
3.  Add the spinach, garlic, and capers, tossing frequently, and cook until the spinach is bright green and wilted, about 3-4 minutes.  Transfer the mixture to a bowl.
4. Add the grated Parmesan cheese to the spinach and mix to combine.
5. Once the pasta is drained, add it to the spinach mixture, tossing to thoroughly incorporate.
6. Add the lemon juice, to taste.
6. Add the créme frâiche to the pasta mixture, and stir to coat the pasta evenly.
7. Sprinkle (to taste) with the lemon zest, additional Parmesan (if desired) and salt and pepper.
Source:  Adapted from Supper in Stereo.