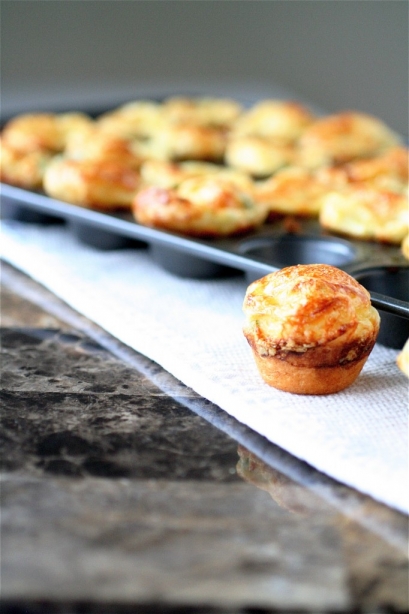 I had always wanted to make popovers, but the fact that I don't have a "popover" pan held me back.  When I came across this recipe and saw that it called specifically for a mini muffin pan, I was sold.   These little bite-sized savory bits of heaven came out pretty well for me (although a few deflated when I removed them from the oven-I am still trying to figure out why).  I loved the combination of the savory Gruyere and the bit of green onion-I ate them with an earthy, onion-y soup (post to follow soon) so they went really well together.  Especially still warm from the oven.
Amazingly enough, I had always been intimidated by popovers.  For some reason, I thought they would be incredibly hard to make, but, honestly, this was one of the easiest recipes I have made so far.  Just be sure to have your oven completely pre-heated and don't open the oven door during the baking process-this will cause a loss of heat and possible deflation of the popovers (which may have contributed to my partial deflation…I'll admit.)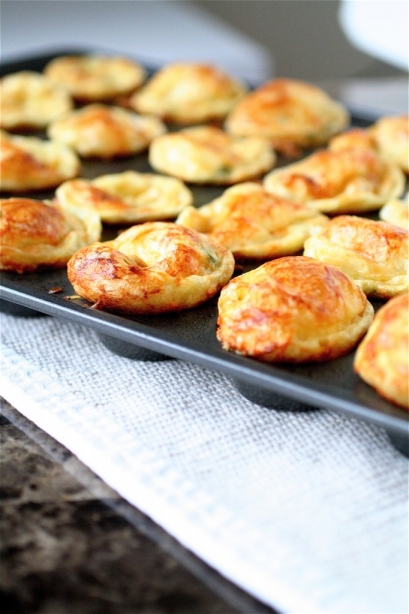 Scallion Gruyere Popovers
Servings: 24 miniature popovers
Ingredients
1 cup flour
1/2 teaspoon salt
Pinch pepper
1 tablespoon scallions, chopped
1 and 1/4 cups milk, at room temperature
2 eggs, at room temperature
1 tablespoon butter, melted
3 ounces Gruyere, grated
Instructions
1. Preheat the oven to 450 degrees.
2. Generously grease a mini muffin pan.
3.  In a medium bowl, whisk together the flour, salt and pepper, and scallions.
4. In another bowl, whisk together the milk, eggs, and butter.
5. Pour the wet ingredients over the dry ingredients and whisk until just combined.
6. Fill each muffin cup to within 1/4-inch of the rim.
7. Place about 1 scant teaspoon of grated cheese into the center of each muffin cup.
8. Bake, without opening the oven door, for 10 minutes.
9. Decrease the oven temperature to 350 degrees.
10. Bake, without opening the oven door, for another 8-10 minutes longer.
Source: Adapted from Williams Sonoma.