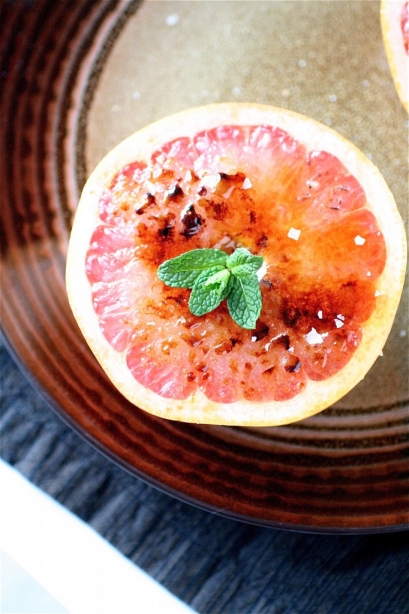 I have jumped upon the broiled grapefruit bandwagon.  Because I got a brand new kitchen toy that I had wanted for months-a little brulee torch.  Hooray!
I have actually been eating a lot of grapefruit lately.  Like, at least one a day.  I sprinkle on some sugar, some flaky sea salt, and I am good to go.  I had also been experimenting with my broiler (my apartment oven leaves a lot to be desired), and I had tried broiling them this way, as well.  But I wasn't getting the results I wanted: you know, that cracked, sweet shell that you would find on top of a brulee.  So I wanted one of these torches in the baddest of ways.  Now, if you have a more reliable oven with a high shelf and a decent broiler (even a toaster oven would work), you can also make these.  Don't let not having a torch stop you from enjoying one of the best things about winter produce.
I have experimented a little bit with what sort of sweet topping I put on top: I've tried maple syrup, brown sugar, honey, etc.  But I think my favorite combination is a mixture of granulated and brown sugars-but feel free to experiment with your own concoctions.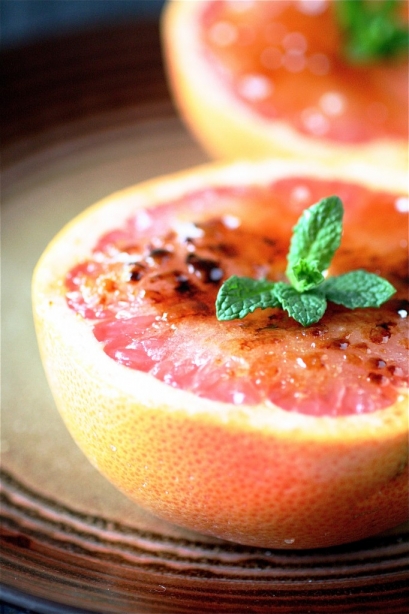 Broiled Grapefruit
Servings: 1 grapefruit, halved
Ingredients
1 large grapefruit (preferably Ruby Red-the redder the sweeter), halved
2 tablespoons granulated sugar
2 teaspoons brown sugar
Pinch flaky sea salt, like Maldon
Mint, for garnish
Instructions
1. In a small bowl, combine the granulated and brown sugars.
2. Evenly sprinkle the sugar mixture over the cut surface of each grapefruit.
3. Using a torch, very carefully and lightly torch the surface of the grapefruit until it is lightly golden brown and the sugar is melted, a few seconds.  If using a broiler (preheated to 500 degrees), broil on the top shelf for about 4-5 minutes, checking the grapefruit frequently.
4. Sprinkle with sea salt and garnish with fresh mint.
Source: A Curvy Carrot original.