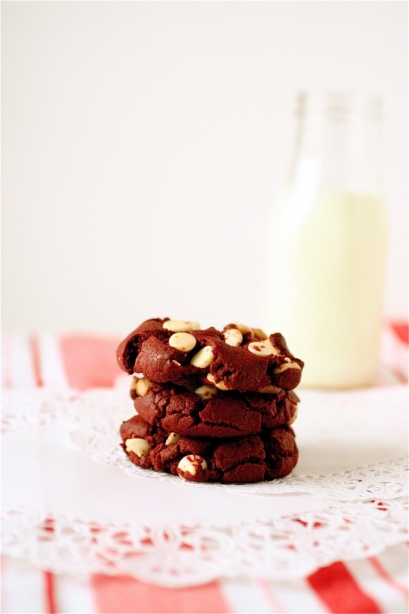 The other day I was getting ready to head over to my friend Jill's house to watch a movie.  She's a huge fan of cookies and red velvet, so I figured I should whip something up before I headed over (to eat cookies).  Since Valentine's Day is quickly approaching, I wanted to try my hand at something a little festive and appropriate for the holiday.  These little guys fit the bill.  I took them over, still warm from the oven, and they were quickly and repeatedly snacked on.  Nothing beats good red velvet, right?
So, before you make this recipe, there are a few things you should know.  Some things that I may have had a few issues with.  But the end result turned out so good that I had to share them with you.
The cookie dough is VERY thick, so if you don't happen to have an electric or (preferably) standing mixer, I would give these a pass.  The dough would probably be way too tough to combine by hand.  As far as the red food coloring goes, I used the standard Wilton red food coloring gel….but I had to use an awful lot of it (almost the entire larger vial) to get the cookies to turn a red shade.  Perhaps a liquid food coloring would work better with this recipe in the future (it might also help with the thickness of the cookie dough, too.)  When you are ready to bake them, flatten them down a little with your fingers or the back of a spoon-they are very cake-like and won't flatten out like regular (less delicious) cookies.
The fact that Jill continues to talk about how delicious these cookies over a week later says a lot.  That's music to my ears.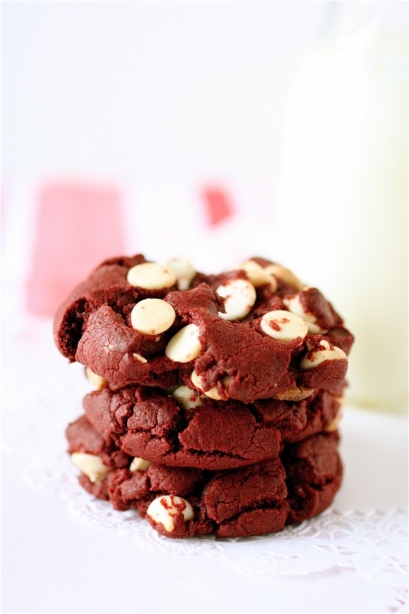 Red Velvet White Chocolate Chip Cookies
Servings: approximately 20 cookies
Ingredients
1/2 cup (1 stick) unsalted butter, at room temperature
1/2 cup granulated sugar
1/2 cup light brown sugar, packed
1 large egg
1 teaspoon vanilla
1 and 1/2 cups all-purpose flour
1 teaspoon baking soda
1/4 teaspoon salt
1/3 cup cocoa powder
Red food coloring liquid or gel
1/2 cup white chocolate chips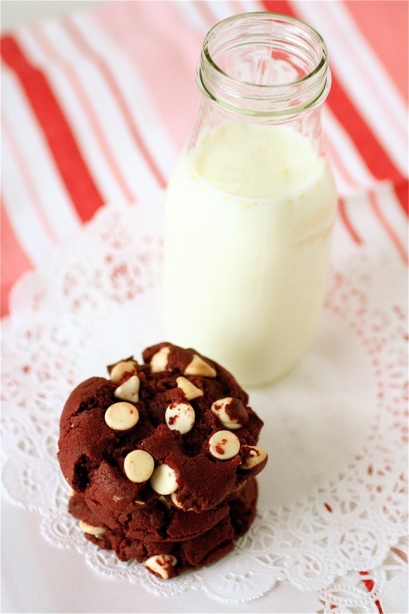 Instructions
1. Preheat the oven to 375 degrees.  Line two baking sheets with parchment paper; set aside.
2. In the bowl of your standing mixer fitted with the paddle attachment, cream the butter and both sugars on medium-high speed until light and fluffy, about 2 minutes.
3. Add the food coloring gel or liquid until you reach the desired color.
4. Reduce the mixer speed to medium-low and add the egg and vanilla, mixing well until combined.
5. Reduce the mixer speed to low and add the flour, baking soda, salt, and cocoa powder, mixing until thoroughly combined.**I had to add  more food coloring gel at this point because the addition of the cocoa powder really changed the color.
6. Using a rubber spatula, gently fold in the white chocolate chips until incorporated.
7. Using a cookie dough scoop or a tablespoon, drop the dough into mounds about two inches apart from one another.  Lightly flatten each cookie dough mound with your fingers or the back of a spoon.
8. Bake until slightly golden and crisp around the edges, about 10-12 minutes.  Enjoy.
Source: Barely adapted from How Sweet It Is.