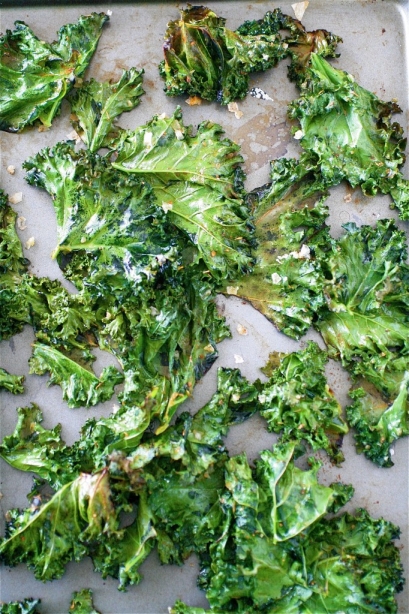 I make kale chips several times a month.  And it's one of those things that I make slightly differently every single time…well, because the versatility is endless and these leafy greens are pretty forgiving when it comes to flavor experimentation.  You've probably seen a billion different versions of how to make this potato chip alternative, and this is just another one to add to your repertoire of healthy snacks that take less than 20 minutes to prepare.
I debated on whether or not to even post these because of the fact that I change up the ingredients every time and the fact that this might be the most simple recipe I have ever posted.  But, this last batch…oh mama.  They were good.  I can proudly say that I ate an entire bunch of kale in one sitting.  I suppose that's a good thing, considering that kale is one of those mega super foods, rich in all sorts of vitamins and iron (a good thing for those who are meat-free, right?).  But the best part is that these don't taste like a traditional mega super food…they taste like crispy little savory chips of goodness.  And, in this case, some slightly spicy ones.
My favorite type of kale?  I like Lacinato (or otherwise known as dinosaur kale…it gets points in my book just for having that name) because I find the leaves a little heartier and with a slightly different flavor.  For this recipe, I used plain old Curly Kale because that was what was available in the market.  And when it's baked, isn't it beautiful?  (Humor me with this one…I just elevated my nerd factor by about 1000%, but I really do think it's an incredibly beautiful food.)
Want some other kale chip ideas?  Just prepare it in the same way but use a different seasoning combination….these combos are some of my favorites.
Cheesy Kale Chips…with Parmesan
Lemon and Garlic
Sea Salt and Vinegar
And if I am feeling a little spicy, I do a little combination of red pepper flakes with a little drizzle of Sriracha.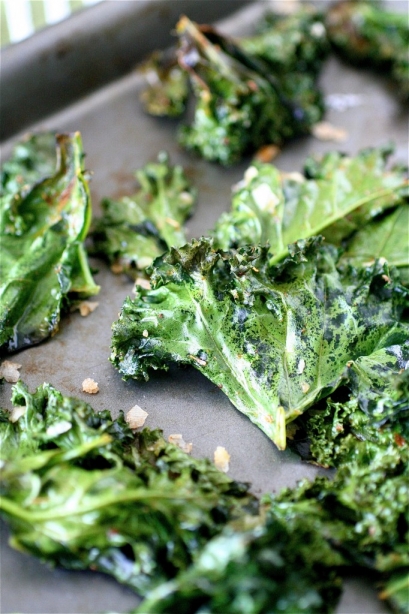 Cajun Kale Chips
Servings: about 4 small servings (but if you are like me, you will eat the whole thing….)
Ingredients
1 bunch kale, rinsed, blotted dry and torn into 3 to 4-inch pieces
2 teaspoons extra virgin olive oil
1 teaspoon (or to taste) Cajun seasoning
Sea salt and pepper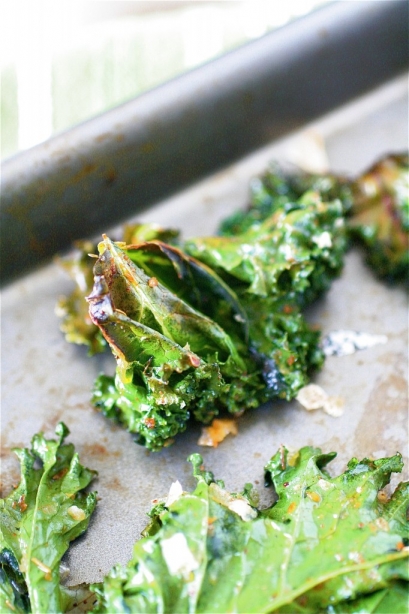 Instructions
1. Preheat the oven to 350 degrees.
2. In a large bowl (using tongs-it's a little easier that way), combine all the ingredients and lightly toss to thoroughly coat.
3. Bake until crispy around the edges, about 10-15 minutes.  (Keep an eye on them-they make cook quickly.)

Source:  A Curvy Carrot original