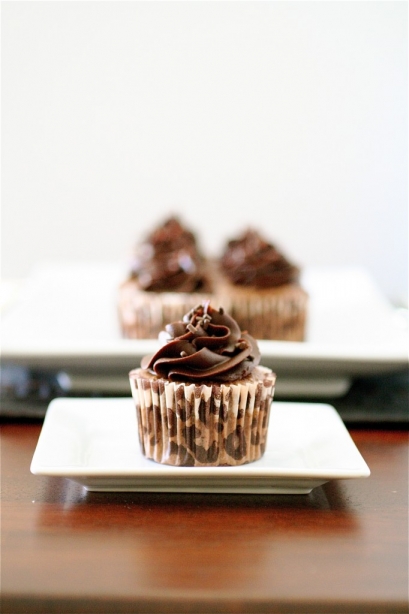 I'm all for experimentation in the kitchen.  So when one of my gluten-free attendings at work mentioned that I had yet to make cupcakes for him, I realized the opportunity that was before me.
I'm usually covered in flour (as are my kitchen floors, my face, my counter tops, etc.), so trying a gluten-free cupcake was a little out of my comfort zone.  How the heck could I hold together a seemingly liquid batter that actually tasted good?  Since he specifically requested chocolate, I knew that I might be able to pull it off with some calculated research.  Now, I know that there are some great websites and blogs out there that are specifically for those who eat gluten-free, but I have to admit that I am a complete novice.  I chose a King Arthur Flour Company recipe that seemed pretty fail-proof.  I would trust KAF with any baking project (especially one outside of my comfort zone).
Amazing results, people.  I may have shuddered a little when I read through the instructions at first, knowing I had to painstakingly separate ten room temperature eggs and not manage to lose a few shell pieces or accidentally get the yolk into the whites.  I wondered about the proportion of pecans in the recipe.  But…it worked.  And they tasted pretty darn good.  I will say that while they baked, I stared excitedly into the oven, watching them inflate like regular flour-filled cupcakes.  When I took them out, they did deflate a bit, so I worried about maybe the density being off a bit.  But it wasn't.  These have the consistency of a nice sponge cake….and taste like a regular, awesome cupcake.  And the ganache?  There's nothing that can top a smooth, thick and creamy chocolate ganache.  I wouldn't have frosted these bad boys with anything else.
Am I a gluten-free convert?  Well, no, but I will say that now the door of opportunity has been opened.  Bring it.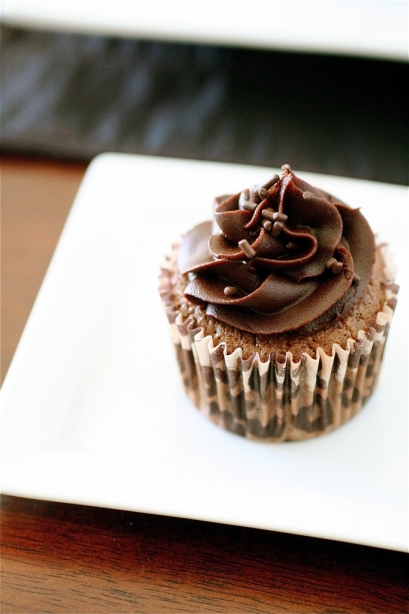 Flourless Chocolate Nut Cupcakes (Gluten Free)
Servings: 24 cupcakes
Ingredients
For the cupcakes:
10 large eggs, at room temperature, separated
3 ounces unsweetened baking chocolate
1/2 cup semisweet chocolate chips
1/4 teaspoon salt
2/3 cup granulated sugar *you will mix this with the egg yolks later
2 cups pecans, finely ground (I put mine in the food processor and let it run for a minute or so)
1 teaspoon vanilla
1/4 cup granulated sugar *you will mix this with the egg whites later
For the ganache:
2 cups semisweet chocolate chips
2 tablespoons unsalted butter
2 teaspoons espresso powder (or crystals, if you can't find powder)
6 tablespoons heavy whipping cream
Instructions
1. For the cupcakes: Preheat the oven to 350 degrees.
2. Line your cupcake pans with the liners of your choice.
3. In a microwave-safe bowl, melt the unsweetened baking chocolate and chocolate chips in 20-second intervals, stirring after each interval until smooth.  Let cool slightly.
4. Meanwhile, in the bowl of your standing mixer fitted with the paddle attachment, beat the egg yolks on medium-high speed until light yellow and thick, about 5 minutes or so.
5. Reduce the mixer speed to medium-low and add the salt and 2/3 cup granulated sugar until thickened and creamy, about another 5 minutes.
6. Add the melted chocolate to the egg yolk mixture, mixing until incorporated.
7. With the mixer still running, add the ground pecans, and mix until smooth.
8. In a large separate bowl (I used my hand mixer because my stand mixer was occupied), beat the egg whites and the vanilla until foamy, about 1-2 minutes.
9. With the beaters still going, slowly add the remaining 1/4 cup granulated sugar, mixing on high speed until soft and shiny peaks form, about 3-4 more minutes.
10.  Using a rubber spatula, gently fold the egg whites into the chocolate/egg yolk mixture, mixing until thoroughly combined.
11. Divide the batter evenly among your liners and bake until a tester inserted into the center comes out clean, about 20-22 minutes.  Let cool completely before frosting.
12. For the ganache:  In a large heatproof bowl set over simmering water, combine all of the ingredients and stir frequently until completely smooth.  Refrigerate until desired piping consistency is reached, about 1-2 hours.  Pipe as desired onto cupcakes.
Source: Directly from King Arthur Flour Company.