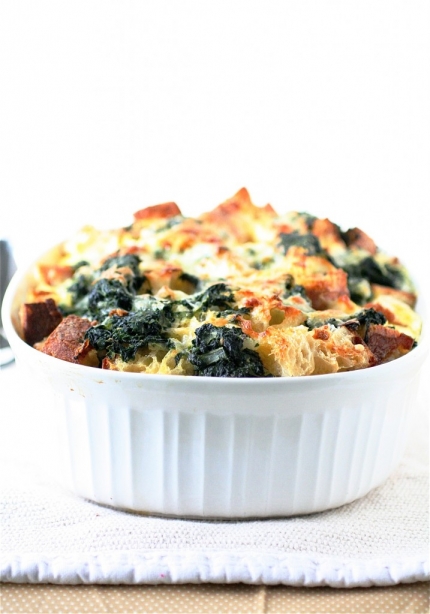 My thoughts on a weekend morning are usually as follows:
"Oh, man.  I really slept in longer than I wanted to.  I have so much to do today…where should I start?  Take Scout for a mini walk.  Make some coffee.  Feed the animals.  Make something for breakfast…oh wait…I have an overnight breakfast casserole to eat for breakfast, and all I have to do is preheat the oven and pop it in to bake.  Score."
I compare a strata like this to one of the little things you sometimes hear people do to lighten their loads a little.  Like, sometimes I will leave cash in the pockets of my winter coats when I pack them away in the spring so that inevitably I will find it a year later when I have forgotten it completely.  Same thing goes for the glove compartment in my car.  An extra $5 for unexpected tolls and/or emergency coffee run?  I might have that covered.  This casserole is sort of the same thing.  My short term memory isn't always the best in the morning, so the sudden realization that I will be having a warm and fancy breakfast with little effort is almost like an impromptu breakfast in bed.  It's the little things in life, right?
The other nice thing?  If you do plan on hosting some sort of brunch or breakfast function, you can make this the night before and serve it to some seriously impressed and happy people for breakfast.  Whatever it takes to make life just a little bit easier, right?
I took Annie's suggestions on how to modify this recipe when she made it, and I really liked the results-there was enough spinach there to make me feel good about eating my vegetables, but it still satisfied my need for some eggs and cheese. It also reheated really well throughout the week as leftovers (huge bonus).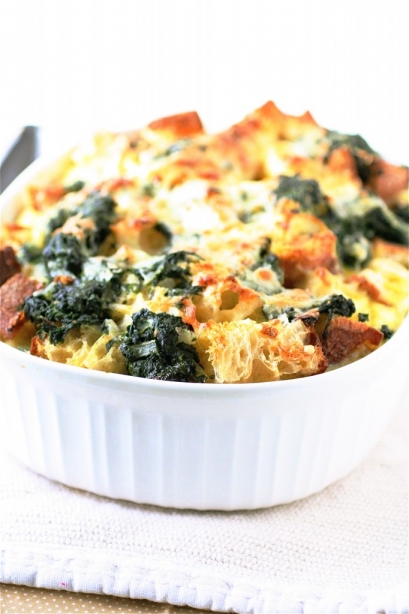 Cheese and Spinach Strata
Servings: about 6-8
Ingredients
3 tablespoons unsalted butter
1 small onion, chopped
2 teaspoons garlic, minced (about 2 cloves)
Two 10-ounce packages of frozen spinach, thawed and drained
1 teaspoon salt, divided
1/2 teaspoon pepper, divided
8 cups ciabatta bread, cubed into 1-inch pieces
6 ounces Gruyere, grated
1/2 cup sharp cheddar, grated
9 large eggs
2 and 3/4 cups milk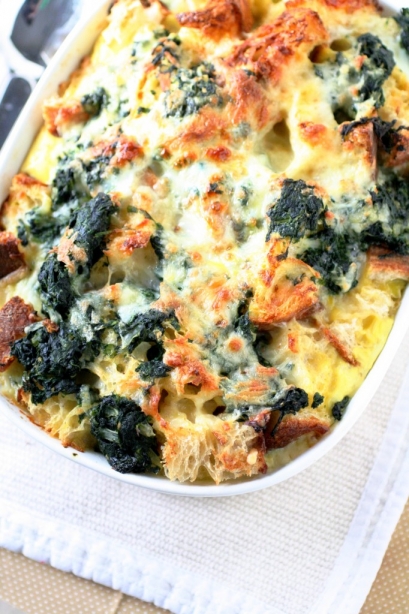 Instructions
1. In a large sauté pan over medium heat, melt the butter.
2. Add the onions and cook until softened and translucent, about 5 minutes.
3. Add the garlic, 1/2 teaspoon salt, and 1/4 teaspoon of the pepper and cook for another minute.
4. Add the spinach and cook until heated through, stirring, for about another 2 minutes or so.  Set aside.
5. Generously spray a 2.5-quart baking dish with cooking spray.
6. Combine the cheeses in a medium size bowl.
7. Layer the bottom of the dish with about 1/3 of the bread cubes, top with 1/3 of the spinach, and 1/3 of the cheese mixture.
8. Repeat the layering process two more times.
9. In a separate bowl, whisk together the eggs, milk, remaining salt and pepper until combined.
10.  Evenly pour the egg mixture over the bread/cheese/spinach layers.  Cover tightly and chill overnight.
11. Preheat the oven to 350 degrees.  While your oven is pre-heating, let the strata come to room temperature.
12. Bake uncovered until slightly crisped and golden, about 45-55 minutes.
Source:  Adapted from Annie's Eats, originally adapted from Smitten Kitchen, as seen in Gourmet, February 2003.