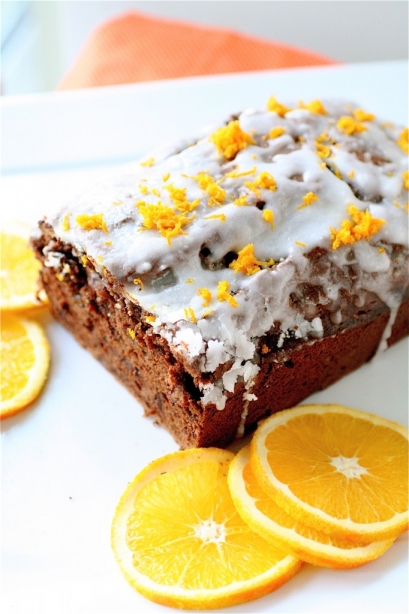 Long title, huh?
It's worth it.
Usually, when I go to pair chocolate with something in the realm of sweetness, I go with raspberry or cherry (as evidenced by the umpteen chocolate-raspberry or chocolate-cherry flavor combinations on this website).  But, recently at a "I really shouldn't go because I'll spend money I don't have" trip to King Arthur Flour Company, I walked away with a set of flavoring citrus oils (lime, lemon, and orange) and absolutely no idea of what to do with them.
I've never really been a fan of the chocolate-orange combination, either.  Which is why it was a leap of faith when I decided to take a regular sour cream pound cake (oh, yeah!) and mix in a little orange oil and orange zest.  It's citrus season, right?
The results? Well, the chocolate pound cake speaks for itself.  How can that not be good?  Dense, rich, chocolatey.  I added in chocolate chips, well, because, you know…..who in their right mind wouldn't?   The powdered sugar glaze was almost like a thick, candy coating. And, as far as that orange flavoring?  Holy smokes.  I think I'm a convert.  I cut this loaf into little bite-sized pieces and brought them into work, for two different departments.  At the end of the day, every crumb was gone.  I assume this means that it was good. 🙂
How to find the flavoring oils?  Most bakery/specialty stores will have them.  You can find them online at King Arthur here.  I'm not sure what the equivalent would be if you tried to use zest in place of the oil (It would have to be a lot because these are pretty potent.)  But, they are worth the splurge.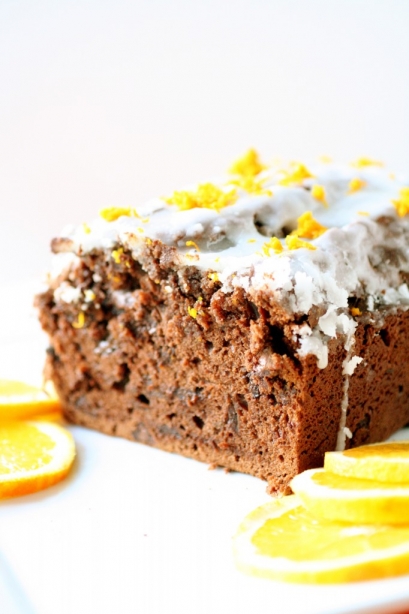 Chocolate Orange Sour Cream Pound Cake
Servings: 1 loaf
Ingredients
2 and 1/4 cups cake flour
3/4 cup cocoa powder
3/4 teaspoon baking soda
16 tablespoons (2 sticks) unsalted butter, at room temperature
2 cups granulated sugar, divided
3 large eggs
1 teaspoon vanilla
3 teaspoons orange oil
1 cup sour cream
6 ounces bittersweet or semisweet chocolate chips
1/2 cup water
Zest from one orange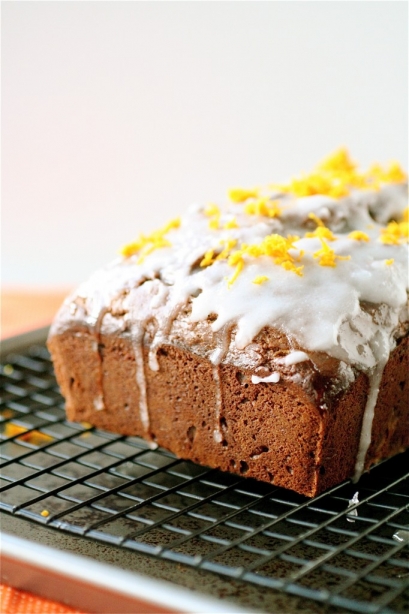 Instructions
1. Preheat the oven to 325 degrees.
2.  Generously butter the bottom and sides of a loaf pan (I used a 9-inch) with butter, and place a pre-cut piece of parchment paper on the bottom of the loaf pan.
3. In a medium bowl, whisk together the flour, cocoa powder, and baking soda; set aside.
4. In the bowl of your standing mixer fitted with the paddle attachment, cream the butter and 1 cup of the granulated sugar at medium-high speed until light and fluffy, about 2-3 minutes.
5. Reduce the mixer speed to medium and add the eggs, one at a time, mixing well after each addition.
6. Add the vanilla and the orange oil.
7. Reduce the mixer speed to low and add the sour cream and dry ingredients (alternating them) in 3 separate additions.
8. Add the chocolate chips and mix until completely combined.
9. Pour the batter into the prepared loaf pan and gently smooth the top with a rubber spatula.
10.  Bake until a tester inserted into the center comes out clean, about 1 hour and 1o minutes.
11. Remove the cake from the oven and let cool for at least 10 minutes before inverting onto a cooling rack.  Let cool completely before glazing.
12. For the glaze:  In a small saucepan, combine the remaining 1 cup of granulated sugar and the water over medium-high heat.
13.  Bring the sugar water to a simmer and stir until the sugar is completely dissolved, about 5 minutes or so.
14. Brush the cake with the glaze and let sit for about 5 minutes (you should wait for the glaze to soak in and dry slightly.)
15. Repeat the glazing process two more times.  **The glaze should end up thick and shiny.  Sprinkle with orange zest.

Source: Adapted from Food and Wine.