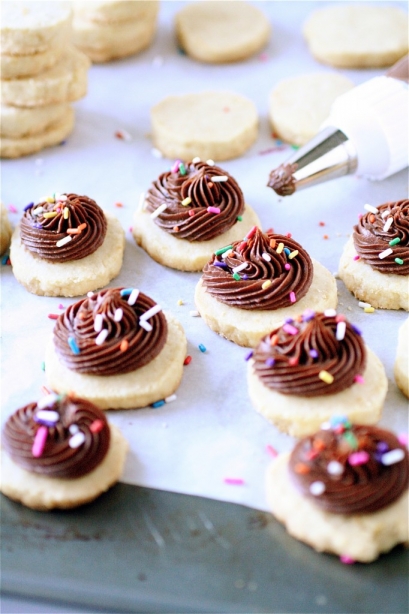 This one is a throwback to my childhood.  To the skinny tall yellow box that my parents may or may not have strategically placed on the very top shelf of the pantry, so that we kids would probably have a hard time reaching them.  Growing up with a diabetic dad, this was a secret "low-fat-ish" snack that he would have in lieu of double-stuffed Oreos (although those did make a very short appearance every once in a while as well….).  We'd crumble them up over ice cream, dip them in tall, cold glasses of milk, or just eat them plain out of the box.  Vanilla wafers.  Plain old fashioned goodness in cookie form.
Recently, in a discussion with someone I am very fond of, I came to learn that one of his favorite cookies was similar to the old school vanilla wafer..with fudge on top.  I stuck that in the corners of my mind and quickly did a search to see if I could find a recipe to make a homemade version.  I was pumped when Shawnda's version came up first in my Google search, so I went off to try my own hand at it.
Now, a caveat.  They are not *exactly* like the cookies that come from the box.  They have more of a shortbread consistency to them, and they pack a little less of the vanilla flavor.  (I was tempted to try vanilla beans in lieu of vanilla extract, and next time I might add one or two beans in to add a little more vanilla punch to the cookie.)  And, as far as the fudge frosting, I found a nice smooth chocolate ganache with a little sour cream in it to add a little tanginess.  (I love piping with ganache, so that was a bonus.)  Top them off with some sprinkles?  Why, of course.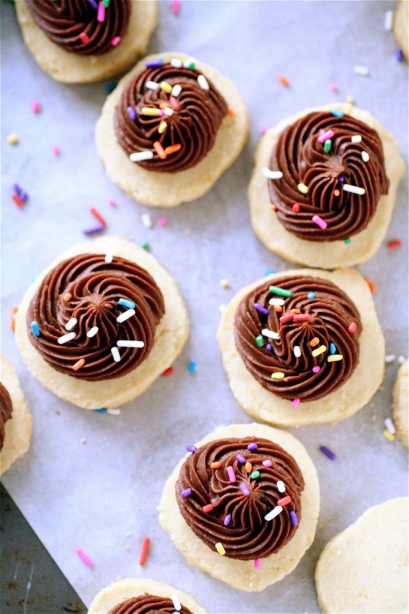 Homemade Vanilla Wafers with Fudge Frosting
Servings: approximately 24 cookies
Ingredients
For the wafers:
16 tablespoons (2 sticks) unsalted butter, at room temperature
1/2 cup granulated sugar
1/4 teaspoon salt
2 egg yolks
1 tablespoon vanilla extract
2 and 1/3 cups all-purpose flour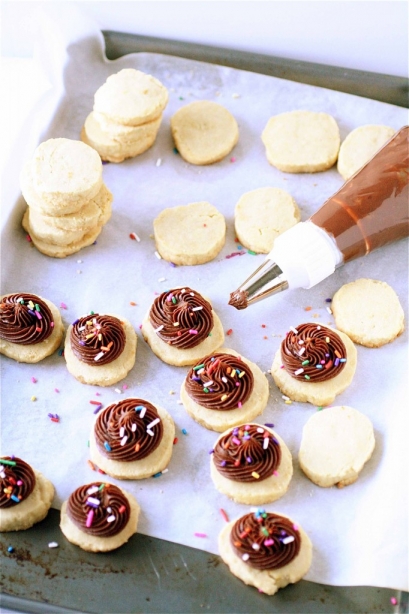 For the frosting:
1/2 cup heavy whipping cream
3 tablespoons unsalted butter
8 ounces semisweet chocolate chips
3/4 cup sour cream
Sprinkles, for garnish (optional)

Instructions
1. For the wafers:  In the bowl of your standing mixer fitted with the paddle attachment, combine the butter, sugar, and salt on medium-high speed and mix until light and fluffy, about 2-3 minutes.
2.  Reduce the mixer speed to low and add the egg yolks, one at a time, mixing well after each addition.
3. Add the vanilla.
4. Add the flour and mix until thoroughly combined.
5. Transfer the dough to a clean and lightly floured surface and divide it into three equal portions.
6. Roll each portion in to a 2-inch diameter cylinder.
7. Wrap each cylinder tightly with plastic wrap and chill until firm, at least 2 hours.  *You can also do a quick freeze of about 20 minutes if you are short on time.
8. Preheat the oven to 350 degrees.
9.  Line two baking sheets with parchment paper.
10. Unwrap each cylinder, and very carefully, cut each cylinder into 1/4-inch thick slices.  Place each slice onto the prepared baking sheet, spacing each wafer about one inch apart from one another.
11. Bake until the wafers are lightly golden, about 12-15 minutes.  Let cool completely before frosting.
12. For the frosting: In a medium saucepan over medium heat, combine the whipping cream and butter and stir until the butter is completely melted.
13. Remove the saucepan from the heat and add the chocolate chips. Let sit for about 2 minutes before stirring.
14. After two minutes, whisk the chocolate into the melted butter mixture, mixing until completely smooth.
15. Add the sour cream and whisk until combined.
16. Transfer to a medium bowl, cover tightly with plastic wrap, and chill for at least 30 minutes.
17. Pipe as desired onto the wafers.
Sources:  Vanilla wafers from Confections of a Foodie Bride, originally adapted from Williams-Sonoma.  Frosting from Bon Appétit, via Epicurious.