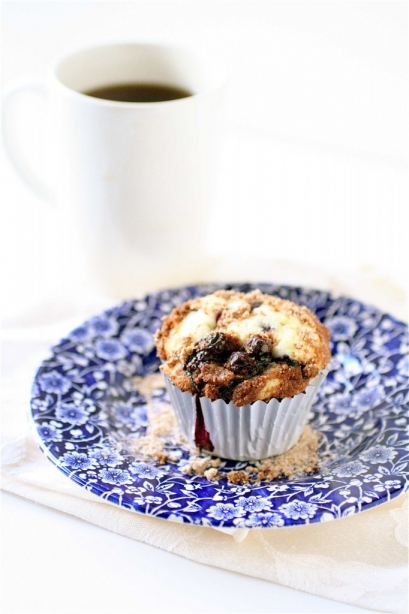 It's been a while since I've posted a good muffin recipe.  And now that has changed.
When Josie posted this recipe a while back, I promptly bookmarked it for my next baking bonanza (aka the next weekend.)  It inadverdantly got pushed to the depths of my "must-do's" archives on my computer, and there it sat, neglected, for months.  In a recent forage into the backlogs and good intentions of my past, I happily rediscovered this recipe and decided to give it a go.  A buttery cinnamon top on a moist and fluffy muffin?  Well, all right.  Since cherries are nowhere to be found right now, I splurged and got a pint of blueberries at the market.  Because baked blueberries (still warm and juicy from the oven) are one of life's greatest little pleasures.
The good news?  These muffins are completely adaptable to different kinds of fruit.  Cherries?  Yes.  Blueberries?  I think I proved that one.  Blackberries, raspberries, orange or probably even apple.  Yep, I am almost certain that most any kind of fruit would work here.  The cinnamon topping is completely versatile.  The muffin itself has a light and airy texture with a nice buttery flavor.  Have I convinced you yet?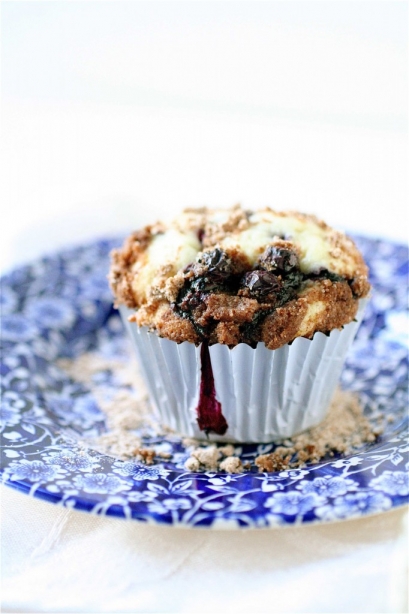 Blueberry Crumb Muffins
Servings: 6-8 muffins
Ingredients
For the muffins:
4 tablespoons (1/2 stick) unsalted butter, at room temperature
1/2 cup granulated sugar
1/2 teaspoon almond extract
1 cup all-purpose flour
1/2 teaspoon baking powder
1/4 teaspoon baking soda
1/4 teaspoon salt
1 large egg
1/2 cup sour cream
1 cup fresh blueberries, plus more for topping the muffins
For the crumb topping:
1/4 cup all-purpose flour
1/4 cup sugar
1/8 teaspoon cinnamon
2 tablespoons unsalted butter, cubed
Instructions
1. For the muffins: Preheat the oven to 350 degrees.
2. Line a cupcake liner with the paper liners of your choice.
3. In the bowl of your standing mixer fitted with the paddle attachment, combine the butter, sugar, and almond extract on medium-high speed until light and fluffy, about 2-3 minutes.
4. In a large separate bowl, whisk together the flour, baking powder, baking soda, and salt.  Set aside.
5. Reduce the mixer speed to medium-low and add the egg.
6. With the mixer on low speed, add 1/4 cup of the sour cream to the egg mixture.
7. Add about half of the dry ingredients, followed by the remaining sour cream.
8. Add the rest of the dry ingredients and mix until thoroughly combined.
9. Using a rubber spatula, gently fold in the blueberries and mix until evenly incorporated.
10. For the crumb topping: In a small bowl, combine all of the ingredients.  Using your fingers, gently roll the ingredients between your fingers until it reaches a sand-like consistency.  (It's ok to still have a few clumps of butter.)
11. Divide the muffin batter evenly throughout your prepared muffin pan.
12. Sprinkle each muffin with about 1-2 teaspoons of the crumb topping and place a few extra fresh blueberries on top.
13. Bake until a tester inserted into the center of each muffin comes out clean, about 25-30 minutes.
PSST!  Yeah, you!  Recently, Rachael, a Curvy Carrot reader, contacted me for help with her graduate student project.  Since I know the trials and tribulations of being a perpetual student, I thought I would help her out a little bit (plus her project on food blogs sounds pretty interesting!) by posting this link to her survey.  Do her a favor and click on this link to take her quick survey (I did!):
Source: Barely adapted from Pink Parsley, originally adapted from The Clinton Street Baking Company.