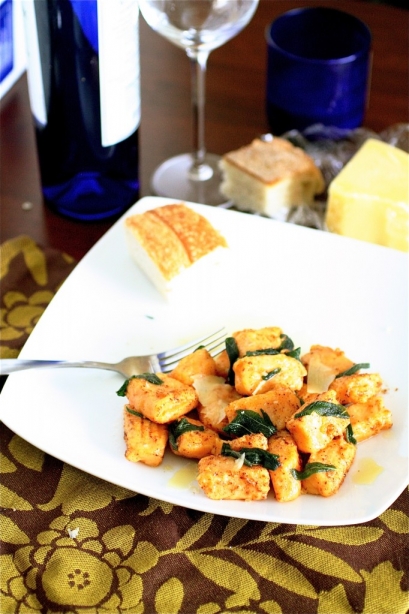 Gnocchi has always been one of those foods that has intrigued me.  I order it a lot at restaurants because I was under the impression that it was super complicated and fancy, and that it was one of those foods I couldn't make at home.
Sweet dear Lord.  I have been missing out on a lot.  Apparently I have been hiding under a rock.
Gnocchi is one of the easiest things I have made.  And one of the most satisfying and delicious, I might add.  Now, granted, it may not be the best meal if you're short on time and/or counter space, but it's worth a shot if you have a long afternoon.  Which I did. (The counter space is lacking, but I made do.)
I went with a sweet potato gnocchi here because I had ordered a similar dish recently at a local restaurant here in town (and promptly ate the entire dish, one or two glasses of wine….followed by a butterscotch mousse dessert…hey, I have no shame.) and was immediately trying to envision myself making something similar.  I figured a brown butter and sage sauce would be good, considering many of the recipes I looked to had paired this with the gnocchi.  Easy enough.  Brown butter is really easy to make (as long as you stand next to the stove and watch it like a hawk….)
I loved this recipe.  And it made a lot.  If I would have had enough foresight, I would have taken about half of the batch and put it in the freezer for a quick weeknight meal later.  But, I ended up eating all the leftovers anyways so it really didn't matter in the end.
Ah, gnocchi.  Where have you been (in my repertoire) all my life?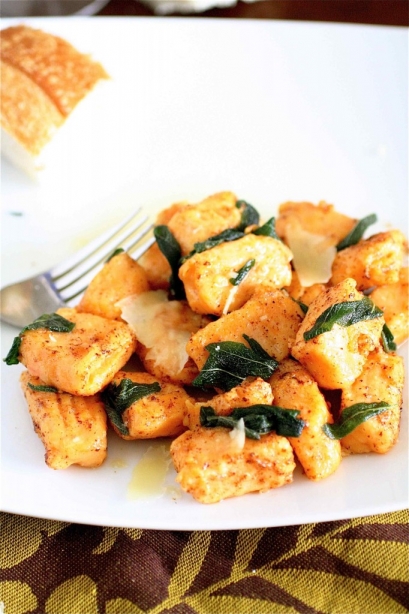 Sweet Potato Gnocchi with Brown Butter and Sage
Servings: about 4-6
Ingredients
For the gnocchi:
2 large sweet potatoes, cleaned and pricked all over with a fork
One 12-ounce container of ricotta cheese, drained (***The original recipe states that you must drain it for at least 2 hours before using, but I completely forgot and only let it sit in my sieve for about 45 minutes or so-it was fine.)
1 cup Parmesan cheese, grated, plus more for garnish
2 tablespoons light brown sugar
2 teaspoons sea salt, plus more for boiling the gnocchi
1/2 teaspoon nutmeg
2 and 3/4 cups all-purpose flour
For the brown butter sauce:
16 tablespoons (2 sticks) unsalted butter
6 tablespoons fresh sage, coarsely chopped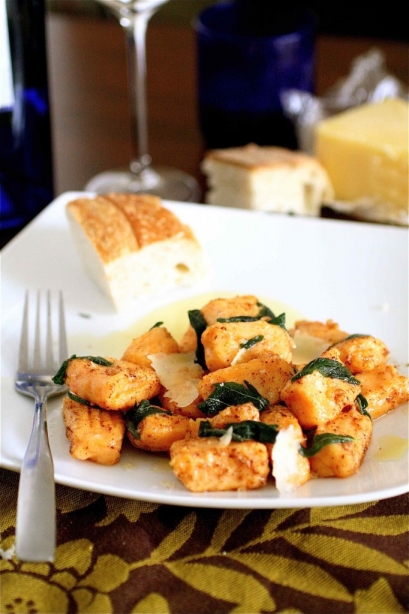 Instructions
1. For the gnocchi: Line a baking sheet with parchment paper; set aside.
2. Using your microwave, cook the sweet potatoes on high power for about 5 minutes.  Turn the potatoes over and cook for another 5 minutes or until soft.
3.  Once soft, carefully cut each potato in half lengthwise and let cool until it's safe to handle them. **Be careful.  They are really hot.
4. Once cool enough to handle, scoop the sweet potato flesh into a large bowl and mash until smooth. (You should have about 3 cups.)
5. Add the ricotta, Parmesan cheese, brown sugar, 2 teaspoons of the salt, and nutmeg to the sweet potatoes.  Mash until smooth.
6.  Using a wooden spoon, add the flour (1/2 cup at a time), mixing well after each addition.  Stir until thoroughly incorporated.
7.  Roll the dough out onto a clean and lightly floured flat surface and knead it gently a few times with your hands.
8. Divide the dough into 6 equal pieces.
9.  Roll each piece into a 20-inch long rope, about 3/4-inch to 1-inch in diameter, sprinkling with flour if necessary. (At this point, if you are short on time, get your water boiling now…see step #13 below.)
10. Cut each rope into about 20 pieces.
11. Using the tines of your fork, gently indent each piece.
12. Place the gnocchi onto the prepared baking sheet.
13. Meanwhile, bring a large pot of water to a boil (add the additional salt here to get it to boil faster.)
14. Once boiling, boil the gnocchi in batches, about 5-6 minutes for each batch.
15. Transfer the boiled gnocchi to a clean baking sheet.  Let cool completely.
16.  For the brown butter sauce: In a medium saucepan over medium heat, melt the butter until lightly browned, swirling the pan frequently, about 5 minutes or so.
17. Add the sage to the melted butter and remove the sauce from the heat.  Season to taste with salt, if desired.
18.  Transfer half of the butter sauce to a large sauté pan over medium-high heat and half of the gnocchi.  Sauté for about 5-6 minutes, or until the gnocchi is cooked through.  Transfer to a serving dish and cover to keep it warm.
19.  Repeat with the remaining half of the gnocchi/brown butter sauce.  Serve immediately.
Source:  Directly from Bon Appétit, via Epicurious.