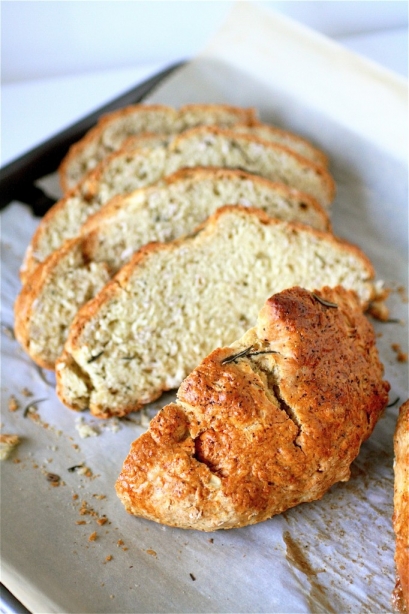 As promised, here is a great (and super simple!) rosemary brown butter soda bread to go with the No-Meat Guinness Stew I posted the other day.  I actually got the recipe from the original site that I got the recipe for the stew from because they mentioned that the two things paired so well together.  I had been looking for some sort of bread or roll to make with the stew, so it was awesome to have a recommendation already in place.
The recipe looked simple enough-and super quick.  In fact, the soda bread was made and ready to be eaten before the stew was even done cooking.  And can I tell you how fantastic my kitchen smelled that day?  I'm sure my neighbors either love me or hate me.  When I am not setting off my super sensitive smoke detector, I can put out some pretty drool-worthy aromas from all these recipes.
As far as modifying this recipe goes, I am sure you could substitute pretty much any fresh herb in the bread.  I happened to come across some great looking rosemary at the market, so I went with the original plan, but you could do anything that you might particularly like.  Brown butter goes with just about anything, right?
And, a note:  this recipe makes two round loaves of soda bread.  I had debated on whether or not to just decrease it to yield one loaf, but after looking at how much stew I was making, I went with two.  And I am glad I did.  Because I ate it all.
So, I served this bread warm (actually still steaming hot) with some butter and the stew.  A perfect pairing.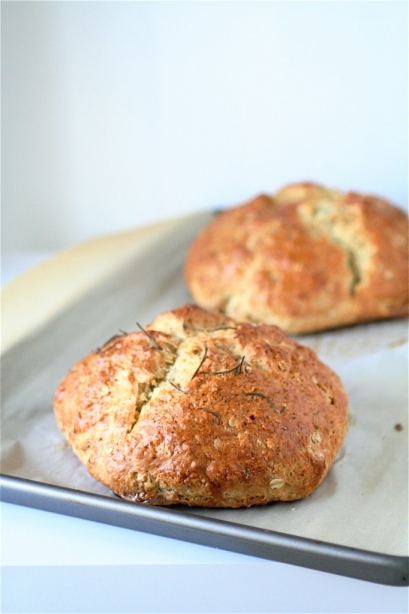 Brown Butter Soda Bread
Servings: 2 round loaves
Ingredients
1/4 cup (1/2 stick) unsalted butter
3 and 1/2 cups all-purpose flour
1/2 cup old-fashioned rolled oats
1 tablespoon sugar
1 tablespoon fresh rosemary, chopped
2 teaspoons baking powder
1 teaspoon baking soda
1 teaspoon salt
3/4 teaspoon ground black pepper, plus more for sprinkling on top (if desired)
1 and 3/4 cup buttermilk
1 egg white, lightly beaten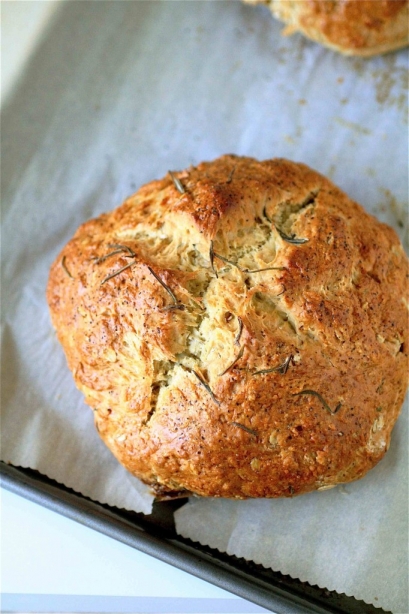 Instructions
1. Preheat the oven to 375 degrees and line a baking sheet with parchment paper.
2. In a medium saucepan over medium heat, melt the butter, and, stirring frequently, continue heating until the butter is lightly browned, about 3 minutes or so.  Remove the browned butter from the heat. Set aside.
3. In a large bowl, whisk together the flour, oats, sugar, rosemary, baking powder, baking soda, salt, and pepper.
4. Pour both the buttermilk and the browned butter over the flour mixture and stir with a fork until combined.  (There might still be a few lumps-this is ok.)
5. Turn the dough onto a clean and lightly floured flat surface and knead for about a minute, and divide the dough into two equal portions.
6. Shape each portion into a ball and flatten each one slightly into a 6-inch round disc.
7. Brush each loaf with the beaten egg white and sprinkle with extra black pepper, if desired.
8. Using a sharp paring knife, gently cut an "X" on the top of each loaf.
9.  Bake until golden brown, about 45 minutes.

Source: Directly from Bon Appétit, via Epicurious.