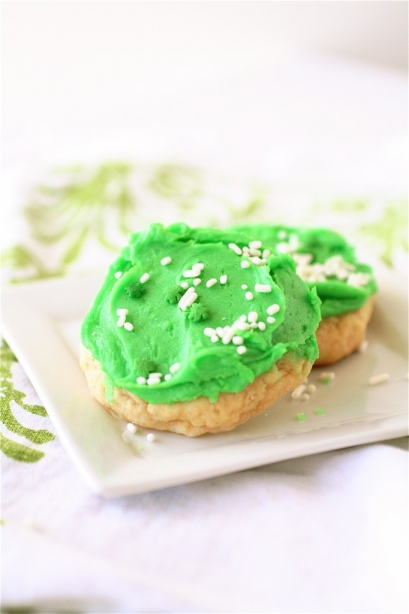 Ah, yes.  I might officially be the last food blogger out there who has decided to post these old-fashioned, super thick and soft buttery sugar cookies topped with a homemade creamy buttercream frosting.  But, after seeing these on so many blogs (in particular Annie's and then Courtney's blogs), I figured I just had to do it.  I mean, seriously, who could pass one of these little cookies up?
As far as what to compare them to, I think they are a lot like those cookies that come pre-packaged in the bakery section of most larger supermarket chains-decorated in various colors and themes according to what holiday is next up on the calendar.  For me?  It's all about St. Patrick's Day this year, so I ran with some green food coloring gel and some shamrock sprinkles to add to the festivity.
A word of caution: They are so super soft and crumbly that they don't transfer that well if you aren't incredibly careful about it.  I really was in a rush the other day as I was heading out to work, so I just threw some cookies in a plastic bag (not smart on my end, I admit.).  In the 5-minute commute to work and a short walk inside the hospital, I had several broken cookies.  Which definitely made it even more addicting to eat them, I have to say.  A lot of little pieces aren't as many calories as one big cookie, right? Ah, well.  I guess if you are concerned about calories, you shouldn't have one of these cookies.  They are way too addicting-but definitely festive!
Soft Frosted Sugar Cookies
Servings: approximately 24 cookies
Ingredients
For the cookies:
4 and 1/2 cups all-purpose flour
1 and 1/2 teaspoons baking powder
3/4 teaspoon salt
1 and 1/2 cups (3 sticks) unsalted butter, at room temperature
1 and 1/2 cups sugar
3 large eggs
5 teaspoons vanilla
For the frosting:
5 cups powdered sugar
6 tablespoons unsalted butter, melted
1 tablespoon vanilla
7-8 tablespoons heavy cream
Food coloring gel, if desired
Sprinkles, for garnish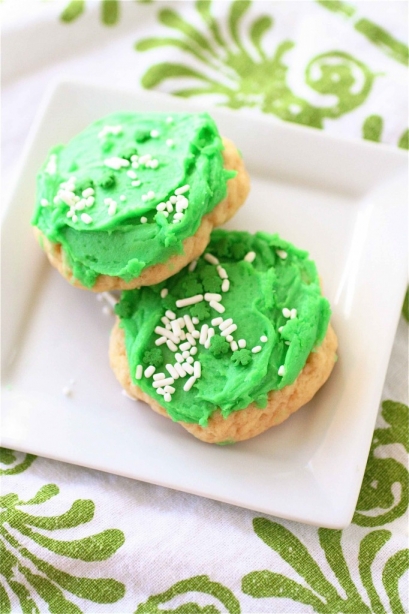 Instructions
1.  For the cookies:  Line two baking sheets with parchment paper; set aside.
2. In a large bowl, whisk together the flour, baking powder, and salt.
3. In the bowl of your standing mixer fitted with the paddle attachment, beat the butter and sugar on medium-high speed until light and fluffy, about 2-3 minutes.
4. Reduce the mixer speed to medium-low and add the eggs, one at a time, mixing well after each addition.
5. Reduce the mixer speed to low and add the vanilla.
6. Add the flour mixture to the cookie dough and mix until thoroughly combined.
7. Transfer the dough to a clean and lightly floured flat surface and knead a few times.
8. Wrap the dough tightly with plastic wrap and chill until firm, at least one hour.
9. Once chilled, preheat the oven to 350 degrees.
10. Scoop out 1-2 tablespoons of the dough, roll into a ball, and place each ball on the prepared baking sheet.
11. Using moist fingers, lightly flatten each cookie.
12. Bake until just set, about 10-12 minutes.  Let cool before frosting.
13. For the frosting: In the bowl of your standing mixer fitted with the paddle attachment (or using a handheld mixer), combine the powdered sugar and butter, mixing until just combined.
14. Add the vanilla to the frosting.
15. Add the heavy cream, one tablespoon at a time, until your desired consistency is reached.
16. Color, if desired, with food coloring gel.
17. Frost the cookies as desired and garnish with sprinkles.
Sources:  Cook Like a Champion, as seen on Annie's Eats.  Originally posted on Hostess with the Mostess.