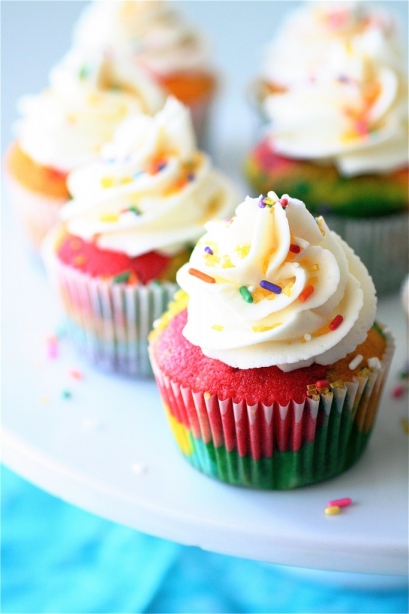 In keeping with the spirit of St. Patrick's Day (you know, the whole pot of gold at the end of the rainbow theme….), I decided to get crazy with the food coloring gels just a bit and make these colorful cupcakes.  It was an idea that I had seen floating around for a while, but I never had the chance to try it.  A few hours later (and some pretty stained fingertips, I might add….I seriously don't know how I get the gels all over me-I try so hard not to, yet I inevitably will end up with it all over my hands and face.  Good times.), I had some psychedelic and festive-appearing cupcakes on my counter top, just begging to be sprinkled.
As far as the cake goes, use your favorite white cake recipe, divide the batter into several small bowls, and color each bowl with your desired food coloring gels.  I decided to try a white cake recipe from King Arthur for this recipe, but, in all honesty, I will most likely go back to my favorite from Baking Illustrated (see the recipe here) because I like the spongy texture (and the more potent almond flavor.) better.   And for the frosting?  I was running low on vanilla extract, so I threw in some butter flavoring instead.  Holy moly.  If you want a buttery buttercream (and who doesn't, really?), try this if you happen to have some on hand.  It'll knock your socks off.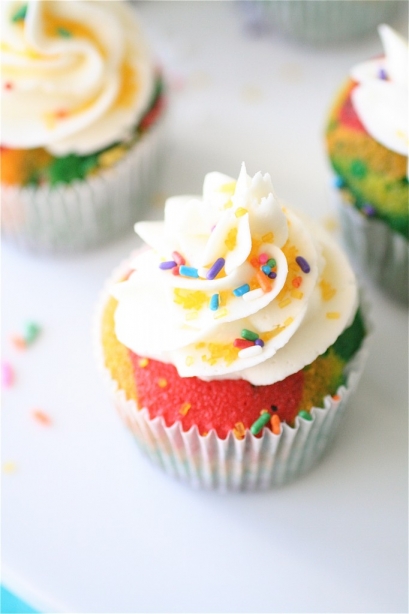 Over the Rainbow Cupcakes
Servings: 24 cupcakes
Ingredients
For the cupcakes:
2 and 3/4 cups cake flour
1 and 2/3 cup superfine sugar (*you can just pulse regular granulated sugar in your food processor for a few seconds.)
1 tablespoon baking powder
3/4 teaspoon salt
3/4 cup (12 tablespoons) unsalted butter, at room temperature, cut into 1-tablespoon pieces
4 large egg whites, plus 1 whole large egg
1 cup whole milk
2 teaspoons vanilla
1 teaspoon almond extract
Food coloring gels
For the frosting:
1 and 1/2 cups (3 sticks) unsalted butter, at room temperature
4 cups powdered sugar
1/2 teaspoon butter flavoring
Sprinkles, if desired.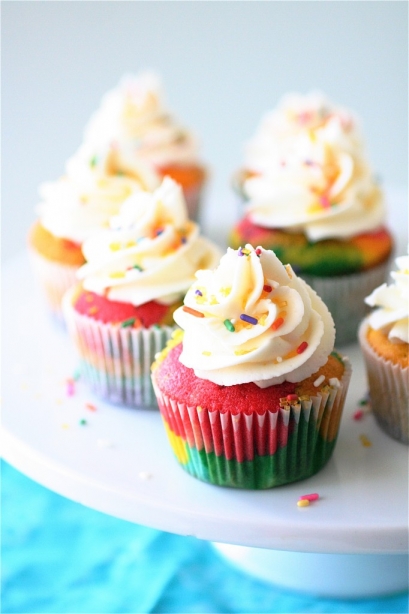 Instructions
1. For the cupcakes: Preheat the oven to 350 degrees.
2. Line a cupcake pan with the liners of your choice.
3. In the bowl of your standing mixer fitted with the paddle attachment, mix the cake flour, sugar, baking powder, and salt until well-mixed.
4. On medium speed, add the butter pieces, one at a time, until the mixture is soft and crumbly, like coarse sand.
5. Add the egg whites, one at a time, mixing well after each addition, scraping down the sides of the bowl as necessary.
6. Add the whole egg, mixing well.
7. In a separate small bowl, whisk together the milk, vanilla, and almond extract.
8. Add the milk mixture in one-third increments to the dry ingredients, mixing 1-2 minutes after each addition.
9. Divide the cake batter into several small bowls (depending on how many colors of batter you will want.)
10. Add your desired amount of food coloring gel to each bowl and mix thoroughly.  (Look out for small bits of concentrated gel.)
11. Working with one color of batter at a time, drop about 1-2 teaspoons of cake batter into each prepared cupcake liner (do not stir).  Layer with remaining batter colors.
12. Bake until a tester inserted into the center comes out clean, about 18-20 minutes.  Let cool completely before frosting.
13. For the frosting: In the bowl of your standing mixer fitted with the paddle attachment (or using a hand mixer) cream the butter on medium-high speed until light and fluffy, about 2-3 minutes.
14. Reduce the mixer speed to low and add the powdered sugar, about 1/2 cup at a time, until thoroughly mixed.
15. Add the butter flavoring and mix well.  Pipe as desired onto your cupcakes.

Sources:  Cupcakes adapted from King Arthur Flour.  Frosting adapted from Martha Stewart.