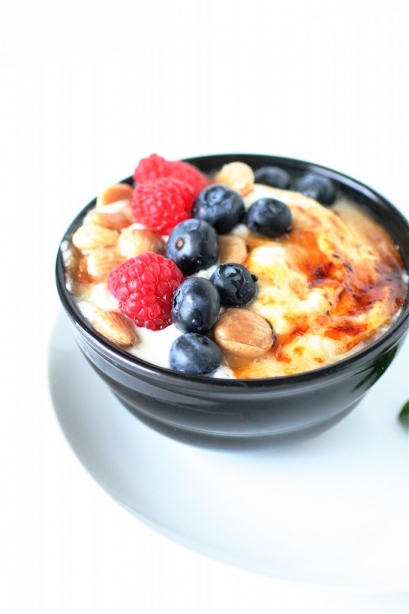 I'm a huge sucker for Greek yogurt. Like,  I eat it every single day.  It's a seriously versatile treat: it can be sweet or savory depending on your add-ins, so I always have at least one container of it in my fridge.  I haven't yet to make my own, but Annie has a great tutorial of how to do it yourself (someday I will get around to that…). So, when I bought my brulée torch a few months ago, I immediately had to try a new version of it.
Now, this isn't a super hard recipe, so feel free to play around with the amount of sugar (or brown sugar, even) you use.  I added in some fresh fruit, marcona almonds, and some honey, but omitting (or adding in) other items is completely your call.
I ate pretty much the whole container of Greek yogurt one weekend when I figured out how to make this.  It literally takes less than five minutes to throw together, and it's good for you, too.  Just make sure to add your fresh fruit/toppings AFTER you brulée the top.  🙂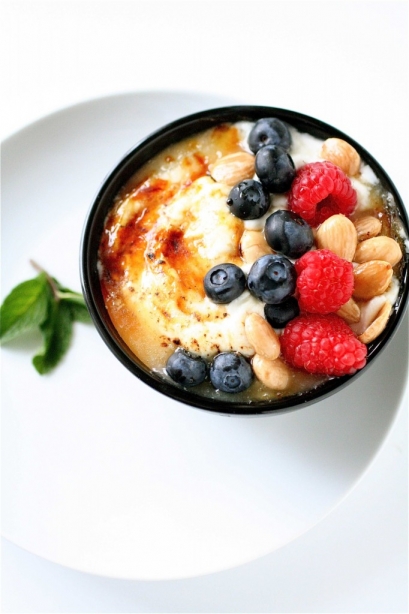 Greek Yogurt Brulée
Servings: 2
Ingredients
2 cups Greek yogurt (I like 2%).
2 tablespoons granulated sugar
2 tablespoons honey
For garnish:
Marcona almonds
Fresh fruits, such as blueberries and raspberries
Special equipment: a brulée torch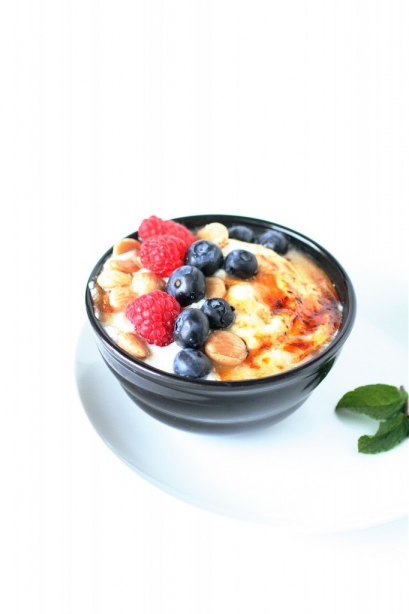 Instructions
1. Divide the yogurt among two heat-safe bowls.  (I used larger-sized ramekins.)
2.  Sprinkle one tablespoon of sugar evenly over the top of the yogurt.
3. Drizzle the honey over the sugar.
4. Very carefully, using your brulée torch, fire the sugar until it becomes golden brown and bubbly, about 5-10 seconds.
5. Top as desired with garnishes.  Enjoy.
Source: A very simple Curvy Carrot Original.