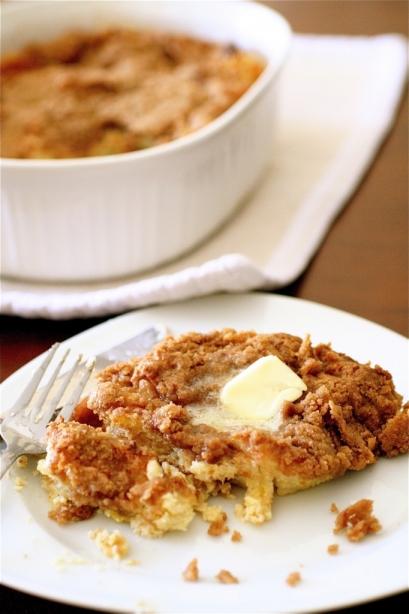 The other day I was craving cinnamon toast.  Which was weird because I normally don't crave carbs all that much.  It's usually cheese and chocolate (or salt) for me.
But, this craving lasted for a good 48 hours, so in my book, that means that I will usually give in.  I figure if it hangs around for that long, it deserves some attention.  And, with a nice Sunday morning ahead of me, I figured I would (yet again) prep the night before and have a nice cinnamon French toast casserole ready to go the next morning.  I'm totally loving these make-ahead meals right now.
I halved this recipe because I actually didn't have my large pan in my possession at the time.  Instead, I used my 1.5-quart casserole dish to make the French toast in, and this worked just fine.  It was enough for about 4 large servings.
And what can I tell you about this dish?  A sweet and crunchy cinnamon-glazed topping over buttery, golden bread awaits you.  I'm glad I gave into this one.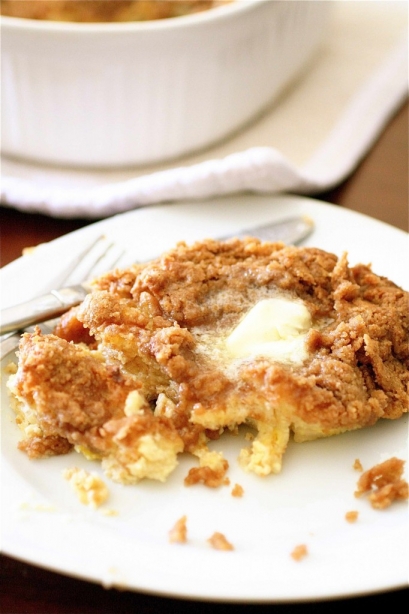 Baked Cinnamon French Toast
Servings: about 4
Ingredients
1/2 loaf sourdough bread, torn into large pieces
4 eggs
1 cup whole milk
1/4 cup hevay cream
1/2 cup sugar
1 tablespoon vanilla
1/2 cup flour
1/2 cup brown sugar
1 teaspoon cinnamon
1/4 teaspoon salt
8 tablespoons (1 stick) unsalted butter, in pieces
Instructions
1. Generously spray a 1.5-quart casserole dish with cooking spray.
2. Evenly spread the sourdough pieces on the bottom of the pan. (It's ok it they layer a bit.)
3. In a large bowl, whisk together the eggs, milk, heavy cream, sugar, and vanilla.
4. Pour the egg mixture evenly over the bread.  Cover tightly with plastic wrap and chill for several hours (preferably overnight.)
5. In a separate bowl, combine the flour, brown sugar, cinnamon, salt, and butter pieces. Using a pastry cutter or your fingers, mix the ingredients together until they resemble coarse sand.  Cover the mixture tightly with plastic wrap and chill until ready to use.
6. The next day, preheat the oven to 350 degrees.
7.  Evenly sprinkle the dry ingredients over the bread.
8. Bake the cinnamon toast until lightly golden and crisp, about 1 hour.  Serve immediately with butter and maple syrup, if desired.
Source:   The Pioneer Woman.