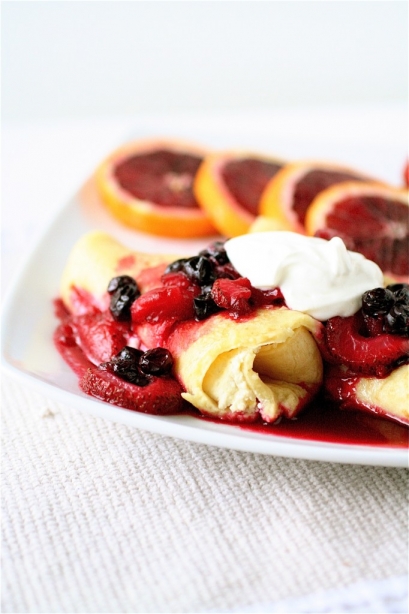 It's obvious I'm a sucker for cheese.  So, why not put it in breakfast form?  Yep, that's what I thought.
I had been meaning to make crepes for a long time. Growing up, my Uncle Dale would make them when we would visit him in California, lovingly referring to them as "cray-pees".  We liked to add that extra syllable, apparently.  Maybe one of us kids tried to pronounce it that way, and it eventually stuck. But, when he would make them, we would eat them with butter and cinnamon sugar…and they would be awesome.
Blintzes are like crepes on crack.  Still the same, super thin and sweet batter but encasing a sweet cheese filling.  Pure heaven, I think.  And since I had some extra berries in the fridge that were on the verge of being sadly tossed out, I decided to try making a sweet berry syrup to drizzle over them.  And they really weren't that hard to make.  The crepe batter comes together quickly (the only downside is the wait time of at least 30 minutes at room temperature before cooking them).  Since I only have a small frying pan, I did end up cooking them one at a time (which was a little time consuming, I will admit, but not too long for a weekend morning), but I imagine if you have a large griddle, it would be much faster to cook many at a time.  And, regardless, you end up baking them for 10 minutes in the oven anyways, so even if they are cold by the time you are done cooking all the batter, they will still warm up nicely.  (They also heat up well for leftovers, too-just don't put the syrup on the ones you want to save for later.)
Don't say I didn't warn you.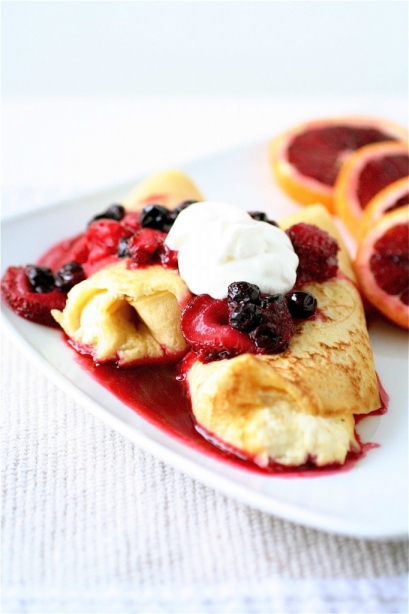 Cheese Blintzes with Berry Sauce
Servings: about 10-12 blintzes
Ingredients
For the batter:
1 and 1/4 cups flour
3/4 cup whole milk
2/3 cup seltzer water
2 large eggs
5 tablespoons unsalted butter, melted
8 tablespoons plus 1 teaspoon sugar
Pinch sea salt
Cooking spray
For the cheese filling:
2 cups Farmer's cheese or ricotta
6 tablespoons granulated sugar
2 egg yolks
1 teaspoon vanilla
1 teaspoon lemon zest
For the berry sauce:
1 cup strawberries, sliced
1/2 cup blueberries
2 tablespoons sugar
1 teaspoon lemon juice
For garnish:
Sour cream or crème fraîche, optional
Instructions
1. For the batter: In your food processor or blender, combine the flour, milk, seltzer water, whole eggs, 2 tablespoons of the melted butter, 1 teaspoon sugar, and salt.  Pulse until smooth.  Transfer to a medium bowl, cover with plastic wrap, and let sit at room temperature for at least 30 minutes before cooking.
2. For the cheese filling: Meanwhile, in a large bowl, combine the cheese, 6 tablespoons of sugar, egg yolks, vanilla, and lemon zest, mixing well until smooth.
3. When the batter is ready, lightly spray a frying pan with cooking spray over medium-high heat.
4. In 1/4-cup increments, pour the batter evenly into the frying pan, cooking each side about 45 seconds to 1 minute (you will start to see bubbles form on the uncooked side.)  Using a spatula, flip the crepe to the other side and cook until lightly golden.  Transfer each crepe to a plate.  Repeat with the remaining batter.
5. Preheat the oven to 350 degrees.
6. Once all the crepes are cooked, put about 2 tablespoons of the cheese filling into the center of each.  Fold in both sides, and then roll the crepe from the bottom to the top.
7. Place all the crepes, seam-side down, into a baking dish.
8. Lightly brush the tops of the crepes with the remaining 3 tablespoons of melted butter.
9. Bake until completely warmed through, about 10 minutes or so.
10. For the berry sauce:  In a small saucepan over medium heat, combine the strawberries and blueberries, 2 teaspoons of sugar, and the lemon juice.  Cook until the berries have burst and a thick liquid has formed, about 5 minutes.
11. Top each blintz with the berry topping and sour cream (if using) and serve immediately.
Source:  Cheese Blintzes from Williams-Sonoma.