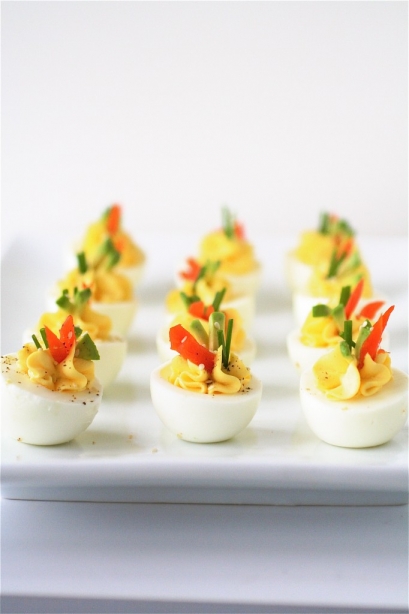 It's Easter season.  Which equals lots of hard-boiled eggs.  If you are a fan of deviled eggs (which I know not everyone is), then this one might be right up your alley.
I've seen a lot of twists on deviled eggs lately:  buffalo chicken-style, fancy ones with caviar on top, and even hummus-filled ones.   And that's the beauty of eggs in general-they pretty much complement any flavoring style.  And, after eating a few Philadelphia-style sushi rolls over the past few months, I have to admit that I thought a cream cheese and smoked salmon based deviled egg might be pretty tasty.  Growing up, we sometimes mixed cream cheese into our scrambled eggs, so I knew that combo was good.  I also knew that the salmon and cream cheese combo would be good (Philadelphia roll lovers rejoice!).  So, mixing them all together in portable, post-Easter, BBQ/baby shower/bridal shower forms, I knew I had to experiment.
Now, I kept the flavor profile here pretty straightforward, only adding a bit of flaky sea salt to the yolk base.  For my regular deviled eggs, I like to throw everything but the kitchen sink at it, but I wanted to keep it simple here. Feel free to add in your favorite herbs or spices here (I'm thinking a bit of garlic or onion powder might be pretty good).  And, if you want to keep it strictly vegetarian, omit the smoked salmon.  Play around with those leftover eggs.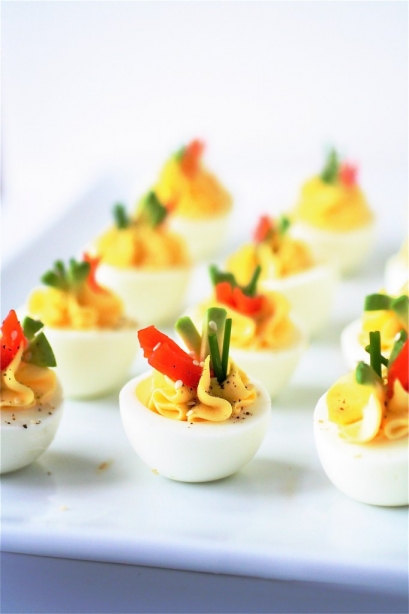 Cream Cheese and Smoked Salmon Deviled Eggs
Servings: 24
Ingredients
12 eggs, hard-boiled, peeled, and halved vertically
One 8-ounce package of cream cheese, softened
1 teaspoon flaky sea salt
1/4 cup smoked salmon, coarsely chopped
1 avocado, thinly sliced (you will have leftovers…so make some guacamole.)
1-2 tablespoons fresh chives, chopped
Sesame seeds, for garnish
Salt and pepper, to taste
Instructions
1. In a medium bowl, combine the egg yolks and cream cheese, mixing until smooth.
2. Add the teaspoon of salt, mixing until thoroughly combined.
3. Using a spoon (or a piping bag attached to the tip of your choice), gently pipe the cream cheese/yolk mixture into each egg white.
4. Garnish each egg with smoked salmon, avocado, chives, and sesame seeds, as desired.
5. Season with salt and pepper, to taste.  Serve immediately.  If not using right away, be sure to cover the eggs tightly and store for up to 1 or 2 days.
A Curvy Carrot original.