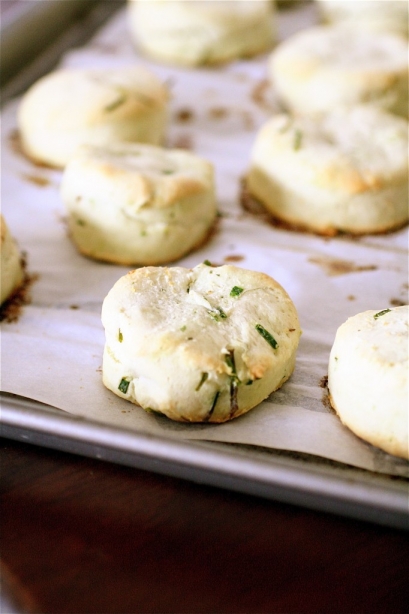 Spring time means chives.  Fresh chives from my mom's garden.  I have to say, right now that's one of the biggest things that I miss (apart from my family and friends, of course) from Indiana.  It was so convenient to run outside and grab some fresh from the ground when I made my parents dinner during the past few years.  And, now, although I am in an apartment and don't have access to my own garden, you can bet that when I move back to the Midwest in the coming months that a window herbal garden will be one of the first things I institute in my new place.  (hopefully it will also have a lot of windows and a nice kitchen…..)
I overbought some chives from the market and also happened to have some buttermilk on hand.  And, since I was making a nice huge batch of soup this past weekend (it was cold, gray, and even a sprinkling of snow flurries at one point), I figured some nice fluffy biscuits would be nice to go along with it.  And, believe me, these are pretty nice.  Soft and buttery with little flecks of chive flavor.  I decided to make some melted garlic butter and brush it over the tops of the biscuits as soon as they came out of the oven.  It completely added to the savory flavor.  These were great along side a soup, but I also ate them the next morning with some poached eggs.  Fantastic.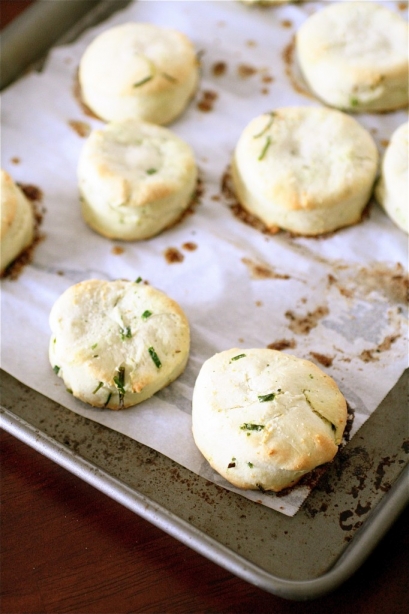 Buttermilk Chive Biscuits
Servings: about 18 biscuits
Ingredients
2 cups flour
2 tablespoons sugar
1 and 1/2 tablespoons baking powder
1/2 teaspoon salt
8 tablespoons (1 stick) cold unsalted butter, cut into 1 tablespoon pieces
1 whole egg
1 egg yolk
1 scant cup buttermilk
1/4 cup fresh chives, coarsely chopped
For garlic butter topping:
4 tablespoons (1/2 stick) unsalted butter, melted
1/4 teaspoon (or to taste) garlic salt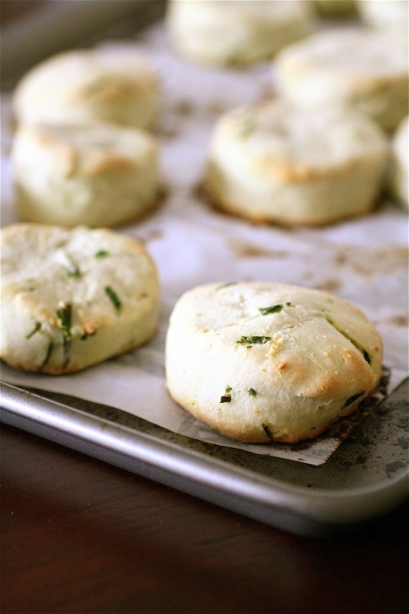 Instructions
1. Preheat the oven to 400 degrees.
2. Line a baking sheet with parchment paper.
3. In your food processor, pulse together the flour, sugar, baking powder, and salt until combined.  (You can also use your mixer instead.)
4. One at a time, add the butter pieces to the dry ingredients, mixing until the mixture resembles coarse sand.  (If doing by hand, use a pastry cutter.)
5. In a 2-cup measuring cup, whisk together the egg and egg yolk.
6. Add the buttermilk to the egg mixture to make a total of 1-cup of liquids.
7. Slowly add the liquid to the dry ingredients, mixing until just combined.
8. Add the chives to the dough.
9. Transfer the dough to a lightly floured and clean, flat surface and roll the dough out to a thickness of 1/2-inch.
10. Using a 3-inch round biscuit cutter, gently cut out rounds of dough and transfer them to the prepared baking sheet, re-rolling out the dough and cutting more rounds as necessary.
11. Bake until lightly golden, about 12-15 minutes.
12. For the garlic butter, whisk together the melted butter and the garlic salt.
13. Using a silicone brush, lightly brush the tops of each biscuit with the garlic butter once they are done baking.  Serve warm.
Source:  Originally from Williams-Sonoma, as seen on and adapted from Annie's Eats.