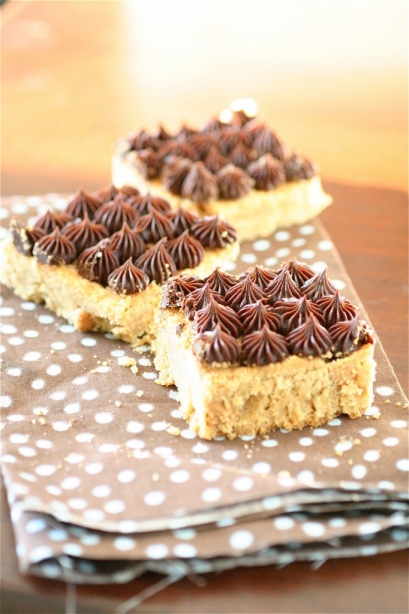 It's been one of those weeks where I want to drown myself in chocolate.  Because chocolate can't add more work to your already busy load, break your heart, or not allow you a chance to get your thoughts together.
Yeah.  It's been one of those weeks.
So I pulled this one out of my archives for some last minute chocolate healing.
Peanut butter blondies with thick, creamy chocolate ganache on top.  Because sometimes you just need some peanut butter and chocolate.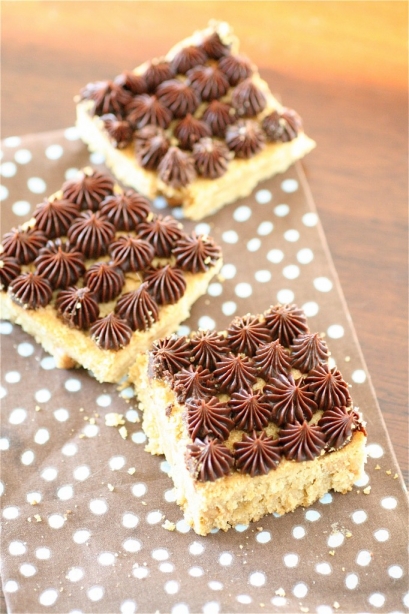 Chocolate Peanut Butter Blondies
Servings: about 12 blondies
Ingredients
For the blondies:
16 tablespoons (2 sticks) unsalted butter, at room temperature
1 and 3/4 cups sugar
1 cup creamy peanut butter
2 large eggs, plus one egg yolk
2 teaspoons vanilla
2 cups flour
1 and 1/2 cups Reeses peanut butter chips
1/2 teaspoon salt
For the chocolate ganache:
1 and 1/2 cups semisweet chocolate chips
1/2 cup heavy cream
1 tablespoon unsalted butter
Instructions
1. For the blondies:  Preheat the oven to 350 degrees.
2. Generously butter or spray a 13 x 9-inch baking dish and line with parchment paper.  Butter or spray the parchment paper.
3.  In the bowl of your standing mixer fitted with the paddle attachment, cream the butter and sugar at medium-high speed until light anf fluffy, about 3 minutes.
4. Add the peanut butter and continue mixing until well-mixed and smooth.
5. Add the eggs, egg yolk, and vanilla.
6. Decrease the mixer speed to low and slowly add the flour, mixing well.
7. Using a rubber spatula, gently fold in the peanut butter chips.
8. Pour the batter evenly into the baking pan and smooth the top with the rubber spatula.
9. Bake until a tester inserted into the center comes out clean, about 40-45 minutes.  Let cool completely.
10. For the ganache:  Place the chocolate chips in a medium bowl; set aside.
11. Bring the cream to a simmer over medium heat.
12. Once simmering, pour the cream directly over the chocolate chips and let sit for about 1-2 minutes.
13.  Whisk the mixture together until smooth and creamy.
14. Cover and chill the ganache until firm and of your desired piping or spreading consistency.  Pipe or spread as desired over the cooled blondies.
Source:  Slightly adapted from Smitten Kitchen.