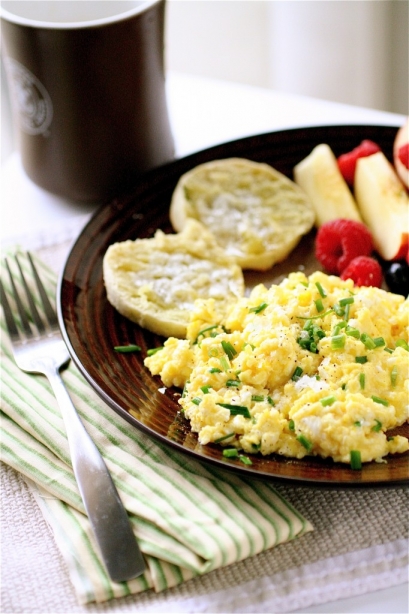 Growing up, I have to say that both my mom and dad were expert scrambled egg-makers.  In fact, scrambled eggs were probably one of the first things that I learned how to make as a child.  Everyday growing up, my mom would make us scrambled eggs with hot chocolate for breakfast (unless we begged and pleaded for a rare Pop-Tart or Cap'n Crunch cereal…..).  They introduced us to endless variations, but my dad's special cream cheese eggs were my favorite.  Any kind of egg dish with cheese is pretty good, in my opinion.
In an effort to use up the last bit of chives from this post, I decided to make myself some creamy, cheesy and chive-y scrambled eggs for breakfast one morning.  No rubbery icky chunks of overcooked egg.  I like mine a little soft but completely cooked through, so you can adjust your cooking time according to your own personal preferences.  But, in my opinion, the secret to creamy scrambled eggs is the constant stirring during the cooking time-it definitely makes for a nice and light texture.
Cheese and Chive Scrambled Eggs
Servings: 2
Ingredients
1 tablespoon unsalted butter
6 large eggs
1 tablespoon heavy cream
1/2 cup white cheddar cheese, shredded
1/4 cup chives, chopped
Sea salt and pepper, to taste
Instructions
1. In frying pan over medium heat, melt the butter.
2. In a small bowl or 2-cup measuring cup, whisk together the eggs and heavy cream.
3. Pour the egg/cream mixture into the frying pan, and, using a spatula, lightly stir the mixture together.
4. Add the cheese, and, stirring constantly, cook the eggs until the cheese is completely melted and the whites are cooked through, about 2-3 minutes.
5. Add the chives and cook for another 10-15 seconds, stirring constantly.
6. Season with salt and pepper and serve immediately.
Source:  A Curvy Carrot original.