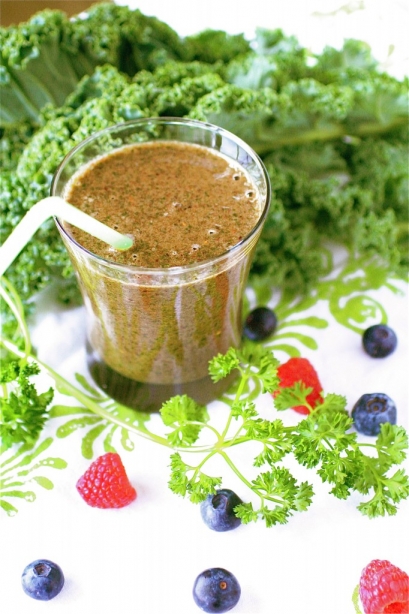 I'm not usually a fan of smoothies, I have to admit.  As a nutrition science major in college, I always learned that drinking your calories isn't the best way to get your vitamins; you need all those good things in the rind/seeds/pulp of the fruits and veggies, too to get the most bang for your buck.
But I'm blaming this post on a few giant burritos that I may have gorged upon a few weeks back while out of town for a conference.  I needed to bounce back to my usual, normal moderate American diet that consists of at least a few (hopefully) fruits and/or veggies a day and not a mountain of beans and cheese wrapped in a creamy sauce (but, seriously, those burritos were a long time coming and pretty awesome as they went down with a few margaritas.)
I had seen this recipe in the April issue of Bon Appétit, and I was a little skeptical to try it out.  For one, I'm not a fan of parsley.  But I love kale and berries, so that was a plus.  And, I knew I needed all the help I could get with taking in some great vitamins and nutrients.  So what if it was in liquid form?  Faster absorption, maybe?  I don't know.  All I know is that I was really, REALLY surprised by this smoothie.  It didn't have the (icky) taste of parsley, even though there's a hefty dose of it in there.  And, even if it IS green (not my ideal color choice), it didn't taste like something that should be green.  The berries really made it sweet and light-not too thick and texturally awkward, either.  So, the next time I have extra kale and random parsley in my fridge, this is where it's going.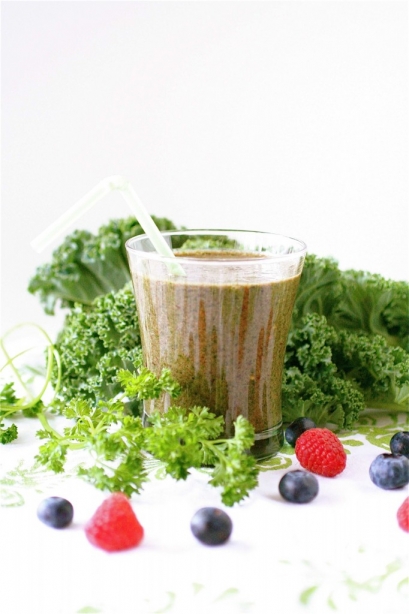 The Green Smoothie
Servings: 2
Ingredients
1/2 cup packed curly or flat-leaf parsley (leaves and stems)
4 large kale leaves, ribs removed
1 cup frozen mixed berries (or berries of your choice)
1 banana, chopped
1 teaspoon flaxseed (use either ground or whole.  *I prefer whole because I like the little bit of crunchiness it adds.)
1 cup water
Instructions
1. Combine all the ingredients in the bowl of your food processor or blender and purée until smooth.  Serve immediately.
Source:  Directly from Bon Appétit, April 2012.