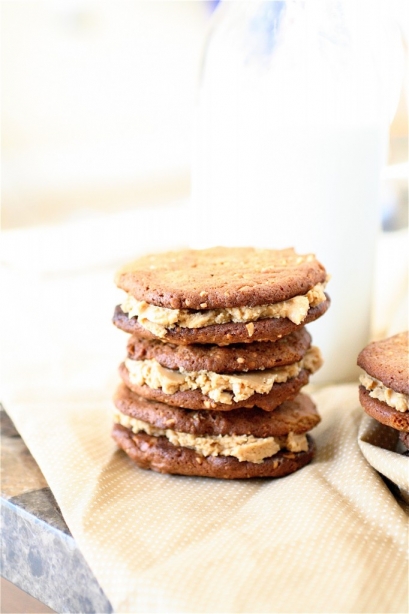 This is another one from the archives…which I cannot believe that I never posted.  Ummm, hello?  Peanut butter sandwich cookies?
I've made my fair share of sandwich cookies, but I was a little tired of the soft cookie outside that I kept coming up with.  Instead, I wanted a crispy, almost savory-flavored cookie to hold in some creamy filling.
Enter Cook's Illustrated magazine, which happened to make its appearance in my mailbox that day.  And, so, with my decision easily made for me, I stepped into the kitchen, bound and determined to come out with a crispy, peanut buttery sandwich cookie.
Since the cookies are made with toasted raw peanuts, they pack a lot of that savory flavor. (On the other hand, though, if you over-toast your peanuts, you could end up with some pretty icky cookies..so be careful.)  The peanuts also add an element of crunchiness to the cookie, so it wasn't the soft, chewy kind of cookie that I was used to.  And the peanut butter filling? To die for.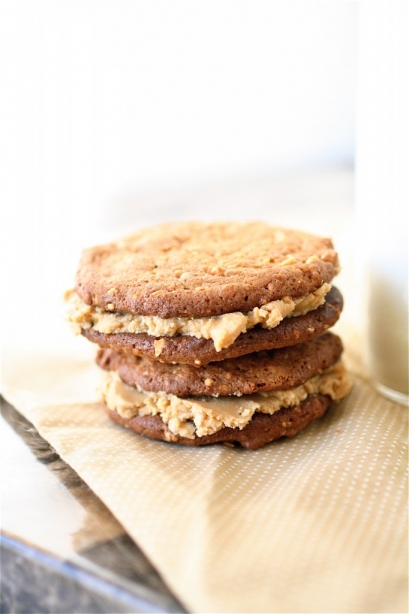 Peanut Butter Sandwich Cookies
Servings: 24 cookies (12 sandwiches)
Ingredients
For the cookies:
1 and 1/4 cups raw peanuts, toasted and cooled
3/4 cup flour
1 teaspoon baking soda
1/2 teaspoon salt
3 tablespoons unsalted butter, melted
1/2 cup creamy peanut butter
1/2 cup granulated sugar
1/2 cup light brown sugar, packed
3 tablespoons whole milk
1 egg
For the filling:
3/4 cup creamy peanut butter
3 tablespoons unsalted butter
1 cup confectioners' sugar
Instructions
1. For the cookies: Adjust the oven racks to the upper-middle and lower-middle positions, and preheat the oven to 350 degrees.
2. Line cookie sheets with parchment paper; set aside.
3.  In your food processor, pulse the peanuts until finely chopped.
4. In a medium bowl, whisk together the flour, baking soda, and salt.
5.  In the bowl of your standing mixer fitted with the paddle attachment, beat the butter, peanut butter, both sugars, milk, and the egg together on medium speed until smooth.
6. Reduce the mixer speed to low and add the flour mixture,mixing until just combined.
7. Using a rubber spatula, gently fold the peanuts into the cookie dough.
8. Using a cookie scoop or tablespoon measure, place 12 mounds of dough onto each baking sheet, gently flattening the mounds into evenly-sized discs.  (If you wet your fingers a little, this makes it easier.)
9.  Bake the cookies until golden brown, about 15 to 18 minutes, switching and rotating the baking sheets halfway through.  Let cool completely before filling.
10. For the filling:  Microwave the peanut butter until melted and warm, about 40 seconds.
11. In a medium bowl, mix together the melted peanut butter, butter, and confectioners' sugar until smooth.
12. For assembly: Place about 1 tablespoon of the peanut butter filling on the center of 12 cookies.  Place the second cookie on top of the peanut butter filling (right side-up!) and gently press the cookies together.
Source:  Directly from Cook's Illustrated, March and April 2012 issue.