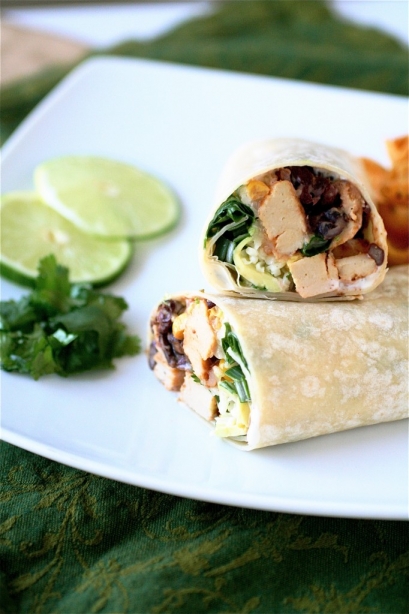 For a lack of a better name, this was the only title I could come up with for this hearty wrap.  So if anyone out there has a better name, let me know and we can revise.
I made this wrap a few months back.  It was sort of an impromptu thing.  I had picked up yet another brand of faux chicken strips (this time I used Quorn brand…not too bad in my opinion…any thoughts?), had some fresh wraps in the fridge, and a whole lot of random frozen veggies/pantry staples that needed to be used.  That's the beauty of wraps-pretty much anything can get tossed together, drizzled with a little Ranch dressing (or not, depending on your own preferences), and rolled in burrito-esque form.
I called it Southwestern because of the flavors I used..a little chili powder, some avocado, some lime.  It packed a little heat from the spices, but the addition of lime and a little Ranch cooled it down a bit.  The black beans added in some more protein.  And all the veggies?  Just a little more vitamins/nutrients to sneak in there.  And the best part?  I made enough for about 4 servings, so I had easy re-heatable leftovers throughout the work week.
Anyone out there for a margarita?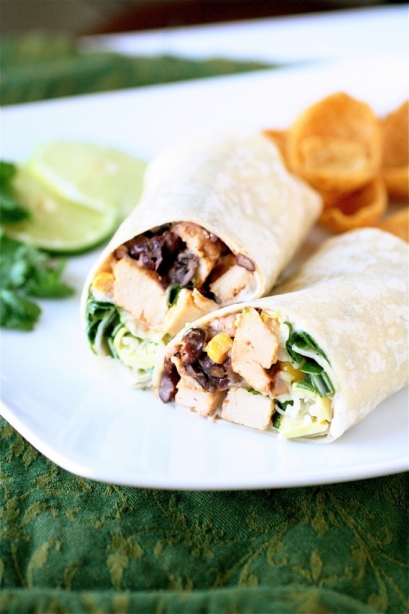 Southwestern "Chicken" Wraps
Servings: 4
Ingredients
4 large 10 or 12-inch wraps (I used a whole wheat, but feel free to use spinach, white, etc.)
Olive oil, for cooking (I used about 1/2 a tablespoon)
One 12-ounce bag chicken substitute, thawed
1/4 cup water
1 teaspoon chili powder
1 teaspoon cumin
Juice of one lime
One 15.5-ounce can black beans, drained and rinsed
1/2 cup frozen corn, thawed
1 cup spinach, chopped
Three green onions, chopped
1 avocado, thinly sliced
1 cup Monterey Jack cheese, shredded
Ranch dressing, for drizzle, if desired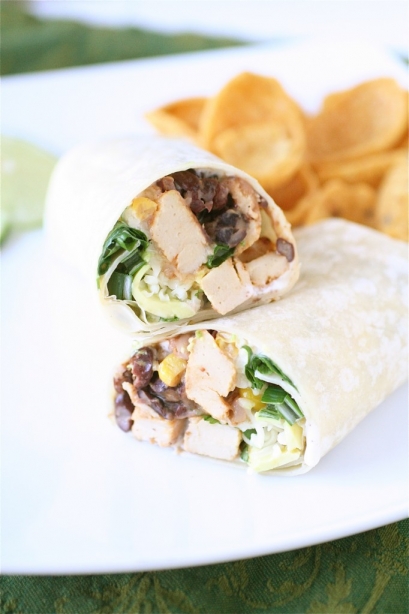 Instructions
1. In a sauté pan over medium heat, gently heat the olive oil (enough to thinly coat the bottom) until shimmering.
2. Add the faux chicken and cook, stirring frequently, until lightly browned, 1-2 minutes.
3.  Add the water, breaking up any browned bits on the bottom of the pan.
4. Add the black beans, chili powder and cumin, stir to combine, cover the pan and let cook, stirring occasionally, about 10 minutes.
5. Remove the cover and add the corn, mixing to combine.    Sprinkle the lime juice evenly over the mixture. Continue cooking until heated through, about 5-10 more minutes (most of the water should have evaporated at this point.)
6.  To prepare the wraps: Microwave the wraps for about 10 seconds to warm slightly.
7. Assemble each wrap by placing about 1/4 cup of the chicken/bean mixture, 1/4 cup spinach, 1/4 cup cheese.  Garnish each with green onion, avocado, and a drizzle of Ranch dressing.  Roll each wrap tightly and serve immediately.
Source:  A Curvy Carrot original.