I have an unhealthy obsession with sea salt.  It all started a while back when my dad got me a nice pretty package of some expensive kind of sea salt as a gift.  A very nice gift from someone who knows me all too well.
Immediately I was hooked.  The flavor, the dainty little crystalline flakes, the artistic feel of sprinkling them on the end product (and in end product, I mean pretty much everything I eat, hence the unhealthy obsession…..grapefruit, salad, pizza, eggs, anything, really)-all these little things make me happy.  And, oh the taste.  That extra little salty zing dancing on your taste buds.  Sea salt.  I buy it in bulk, have not one, but two containers for easy use-one at the stove and the other on my coffee table/usual dining table.  It can make almost ANYTHING taste better.
So, in my usual Sunday evening craving for chocolate (before sitting down to watch my latest TV show addiction: Game of Thrones),  I came across this recipe…that included not only chocolate (and the word fudge) but also sea salt.  Pretty much my favorite things ever…all in one rich, sinful form.
These brownies are VERY rich, just as a word of caution.  And if you are more of a cakey kind of brownie person, these are more fudgey in consistency.  I also baked them in an 8-inch square pan because I don't have a 9-inch one (what the original recipe called for), and I DID have to bake my brownies for a significantly longer (about 15-20 minutes longer) time than the stated recipe.  As always, use a tester to check the doneness of your brownies as the most appropriate gauge of their "doneness".  All oven times/temperatures vary, so use your best judgement here.
Regardless, welcome to heaven.  🙂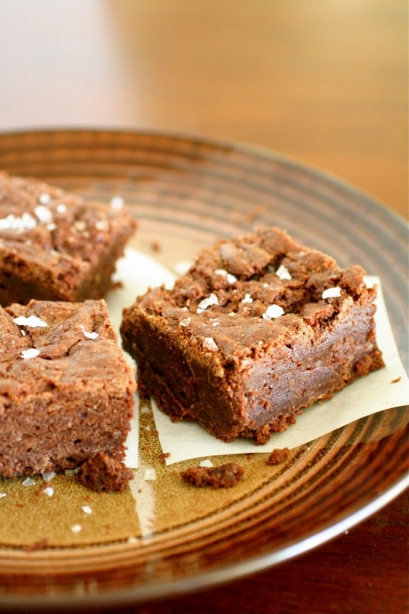 Sea Salt Fudge Brownies
Servings: about 10 brownies
Ingredients
12 tablespoons (1 and 1/2 sticks) unsalted butter
2 ounces unsweetened chocolate, broken into pieces
1/4 cup plus 2 tablespoons unsweetened cocoa
2 cups sugar
3 large eggs
1 and 1/2 teaspoons vanilla
1 cup flour
1/2 teaspoon flaky sea salt (I use Maldon.)
Instructions
Preheat the oven to 350 degrees.
Line an 8-inch baking pan with aluminum foil, draping the foil over the edges.
Lightly butter or use cooking spray to generously coat the foil.
In a large saucepan over low heat, melt the butter with the unsweetened chocolate, stirring occasionally.
Remove from the heat.
Add the cocoa, sugar, eggs, vanilla and flour to the melted chocolate mixture, mixing until smooth.
Pour the batter evenly into the prepared pan.
Sprinkle the salt evenly over the batter. Using a butter knife, swirl the salt into the batter.
Bake the brownies for about 35 minutes (remember, I had to bake mine about 15-20 minutes more-make sure you use a tester to truly check the doneness of the brownies-the tester should come out with very few crumbs attached)
Let cool at room temperature in the pan for about an hour, then refrigerate just until they are firm, about an hour.
Source: Food and Wine Magazine.